NEW COLOURED MICRO SCOOTERS - RED AND YELLOW AND GREEN, AS WELL AS PINK AND BLUE….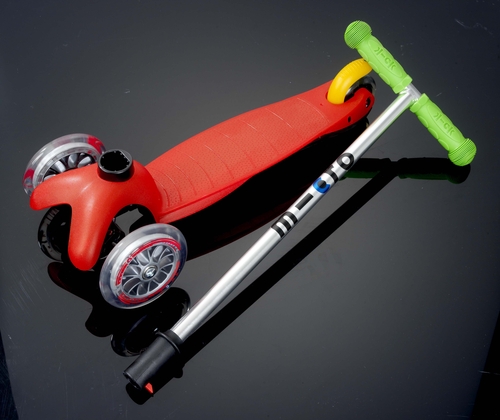 RED AND YELLOW AND GREEN, AS WELL AS PINK AND BLUE….
I CAN SEE NEW COLOURED MICRO SCOOTERS - CAN YOU?

For the first time since the launch of the now ubiquitous blue and pink Mini Micro Scooters the Micro Scooter team is introducing a new, limited edition set of eye-catching colours to their Mini Micro collection. Set to blaze a multi-coloured trail on the 'scoot to school' this coming autumn, the green, yellow and red Mini Micro Scooters will be available exclusively in the UK, from early July via: www.micro-scooters.co.uk.

The new colours are not solely reserved for those buying from the limited edition ranges as Micro Scooters Ltd will also be selling red, green and yellow handle grips, decks and brakes as separates, allowing existing Micro Scooter owners to 'pick n mix' accessories to 'revamp their ride'!

The Mini Micro Scooter in the UK's number one selling scooter for kids aged 3-5 years and has earned its place as the coolest form of transport for young children on three wheels. Its high quality Swiss design makes scooting fun and easy for youngsters who love the independence and sense of achievement the Mini Micro Scooter gives them. Its 3-wheel construction (two in front) and a low-to-the-ground flexible footboard allows maximum control and stability, and a unique lean-and-steer design enables kids to use their body weight to effortlessly guide their direction and enjoy a smooth 'skateboard like' ride.

Parents nationwide have also quickly become devoted fans of the Mini Micro Scooter, which promotes kids' independence, enhances their balance, coordination and gross motor skills, and makes exercise fun. The scooter is lightweight to carry and easy to store. It is also a great way of 'going green' encouraging parents and kids alike to forego four-wheel transport in favour of three for daily local jaunts – or 'micro journey's' as Micro Scooters likes to term them!

The new limited edition colours are available exclusively at www.micro-scooters.co.uk, costing £54.95.

BE SAFE BE SEEN

Micro Scooters also offers an extensive range of colourful, quality safety accessories including:

• Helmets: with styrofoam padding and nylon web straps, available in a range of sizes and funky designs, priced from £16.95.
• Frog Lights by Knog: Available in eight different colours and giving visibility up to 600 metres with either a steady or flashing light, it has a battery life of 160hrs and its unique flexible body allows it to wrap round and hold fast onto the stem of your Micro Scooter. Priced at £7.99
• Girls and boys junior knee, wrist and elbow pads (from £12.95) and high visibility reflective jackets (£4.99) as recommended by the Government as part of its walk to school initiative.

Micro Scooters Ltd was created by Anna Gibson and Philippa Gogarty who got a hold of the Mini Micro Scooter for their children and couldn't believe how it changed their lives for the better. Passionate about the product, the pair worked with Micro Mobility Systems AG, the Swiss company that invented the Mini Kickboard Scooter, to become the distributors in the UK. Based on the huge success of the Scooter in the UK they are currently expanding the company around the world in countries including: The United States, South Africa, Holland and Southern Ireland.

-ends-

For further information or for samples or photography, please contact either:
Jules@mothershippublicrelations.com or Lucy@mothershippublicrelations.com

Tel: Mothership PR 020 7101 5050

This press release was distributed by ResponseSource Press Release Wire on behalf of Mothership Public Relations Ltd in the following categories: Children & Teenagers, for more information visit https://pressreleasewire.responsesource.com/about.