Stagecoach expands Icomera Wi-Fi on board UK bus fleets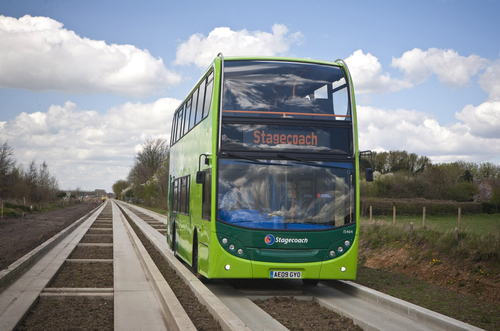 Sittingbourne Kent, July 7th 2009 – Icomera AB, the world's leading provider of cellular broadband gateways, has announced that Stagecoach Group plc, one of the UK's largest transport operators, has expanded its in-vehicle Wi-Fi services for passengers across multiple fleets in Cambridgeshire, Bedfordshire and Wales. Stagecoach already utilizes Icomera's award-winning Moovbox M200 Mobile Broadband Gateway to provide mobile Wi-Fi hotspot connectivity to passengers at speeds up to several megabits per second on bus services in London, Oxfordshire and Scotland.

As part of a Government-funded £116m scheme to bring better transportation to Cambridgeshire, Stagecoach has launched a fleet of twenty new state-of-the-art vehicles to operate on the longest and greenest guided busway in the world. Commissioned by Cambridgeshire County Council, the 25km (16 mile) guided busway will provide a frequent, reliable, sustainable and attractive public transport alternative to driving between St Ives and Cambridge.

"This is a major investment by Stagecoach in a project that we believe will bring significant economic, transport and environmental benefits to the Cambridgeshire region," said Les Warneford, Managing Director of Stagecoach UK Bus. "The Cambridgeshire Guided Busway will improve access to jobs, education, healthcare and shopping for local people. By using 100% biofuel and equipping the vehicles with hi-spec features such as leather seats and Wi-Fi, we believe we will be able to attract current car users to a significantly greener, smarter travel option."

Concurrently Stagecoach has invested over £3.5m in seventeen new Moovbox-equipped coaches on the X5 route servicing towns between Cambridge, Milton Keynes and Oxford. "The new coaches boast greener engines, leather seats, free Wi-Fi, power sockets, air-conditioning and access for wheelchair users", said Tony Cox, Managing Director of Stagecoach East. "Commuters will love the free Wi-Fi and power sockets, meaning they can start work as soon as they get on the coach."
In South Wales, Stagecoach has launched a new £2m fleet equipped with Wi-Fi Internet access to allow passengers to check their e-mails and surf the web. The seventeen ADL/MAN Enviro 300 buses hi-tech buses will operate the X4 service from Hereford to Cardiff via Abergavenny, Blaenau Gwent, Merthyr Tydfil and Pontypridd, with Internet access provided by the Icomera Moovbox available throughout the journey.

The Moovbox M200 Mobile Broadband Gateway acts as a bridge between a vehicle and high-speed cellular data networks including 3G/HSPA, EV-DO and WiMAX, providing Wi-Fi access and an Ethernet-based local area network (LAN) for connecting on-board systems such as CCTV and passenger information systems. The M200 also has integrated GPS receiver for real-time automatic vehicle location (AVL) via the web-based MoovManage service. Stagecoach will be utilizing the Vodafone's next-generation HSPA (High Speed Packet Access) 3G network to provide Moovbox connectivity.

For further information please contact:

Jim Baker, Chief Marketing Officer
Icomera AB
+44 (0)870 446 0461
jim.baker@icomera.com
www.icomera.com

Steven Stewart, Director Corporate Communications
Stagecoach Group plc
+44 (0)1738 442111
steven.stewart@stagecoachgroup.com
www.stagecoachgroup.com

About Icomera AB

Established in 1999, Icomera is the world's leading provider of cellular broadband gateways delivering Internet connectivity for passenger transport, public safety and enterprise applications. Icomera technology bridges wide-area cellular networks such as 3G/HSPA and WiMAX with local Wi-Fi and Ethernet access. Icomera's award-winning Moovbox devices are deployed on rail, road and sea serving millions of Wi-Fi connections, and providing real-time high-speed access for fleet tracking and mission critical on-board systems. Icomera reported over 3.7 million sessions by over one million passengers in the twelve months to October 31st 2008 on its in-vehicle Moovbox systems worldwide, a 272% increase over the period. Icomera is headquartered in Sweden with offices in the United Kingdom and the United States, and channel partners worldwide.

About Stagecoach Group

Stagecoach Group is a leading international public transport group, with extensive operations in the UK, United States and Canada. The company employs 30,000 people, and operates bus, coach, rail, and tram services. Connecting communities in over 100 towns and cities in the UK, and running a fleet of around 7,000 buses and coaches, Stagecoach UK Bus is one of the largest operators in the country.

This press release was distributed by ResponseSource Press Release Wire on behalf of Icomera UK Ltd in the following categories: Consumer Technology, Business & Finance, Travel, Computing & Telecoms, Transport & Logistics, Construction & Property, for more information visit https://pressreleasewire.responsesource.com/about.