Add a Healthy Touch of Pink to Your Recipe!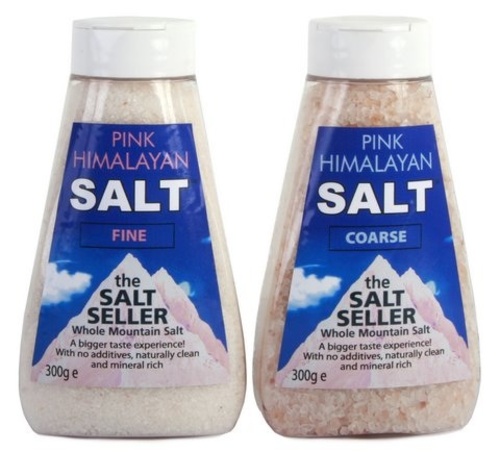 Gourmet cooking on a shoestring budget has never been so appealing thanks to the launch of an exotic and wholesome 'mountain salt' with a customer friendly price point.

The Salt Seller Whole Pink Himalayan Salt is a high grade, ancient salt which was deposited several hundred million years ago in the foothills of the Himalayan Mountains. The delicate pink tint is on account of the high mineral content which contributes to its exquisite taste and healthy reputation.

Unlike many over-priced gourmet salts currently on the market, the Salt Seller's pink salt is retailing for £2.29 or less, for 300g, which means that you can add a touch of sparkle to your culinary masterpieces without breaking the bank or compromising on the highest quality!

Known for its rich mineral content this salt can boast of over eighty-four minerals and trace elements, including calcium, magnesium, potassium, copper and iron. The benefits and nutritional properties are impressive – aiding in eliminating toxins, balancing the body's pH and thus contributing to alkalising, normalising blood pressure and increasing circulation and conductivity, all of which support healthy body functions generally.

"People are often told to use less salt in their diets, but by changing to whole salt instead of refined salt, they can benefit from the rich natural mineral content. These minerals help to achieve the body's ideal inner balance, which should be similar to that of seawater, which is where the salt originated!" says Lenni Smith, founder of 'the Salt Seller'.

Pink Himalayan Salt comes out of the earth in a state which is already of human food grade. It therefore needs no cleaning or refining and so keeps its fantastic range of natural minerals in tact.

"This salt has a particularly strong taste, so we can use less of it to stay within the RDA (Recommended Daily Allowance) of about 6 grammes, or a teaspoonful, which also means it will last even longer than other salt products," advises Lenni.

In keeping with its totally natural source, the packaging is compostable or recyclable. This "super condiment" expands the pallet and enhances the flavours of all types of food when used in preparation, cooking or seasoning and is available from selected health food stores or order direct from www.thesaltseller.co.uk.

-ENDS-

Notes to Editor:

When Lenni Smith's cousin told her he was seeking UK representation for his rock salt products, she couldn't have imagined what an exotic journey of learning and amazement lay ahead of her. She was looking for an ethically and ecologically sound business which would allow her to work from home; now, 5 years later, Lenni's company "The Salt Seller Ltd" is well established.

She began by creating the brand of Salt Lick Stones for horses called SALISEL-98 because this salt is 98% whole, pristine salt with 2% minerals. Salt is an essential ingredient in horses´ diet and in 18 months Lenni has sold over 80 tonnes and has a distribution deal with world renowned feed specialists Dodson & Horrell Ltd who sell it all over the UK.

Lenni's next project is concentrating on the value of whole food salt and salt body products for humans: the beneficial properties of mountain salt are well known in many cultures and it is used for healing as well as enhancing the flavour of food.
Lenni's supplier helps the miners and their families, which is why she is currently applying for Fair Trade status, and Organic Certification is imminent.

Refined salt has its uses, but its benefits in the human diet are being hotly debated; so instead of reaching for ready-made meals and snacks with a high processed-salt content, Lenni is encouraging us to use her whole salt on our home made food and enjoy those naturally accessible benefits.

'the Salt Seller' Showroom can be found at Lenni's home, a former pub called Broad Oak House, in the hamlet of Broad Oak on the B4521 at the crossroads to Garway - central to Hereford, Ross, Monmouth and Abergavenny. The Showroom is open to the Trade and public by appointment.

Press samples are available on request from Catrina Laskey. You can email Catrina at catrina@mediajems.co.uk.

For further information, hi-res images or to arrange an interview with Lenni Smith please contact Jenna Gould on 01603 283 503 or email jenna@mediajems.co.uk.

This press release was distributed by ResponseSource Press Release Wire on behalf of Media Jems in the following categories: Health, Women's Interest & Beauty, Environment & Nature, Food & Drink, for more information visit https://pressreleasewire.responsesource.com/about.