Goldsmiths' Fair - the annual selling exhibition of contemporary jewellery and silverware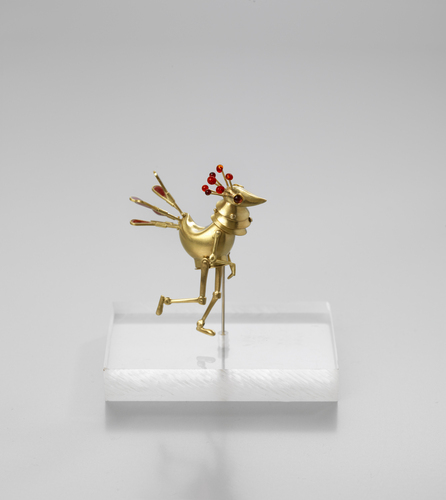 PRESS RELEASE:
Press Office Contact: Amanda Stücklin
Tel: 020 7367 5913
Email: Amanda.stucklin@thegoldsmiths.co.uk

GOLDSMITHS' FAIR 2009
THE ANNUAL SELLING EXHIBITION OF INNOVATIVE JEWELLERY AND SILVERWARE BY CONTEMPORARY
DESIGNER MAKERS

A DAZZLING KALEIDOSCOPE OF TALENT
IN PRECIOUS METALS AND GEM STONES

Week 1: September 28 to October 4 - Week 2: October 6 to October 11
(closed Monday October 5)
At Goldsmiths' Hall, London EC2

Goldsmiths' Fair Goldsmiths' Fair stands alone as the largest and most inspirational selling event of its kind in Europe. For the past 27 years it has presented an irresistible array of fabulous designer jewellery and unerringly stylish silverware designed and made by some of Britain's most exciting talent.

This year's Fair is no exception. Over a period of two weeks (from Monday September 28 through to Sunday October 11 - closed Monday October 5) 160 highly original designer-makers from all over the country converge on Goldsmiths' Hall Goldsmiths' Hall to present their latest designs. With a change-over of exhibitors mid-way through a visit to the Fair in both weeks is recommended to enjoy and benefit from the full display of talent.

Established jewelers and silversmiths, many of whom have works in major national and international museums and collections, exhibit side-by-side with young break through talent all eager for recognition.

Collectively they produce a stunningly varied and vital portfolio of work utilising traditional skills as well as the latest modern technologies. Consequently visitors can get a complete overview of what is au courant in terms of styles and trends in the world of contemporary jewellery and silverware.

In addition, the Fair accommodates every personal taste, style and budget (pieces start from £60) for both women and men and the choice of treasures on offer is overwhelming from cutting-edge and flamboyant to classic and restrained.

For those who like an element of fun and quirkiness to their jewellery there is plenty to choose from. For example Rie Taniguchi makes highly original, complex one-off pieces that are full of humour and playfulness. Little creatures or animals are made in component parts which construct and de-construct to work both as a piece of jewellery to be worn or a stand-alone decorative object. Another jeweller Alexandra Raphael's current work is inspired by the subconscious dream world – hence her exquisitely enamelled pieces often incorporate rather engaging floating and dancing figures.

The lustrous shades of enamel, an exacting and ancient technique, are also used by several artist-jewellers who use it to great effect to bring colour and pattern into their jewellery. They include Fred Rich, Rachel Emmerson, Rachel Gogerly, Ingo Henn, Regina Aradesian, Sheila McDonald, Joan MacKarell, Jenny Edge, Harriet St Ledger and Liana Pattihis.

The latter two are all first-time exhibitors at the Fair. Harriet bases her designs around nature and uses bold coloured enamels on copper, layering the colours and then employing a dry-powdered enamel sgraffito technique. Liana's extraordinary jewellery results from her constant experimentation with this medium and she has now developed her own unique method of fusing it on chain.

Another first time exhibitor Angela Fung is a good example of a jeweller who has embraced technology, such as laser welding and cutting, wire eroding and rapid prototyping, to make her stylish kinetic jewellery which she does using a combination of precious and industrial materials.

One of the many exciting features of the Fair is the huge variety of exotic and unusual gem stones, in a dazzling palette of different colours, which are imaginatively incorporated into stylish jewels. Aside from precious stones such as diamonds, rubies, emeralds and sapphires there are tourmalines in every shade of the rainbow, rare opals, aquamarines, pale yellow citrines, amethysts, peridots, rutillated quartz with its breathtaking inclusions of black or golden needles, apple green chrysophase, wine red garnets, luscious lilac pink kunzite, violet blue tanzanite, the shimmering milky moonstone, inky black jet – the list is endless!

Likewise the ever popular iridescent pearl, much loved throughout history, comes in different varieties, shapes, sizes and colours – natural, cultured, freshwater, seed, baroque, mabe, South Sea, Tahitian, blister and not just white and black but pink, blue, champagne, green and even purple! As no one pearl is the same trying to match them up is always a challenge but adds to their appeal and rarity. Many of the jewellers at the Fair use pearls to great effect such as Jane Sarginson, Lilly Hastedt and David Marshall.

The fact that each of the designers attends in person heightens the appeal of the Fair, as buying or commissioning a piece directly from the maker, and discovering its individual story, adds a vital human element to the process. And equally importantly there are no questions about provenance at the Fair – craft is invariably green and many of the craftspeople strive to use ethically sourced materials. A number of designer-makers, both jewellers and silversmiths, juxtapose non precious materials such as pebbles, re-cycled glass and wood with silver and gold to make excitingly original pieces. Jacqueline Cullen for example uses Whitby jet, a material which is organic, natural and ancient and has no environmental impact, to make her stunning jewellery.


The silverware on display at the Fair is innovative, decorative and designed to answer the requirements of 21st century living. On the eco front, recent graduate Kirsty Eaglesfield works mainly in silver and wood, often incorporating pieces of collected flotsam to create her highly individual boxes and vessels. Likewise Grant McCaig regularly uses re-cycled wood and driftwood to make handles, bases or spoons for his stylish contemporary silver.

It is not only a wide variety of silverware that is on offer – from the momumental vessels by William Lee to small decorative items such as bowls, napkin rings and tea-lights, even chip forks by Victoria Kershaw – but there is also a huge range of more unusual pieces in precious metal. This year for the first time at the Fair Henry Simpole will be exhibiting his fountain pens with gold and silver filigree overlays. Henry's collectiion draws inspiration from the Art Nouveau period as the organic curves and motifs of the period lend themselves beautifully to the slim shape of the pen. Another jeweller Louise Parry has also launched a limited edition range of a silver, gold and gem-set carriage clocks.

An additional exciting feature of the Fair is - talent spotting! Ten recent graduates are given free stands by the Goldsmiths' Company to help launch their careers – so the opportunities abound to pick out an early piece by a future celebrated jeweller or silversmith! This year's graduates include jewellers Amy Duggan, Melanie Eddy, Sian Elizabeth Hughes, Serena Park and Misun Won and silversmiths Kirsty Eaglesfield, Miriam Hanid, Rebecca Joselyn, Ryan McClean and Will Odell – all chosen as they represent the best of the emerging new talent.

Goldsmiths' Fair Goldsmiths' Fair is where imagination, artistry and talent combine to make precious works of art which are highly original and a far cry from the turgid monotony of mass production. Held inside Goldsmiths' Hall in the City of London, a visit to the Fair also offers a rare glimpse of the luxuriantly gilded interiors of this exquisite 19th Century treasure.

NOTES TO EDITORS:

GOLDSMITHS' FAIR 2009 Goldsmiths' Fair
Week 1: September 28 to October 4
Week 2: October 6 to October 11 (closed Monday October 5)
OPENING TIMES:
Monday to Friday 11am to 7pm
Saturday and Sunday 10am to 6pm
VENUE:
Goldsmiths' Hall, Foster Lane, London EC2V 6BN
ADMISSION:
By catalogue purchasable on the door (£7 for one week, £12 for two weeks)
UNDERGROUND STATIONS:
St Paul's, Mansion House, Barbican
BUSES:
8, 11, 25, 100, 242, 56
CAFÉ:
Open daily for sandwiches, salads and hot meals, champagne, wines, tea, coffee and soft drinks



For further information and images please contact:
Amanda Stücklin, the Goldsmiths' Company, Tel: 020 7367 5913
Email: Amanda.stucklin@thegoldsmiths.co.uk
www.thegoldsmiths.co.uk

www.whoswhoingoldandsilver.com
The Goldsmiths' Company's on-line directory for jewellery, silver and works of art enables the public to browse on line to make contact with the maker of their choice. With more than 250 craftsmen, all approved by the Goldsmiths' Company, the website is the ultimate resource for any requirement in precious metal.



This press release was distributed by ResponseSource Press Release Wire on behalf of The Goldsmiths Co. in the following categories: Entertainment & Arts, Home & Garden, Women's Interest & Beauty, Retail & Fashion, for more information visit https://pressreleasewire.responsesource.com/about.