It's True.........Listening to Music Really Does Improve Your Sex Life!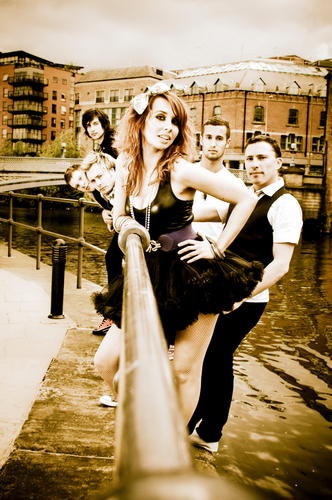 Studies reveal that listening to music triggers the release of the feel-good brain chemical dopamine, which is also secreted when thinking about food and sex.

Listening to upbeat, positive music on a daily basis will improve general mood and in turn can improve your sex life significantly. Whereas listening to depressing, aggressive music or no music at all can have the reverse effect.
Pop/Funk band 'Chichino' are more than aware of this and have taken this into consideration when working on tracks for their debut album.

The band have plans to release their debut single 'Everybody's Doing it' which revolves around people's attitudes to sex both in the lyrical and musical content of the track and are advocates that the right music really can have a positive impact!

Chichino's top tips on music to serenade someone:

• Choose a track with a good groove and soul e.g. something by Lionel Richie
• Make sure the music isn't depressing, too slow or negative
• It helps if the subject of the song is actually about love or sex
e.g. 'Let's Get It On' by Marvin Gaye.
• Have the music playing in the background - you don't want it too loud.
• Pump up the volume on atmosphere though. Candlelight is very flattering!
• Set up a play-list of all the good tracks as this ensures you don't
suddenly get a heavy metal track coming on just at the wrong moment!
• Even better - write a song for your partner. Heartfelt words are very
seductive.

Chichino are a 6-piece Leeds based band, signed to independent record label 'The Junk Label' based in London. They are in the final stages of completing their album and scheduling single releases.

The band have all studied music and have been looking into the impact different types of music can have on people's emotions and incorporating this into tracks on their album, primarily focusing on the feel-good factor.

"We hope our album and our music does make people feel good and based on studies that state listening to music increases your mood and can generate sexual arousal, we reckon some of our tracks will really boost some people's sex lives!" - Chichino

You can listen to a sample of Chichino's track 'Everybody's Doing it' on their website:- www.chichino.com or myspace site www.myspace.com/chichino1

To request higher resolution images or a promo CD for review:
info@thejunklabel.com
Tel: 01932 864016 www.thejunklabel.com

Chichino are available for comment/interview and bookings
Narelle on Tel: 078418645332 or chichinobookings@gmail.com
John on Tel: 07540853464 or jmwf@me.com

-ends-




This press release was distributed by ResponseSource Press Release Wire on behalf of The Junk Label in the following categories: Men's Interest, Entertainment & Arts, Health, Leisure & Hobbies, Women's Interest & Beauty, for more information visit https://pressreleasewire.responsesource.com/about.