FROM SHABBY TO SHOW HOME - QUICK CLEANING TIPS FROM MERRY MAIDS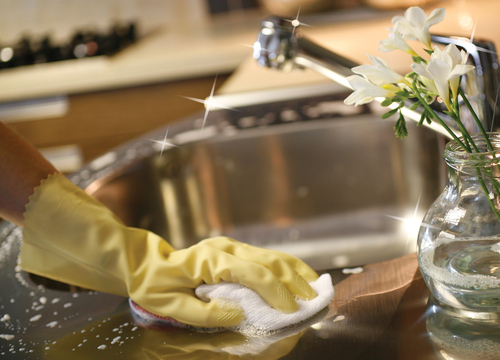 More than a third of householders admit to sometimes being embarrassed by the state of their homes when an unannounced visitor descends
Do you like your home to look like a show home or do you prefer it shabby/chic? According to recent consumer research by Mintel, into attitudes towards household cleaning, the majority of us are happy for our house to look "lived-in", until a guest arrives unexpectedly. More than a third of householders admit to sometimes being embarrassed by the state of their homes when an unannounced visitor descends and the knowledge of an imminent arrival is what prompts the majority of us to reach for the feather – duster.

Merry Maids cleaning expert Barbara Roberts has some handy household tips which will help you to cope with a surprise visit from the Mother-in-Law. Barbara recommends focussing on the public areas as these are most likely to be seen by guests popping by unexpectedly.

The Kitchen

• If you have a dishwasher load it with all the dishes sitting in the sink or on the side.
• Have some instant disposable cleaning wipes to hand to give the surfaces, taps and splash-backs a quick wipe down leaving them sparkling and fresh, without having to do a deep clean.
• Take out the rubbish – there is nothing worse than a whiffy bin.

The Bathroom

• First tidy away any lotions and potions sitting out.
• Using the wipes from the kitchen (most are multi-purpose) wipe down the sink removing any offending toothpaste marks, the mirror and the toilet.
• Put out a fresh hand-towel, soap and toilet paper.

The Living Room

• Gather together papers and letters into a neat pile, place out of view to be sorted through later.
• If you have toys scattered around pop them in the laundry basket, they can be put back in the right place once the guests have left and hide the basket in another room.
• Fluff up your cushions and quickly dust round the room.
• Open the windows and let the fresh air circulate.
• If you have time, a quick vacuum always lifts a room, otherwise remove any bits of fluff or dust from the floor.

If you have a little bit more warning, but still no time, then call in the Merry Maids to the rescue. Merry Maids can be trusted to carry out a professional service and will offer anything from a one off clean to a regular weekly, bi weekly or monthly clean all to the same fabulous high standard.

There are over 100 Merry Maids nationwide. To find your local Merry Maids visit www.merrymaids.co.uk or call 0800 021 3072.

Notes to Editors:

Research taken from Mintel report: "Attitudes Towards Household Cleaning" – UK – March 2009

Press enquiries: Jessica at Apples & Pears Marketing, T: 0115 925 5999
E: Jessica@applespears.co.uk.

This press release was distributed by ResponseSource Press Release Wire on behalf of Apples & Pears Marketing in the following categories: Home & Garden, Women's Interest & Beauty, for more information visit https://pressreleasewire.responsesource.com/about.