Don't forget your summer holiday IT checklist experts warn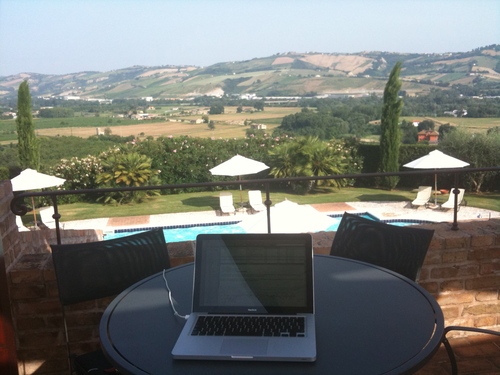 For further information about this press release, please contact:
Amanda Hassall or Lesley Booth at Six Degrees on: +44 1628 480280
amanda.hassall@sixdegreespr.com or lesley.booth@sixdegreespr.com


London, UK; 28 July 09 – With more than half of British workers expected to stay in touch with the office on holiday this year (Hotels.com, July 2009) tech experts are advising people to create a 'holiday IT checklist' before they go, so they pack the IT essentials along with sun cream, and ensure technology is travel-ready.

British IT services firm, Conosco, which advises small businesses on their computing requirements, believes that Britain's army of laptop carriers and Blackberry fanatics are often ill-prepared for their travels, despite their increasing reliance on technology.

"Switching off on holiday – both mentally and technically – should be easy," explains founder of Conosco, Ben Gladstone. "But it's becoming harder and harder for employees to leave the office behind, whether it's fears over job security, wanting to stay in touch with customers and colleagues or simply being indispensible!

To help those packing their bags and jetting off – as well as the expected 12m Brits holidaying at home – Conosco has published its five summer holiday IT travel tips:

1. Don't forget to pack your IT – add the essentials to your 'must pack' list, along with your passport, including charger, 3G dongle or card for laptop, waterproof neoprene laptop case and plug adaptors.

2. Check IT is travel-ready – you don't want to end up poolside with a dead Internet connection. To check it really does work outside of the office (or home) go outside and test it before you leave (with Bermuda shorts on if you want to get into the holiday spirit!).

3. Go through security – laptops and phones are easily lost or stolen while travelling. Check passwords are complex enough (don't write them down); set automatic screen locks on your laptop; and pin-code your mobile phone.

4. Poolside IT – the beautiful villa you're staying at might have Wifi, but don't trust it! Use a 3G adaptor - it will work almost anywhere*. While doing laps in the pools, your laptop batteries will last even less time than the average British Summer, so turn down screen brightness and set it to blank after a minute idle. And, if you don't want to be iPhoned-off by being woken up on your sun lounger every five minutes, turn off push email – plus your battery will last much longer.

5. Giving it large (but not on the dance floor!) – large documents are often too big for mobile connections, so try Google Docs to edit and store files on a website, and try web-based services like Terminal Servers to access your office PC securely from anywhere in the world.

For more detailed checklist: http://effortlesscomputing.co.uk/2009/07/27/holiday-tips-it-...

-END-

* Conosco recommends the Vodafone USB Modem Pro, free with an £18 per month plan or unlimited UK data and £8.50 a day for unlimited usage.

About Conosco
Conosco is one of London's leading IT services suppliers for SMEs with managed computing packages to suit most businesses. From help desk support to strategic consultancy, Conosco has been serving leading companies like Innocent, Lombok and Anya Hindmarch for over five years. For further information on Conosco, visit http://www.conosco.com.

This press release was distributed by ResponseSource Press Release Wire on behalf of Six Degrees Limited in the following categories: Men's Interest, Home & Garden, Women's Interest & Beauty, Travel, Public Sector, Third Sector & Legal, for more information visit https://pressreleasewire.responsesource.com/about.