A twisted window at Harvey Nichols - wood you believe!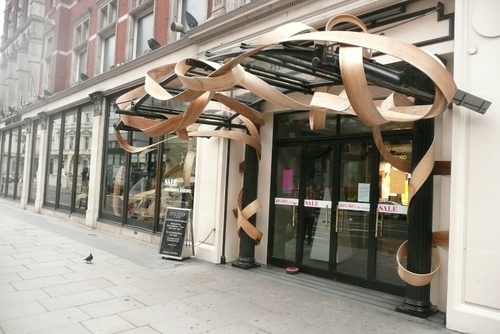 Since 17th July and for the next six weeks, Harvey Nichols in Knightsbridge has been transformed by a strange wooden life-form which has unwittingly found itself suspended in the window, merging with models in the window. Spirit of the Forest is born in Knightsbridge, and slowly grows, adjusting to its new and strange surroundings, interacting with the models with increasing intensity. Where has it come from? What does it want? Is it friendly? In a final gesture of love, it shows us its heart on the corner of Sloane Street before its rebirth.

UK designer and wood-bender extraordinaire Charlie Whinney has brought his individual vision to Harvey Nichols in a giant 50 metre long steam-bent Oak and Ash sculpture, incorporating real branches, roots and tree-stump. The sculpture totals over 450 metres of unique steam-bent wood, which twist, curve, coil and dance their way through the whole length of the store including over the main entrance, in a bizarre series of surreal scenes. A CurlyShade from Charlie's range can be found hidden in the middle of the scene, and the mannequins flaunt hair and headdresses made from steam-bent wooden coils.

The scheme was based on an original concept by Charlie Whinney, and developed by the Harvey Nichols in-house design team, with original artwork by designer/illustrator Sarah Hoyle (www.sarahhoyle.co.uk)

The sculpture is another one-of-a-kind creation that pushes this type of steam-bending process of eco-friendly green wood further than ever before, and surely establishes Charlie Whinney as one of the world leaders of using wood in innovative ways.
Following its six weeks in London, the sculpture will tour the other Harvey Nichols stores throughout the UK over the next year, and also visit their store in Dublin – Bristol, Dublin, Birmingham, Edinburgh, Leeds and Manchester.

************************

High res images are downloadable from the Charlie Whinney Associates intranet – please email info@charliewhinney.com for access. They can also be found on the website at www.charliewhinney.com.

For more information or different images, please contact:

Alison Ireland at Crazy Ties Marketing: tel 0044 (0)7973 404560
Charlie Whinney Associates [email: info@charliewhinney.com; tel 0044 (0)7530 337986; web www.charliewhinney.com]
Sarah Hoyle [email sarah@sarahhoyle.com] web www.sarahhoyle.com]

About Charlie Whinney Associates

Charlie Whinney is the leading exponent of the art of steam-bending wood to create beautiful, unusual curvead furniture and sculptures. His work and projects are among the most challenging and ambitious in the UK currently, each taking the art (and science)-form further along an unbeaten track of innovation. His most recent projects include the 30m Oak sculpture of DNA for Cambridge University in 2008, and a collaboration with Metropolitan Workshop for the London Architecture Festival - a piece entitled 'Road Trip to the Moon', also in 2008. Future architectural projects include a sculpture for a major new restaurant in Texas; a new champagne trolley for Laurent Perrier, a rattan sculpture for a new resort in Kuala Lumpur, and restoring a major sculptural site in Cumbria.

Leaving sixixis (the popular Laurent Perrier Award-winning company he founded three years ago) enabled him to focus on bigger products and projects, and to work with leading architects and garden designers, starting with winning Gold at Chelsea with Andy Sturgeon last year.

Current products can be seen on www.charliewhinney.com and were recently shown at Fresh Air Quenington and Art in Action – they included two new benches. Notorious products include the Rolling Summer House, the GallopyGallopy Bed and the CurlyShade. Large-scale specialist benches, the Coral Arbour and the Fountain Bench sold at Sotheby's last Autumn. Many creations are based on natural or microscopic life forms and Charlie works with a strong environmental ethos using only locally sourced wood.

ENDS

This press release was distributed by ResponseSource Press Release Wire on behalf of Crazy Ties PR in the following categories: Entertainment & Arts, Leisure & Hobbies, Home & Garden, Environment & Nature, Consumer Technology, Manufacturing, Engineering & Energy, Construction & Property, for more information visit https://pressreleasewire.responsesource.com/about.