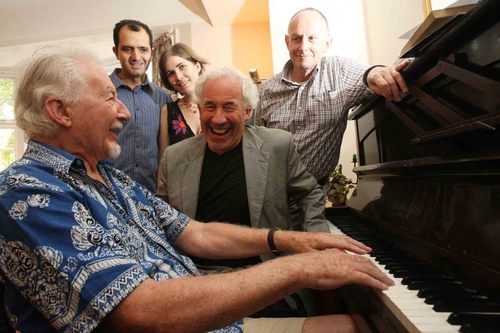 Distinguished charities Live Music Now (LMN) and Musicians Benevolent Fund are working together to enhance the lives of musicians – both young and old – with an appeal to the public to 'Adopt-a-Musician'.

The scheme will contribute to the Government's Older People's Day 'Full of Life' initiative on 1 October 2009 and will lead into celebrations of St. Cecilia (Patron Saint of Music) on 18 November 2009.

Public donations will allow LMN and the Musicians Benevolent Fund to 'adopt' gifted young performers to play for older people, including talented retired musicians, who thought they would never experience live music again. Both charities hope that the initiative will enhance the lives of thousands of older people living in restricted circumstances. Involvement in live music brings proven benefits to health and wellbeing together with sheer enjoyment for people in care settings.

LMN Ambassador, actor, writer and director, Simon Callow said:

"Musicians who work for Live Music Now must be not only hugely talented but also have powerful gifts of direct communication. Performing for the smart audiences at the Royal Opera House or the Festival Hall is one thing, but making their way to people who can no longer get out and about and who may be failing in their focus is quite another."

"It's deeply moving that so many of them are eager to do this; the fact is that they find it moving themselves, and re-charging, especially when they're playing for retired musicians, people for whom music and performance have been a driving force and are now cut off from the joy and inspiration of live music. In my view, this is one of the finest initiatives in classical music for a long time."

David Sulkin, Chief Executive, Musicians Benevolent Fund said:

"The Fund has been supporting LMN for many years and is completely behind what the organisation aims to achieve – the benevolent work that has such high value for older professionals and helping talented young musicians get to grips with the role of music in social settings. The Adopt-a-Musician initiative will no doubt have a profound effect on both young and older musicians".

LMN will stage many activities around Older People's Day on 1 October 2009 which will highlight the benefits of live music. There will be a special commemoration on 18 November at St. Paul's Cathedral and The Guildhall with the Musicians Benevolent Fund to celebrate St. Cecilia's Day.

It costs £400 to 'adopt-a-musician' and to send outstanding, specially trained performers to play in a day centre, residential home, hospice or other settings for older people. All donations are welcome.

Richard McLaughlin, an accomplished professional composer, pianist, organist, harpsichordist and a Musicians Benevolent Fund beneficiary, who lives at Compton Lodge Residential Home, in London said:

"How marvellous it was to be among professional musicians again and to be able to 'breathe' music once more. The visitors did a good job, full of fun and happiness."

Alison Lee, Proprietor, Woodlands Residential Home, Surrey, who recently hosted an LMN performance for residents, said:
"I have never, in all the 30 years of running care homes, seen my residents, so quiet, so entranced, so still and so emotional."
"It gave the residents a chance to have some real professional music-making which many thought was something they would not experience again in their lifetime."

Contributions can be given via both charities JustGiving pages at www.justgiving/adopt-a-musician and www.justgiving/adoptamusician
www.twitter.com/adoptamusician

-Ends-

Further information and pictures from:
Rita Vail, Vail & Associates, T: 020 7738 0722 – e: rita@vail.co.uk

Notes to Editors:

Older People's Day

The Government's Older People's Day initiative on 1 October 2009 is 'Full of Life' – which aims to raise the profile of the issues surrounding older people and our ageing society, and to break down stereotypes by bringing different generations together to promote a more positive view.

Live Music Now

LMN plays an integral part in promoting the wellbeing of people in diverse communities throughout the UK. As the largest provider of live music sessions in a wide variety of community, healthcare and educational settings, it brings crucial benefits to those experiencing difficult times or with restricted access.

Specially trained young professional musicians work with older people, children with special needs, young people in challenging circumstances, adults with learning difficulties, hospital and hospice patients, people suffering from poor mental health, prisoners and young offenders.

LMN is pivotal in keeping live music performance alive and well. It offers employment opportunities to hundreds of musicians each year, who are just beginning their careers, and are from all musical genres and cultures.

The charity aims to reach more than 200,000 people annually and is the U.K.'s largest outreach organisation. It is chaired by Ian Stoutzker OBE, who is also the charity's co-founder along with the violinist Yehudi Menuhin, and is run by Sarah Derbyshire MBE, Executive Director.

With an annual delivery programme of over 3,000 events in the UK, LMN is enormously grateful to the many trusts, foundations, private donors, corporate sponsorship and public funding bodies whose contributions enable the organisation to maintain and develop its work. It also operates in partnership with an ever widening group of organisations, from NHS Trusts to Local Education Authorities.

www.livemusicnow.org

Musicians Benevolent Fund

Founded in 1921, the Musicians Benevolent Fund has been providing essential help and support to musicians and their families for nearly 90 years and it has grown to be the largest charity of its kind in the UK. Each year the Fund helps some 1,500 music professionals who struggle because of accident, illness or old age and supports over 200 highly talented musicians with the challenge of developing a professional career. The Fund also supports a wide range of music organisations including Music for Youth, Live Music Now and the British Association of Performing Arts Medicine [BAPAM].

The Musicians Benevolent Fund has held the Festival of Saint Cecilia each year since 1946, as a tribute to The Patron Saint of Music. Over the years, the Festival has been enhanced by premieres of anthems by Ralph Vaughan Williams, Gerald Finzi, John Tavener, John Rutter, Roxanna Panufnik, Peter Maxwell Davies and Tarik O'Regan and this year's anthem has been written by Cecilia McDowall. This special occasion is also the only time in the year where the combined choirs of Westminster Cathedral, St Paul's Cathedral and Westminster Abbey come together to sing.

This year, the Festival Service will be held on Wednesday 18 November at St Paul's Cathedral at 11am and will be followed by a reception and lunch at The Guildhall.

The readers at the Service will be award-winning singer, actress, dancer and TV personality, Ruthie Hendall and acclaimed opera baritone, Richard Suart. The speaker at this year's Lunch will be Sir David Willcocks, who has had a long-standing association with the Fund as Chairman of the Advisory Council.

For further press information about the Musicians Benevolent Fund please contact:
Christine Brown, Tel: 020 7239 9116, E-mail: cbrown@mbf.org.uk
www.mbf.org.uk



This press release was distributed by ResponseSource Press Release Wire on behalf of Vail & Associates in the following categories: Entertainment & Arts, Health, Women's Interest & Beauty, Education & Human Resources, for more information visit https://pressreleasewire.responsesource.com/about.