Artist Inge Borg Scott Exhibits at the Royal Academy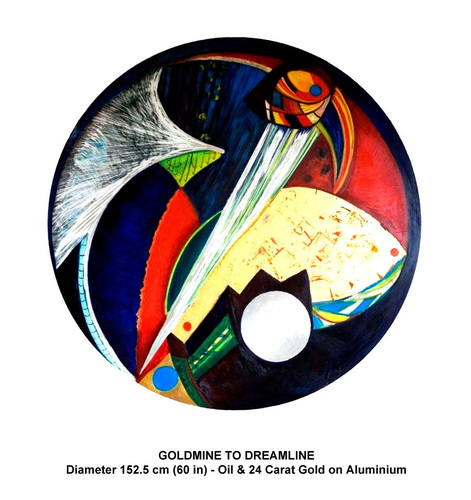 These works are refreshing and rich revealing exhilarating energy, each image serves as a starting point, generating a seemingly unending stream of further unexpected pictorial delights and dreams
Day Dream: the Vision of Inge Borg-Scott

Inge Borg-Scott is the first artist within living memory, who is not a Royal Academician, to have been given the privilege of holding an exhibition of her recent work at Burlington House. Entitled 'Day Dream', the exhibition opens on 23rd November 2009 at 6.30pm with an exclusive Private View and is open to the public from 24 November until 2nd February 2010.

The Day Dream exhibition is at the cutting edge of the art world in terms of materials and imagination. The underlying message is joyfulness and a continuous journey discovering glorious light and luscious, luxurious colours.

The discs made of aluminium, normally used in industry for aircraft construction, fused with precious metals reveal time travel of kaleidoscopic momentum, as well as a passionate love affair with the sun, arising from a deep blue slumber waking into the glory of sheer golden splendour.

"It has been said that I have a chameleon-like ability to change style, colour and perception and move effortless through different stages of exploration. With this collection I can only add it has been fun" says Inge Borg Scott.

These works are refreshing and rich revealing exhilarating energy, each image serves as a starting point, generating a seemingly unending stream of further unexpected pictorial delights and dreams. These visionary paintings are exiting and full of joyful energy.

For more information please contact:

Inge Borg-Scott
Web: http://www.ingeborgscott.com

Notes to the Editor:

Inge Borg-Scott has been a member of the Paris Salon for many years and has exhibited at the Grand Palais in Paris and with Radio France. Her works are treasured by collectors worldwide. She is a patron of the Royal Academy Schools, where she has supported their students and academicians. As a leading member of the Arts Club in Dover Street she has organised many art events and exhibitions.

Profile:

Inge Borg-Scott is without doubt one of the most inspired and inspiring members of Dover Street Arts Club and a unique artist on the London art scene, who over many years has shown truly remarkable initiative, imagination and courage, both in her own extremely original artwork and in her tireless support of other artist members of the Club and young students of every approach, bringing their work to a wider audience by curating exhibitions of great liveliness and invention. When one looks through Inge's resume it's clear how active she has been not only as an ambitious artist but also as an exhibition curator of great discernment and foresight. (Professor Maurice Cockrill RA)

Selected Previous Exhibitions and other work:

2009 - Royal Academy Summer Show.
2008 to 2006, 2004 to 1998 inclusive - The Arts Club, Dover Street, London.
2007, 06, 05, 03 - Art for Life, Christies, London.
2007, 05, 00, 95 - Association Charles Bassompiere Exposition, Maison Painters Du Spectacle, De Radio Frond, Paris, France.
2006 to 1992 - inclusive, The Salon Exposition, Paris.
2003 - The View, Waterstones, Piccadilly, London and New Orleans House Gallery, Twickenham.
2002 - 'Viewpoint', WH Patterson, Albermarle Street, London.
2000 - European Showcase, The Soney Tower, Osaka, Japan.
1998, 92 - Gagliardi Gallery, Kings Rd, London.
1992 - Alberty Gallery, Cork Street, London.
Other - Portrait commissions for the former Prime Minister the Right Honourable John Major.
Other - Portrait commissions for the former Russian Ambassador to Great Britain.

Elected Member to the Paris Salon, Paris, France.
Elected Fellow of the Royal Society of Arts, London.
Elected Artist Member and Chairman of the Artist`s Committee, the Dover Street Art Club, Mayfair.
Member of Selection Committees, and the Charitable Trust of the Dover Street Arts Club, Mayfair.
Instigator of the Conference 'The Painter, the Painting and the Brain' at the Royal Society of Medicine, London.
Curated mixed and solo exhibitions of various leading artists and Royal Academicians.
Initiator of the 'Exellence in Drawing Award' and the 'Artist in Focus Programme'.

This press release was distributed by ResponseSource Press Release Wire on behalf of Inge Borg Scott in the following categories: Entertainment & Arts, Leisure & Hobbies, Women's Interest & Beauty, for more information visit https://pressreleasewire.responsesource.com/about.