Sunbelt Software's VIPRE Wins VB100 Award For Malware Detection On Windows 7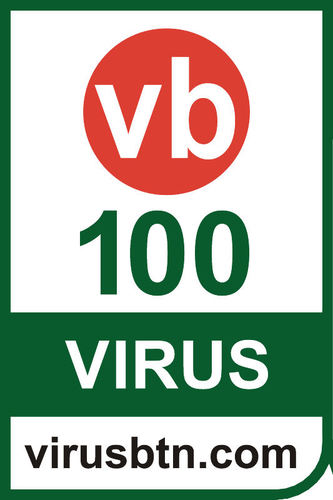 Detects 100 Percent of WildList Viruses with No False Positives

Clearwater, Fla. – December 3, 2009 – Sunbelt Software, the provider of Windows security software, today announced that its VIPRE® Antivirus + Antispyware product has received the VB100 award from Virus Bulletin, the highly-respected independent comparative testing group, in the December 2009 issue of its online publication.

The test was conducted on the Windows 7 platform and Sunbelt Software, in its first-ever entry into this prestigious test, successfully detected all "in the wild" viruses without creating a single false positive. Viruses are generally categorised as "in the wild" when they are spreading as a result of normal day-to-day operations on and between the computers of unsuspecting users. The outstanding level of malicious program detection recognises the depth and accuracy of Sunbelt's VIPRE antivirus technology.

Virus Bulletin tested several different antivirus products for their detection rates, lack of false positives and speed of scanning on Microsoft's Windows 7. VIPRE successfully detected 100 percent of viruses in the wild.

"Perhaps one of the most long-anticipated VB100 appearances … it is with great excitement that we finally get to record and report some results," wrote Virus Bulletin in the review. "The WildList proved no obstacle despite the set of tricky samples, and with no false positives either VIPRE earns a VB100 on its first appearance; we hope to see many more."

Virus Bulletin conducts independent comparative testing of antivirus products. The tests focus on virus detection rates and scanning speed, as well as look at how each product fares when scanning set files that are known to be clean. In order to display the VB100 logo, an antivirus product must have demonstrated in Virus Bulletin tests that: It detects all viruses currently spreading throughout a diverse user population during both on-demand and on-access scanning; and it generates no "false positives" when scanning a set of clean files. The product must fulfill these criteria in its default state.

Unlike some other similar-sounding testing schemes, Virus Bulletin uses the most up-to-date WildList – available from the WildList Organization – in its tests. This means that products that are 'plugged in' to changing threat generation are the ones most likely to be granted VB100 awards. More information about Virus Bulletin can be found on its website: http://www.virusbtn.com.

"Inclusion in the VB100 is a mark of distinction among antivirus providers and confirms Sunbelt Software's VIPRE product line as one of the most accurate and effective on the market today," said Alex Eckelberry, CEO of Sunbelt Software. "Real-time detection of viruses in the wild has been a point of emphasis for us, and has never been more important considering the rising level of cyber attacks."

About VIPRE and MX-Virtualization™
Sunbelt Software's VIPRE integrates the most sophisticated technology on the market today, including a compact, high-speed virtualised Windows environment called MX-Virtualization (MX-V), which performs rapid behavioral analysis of potential malware. Without any user interaction, malware is executed in an environment that mimics many core Windows functions, and analyzed for certain malware signatures and behavioral characteristics. This functionality enables VIPRE to detect many types of malware without the necessity of creating a constant stream of dedicated signatures and heuristic systems.

MX-V is part of a number of other detection methods used by VIPRE, including classic signature detection and heuristics. The performance impact on a user's system is virtually unnoticeable, in keeping with Sunbelt's commitment to delivering next-generation antivirus without the large memory and CPU footprint common to other solutions.

To download a free trial of VIPRE, visit http://www.vipreantivirus.com.

Contact:

Martin Brindley
DMG Europe
+44 1256 807360
sunbelt@daviesmurphy.com
www.daviesmurphy.com

Laurie Murrell
Sunbelt Software
+1-727-562-0101
lauriem@sunbeltsoftware.com
www.sunbeltsoftware.com

About Sunbelt Software

Headquartered in Tampa Bay (Clearwater), Fla., Sunbelt Software was founded in 1994 and is a leading provider of Windows security software including antivirus, antispyware, email security, and malware analysis tools. Leading products include the VIPRE® and CounterSpy® product lines, Sunbelt Exchange Archiver™, CWSandbox™, and Threat Track™.

For more information about Sunbelt Software, please visit the company's website at http://www.sunbeltsoftware.com. To learn more about current activities, products, and ideas at Sunbelt Software, please visit Sunbelt's corporate blog at http://www.sunbeltblog.com. To view this release online please visit: http://www.sunbeltsoftware.com/Press/Releases/?id=322
# # #

Copyright © 2009 Sunbelt Software. All rights reserved. All trademarks used are owned by their respective companies.

This press release was distributed by ResponseSource Press Release Wire on behalf of Sunbelt Software in the following categories: Consumer Technology, Business & Finance, Computing & Telecoms, for more information visit https://pressreleasewire.responsesource.com/about.