Russell Grant reveals if your Pet is Happy!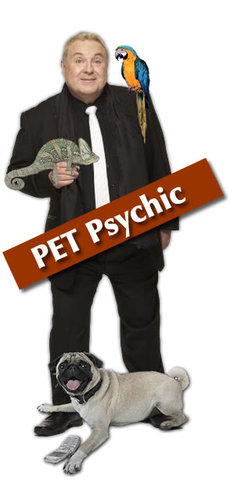 IS YOUR PET HAPPY?

Do you often wonder what your pet is thinking? Is your cat off her food or your dog looking glum? Misbehaving? We always wonder about our beloved pets, if they will accept another in the household, are they healthy and happy or simply shall I get another?

Now you can get those burning questions answered! You can send your questions to Russell Grant's very own Pet Psychic - who has worked with animals since childhood helping many owners.

In order for the Pet Psychic to focus in on your pet, the more information you can give about your pet - the better. The breed and either the age/date of birth of your pet is most helpful - so too is colour, size, and of course their name!

Russell's Pet Psychic will try to answer your pet questions as quickly as possible; but please allow them 48 hours to respond.
Don't forget, you can also read your Weekly Pet Horoscopes too on www.russellgrant.com

Obviously, if you have any health concerns regarding your Pet we always recommend a visit to your Vets to undertake a full medical examination, to ensure your Pet is fit and healthy!

A recent example of a Pet Reading:
My Pussy has suddenly turned vicious

Animal: Cat
Name: Pebbles
Age: 6.5 yrs old
Problem: Suddenly turned vicious - rescued from cat's home at age 1 and been fine up to now. No other pets - owners at work all day.

Pet Psychic Answer:
Thank you for your question about Pebbles, Mrs Blythe.
It's very interesting as what you say about Pebbles fits with what I am sensing about her.
Right now there seems to be some conflict in the home situation - is there perhaps some tension between you and your partner right now?

Pebbles had a bad start in life and she has always been grateful to you both for being so kind to her and helping her to adjust to a good life.
Right now she seems to sense the tension and it brings back bad memories for her.
She seems afraid that you'll abandon her and that once again she'll end up back in the home for abandoned cats!
She is showing her fear by trying to hurt those she loves - something humans are prone to do as well as animals I'm afraid.
You need to try hard to let her see you both together in a loving, caring way.
Include her in the occasion - both fuss over her and talk calmly to her and to each other.
Treat her in the way you would treat another human going through the same trauma that she is imagining.
I sense she needs this reassurance and once she feels safe again this behaviour will cease.
Buy her a toy and both give it to her - she'll be delighted.

Editorial Notes:
www.russellgrant.com was established in 1983 and averages over 2.1M visits per month
The website consists of over 200+ editorial pages including Daily Video Horoscopes from Russell Grant & Weekly Pet Horoscopes too.

Press Contact:

Kevin J Parker – kjp@russellgrant.com
0161 941 3342

This press release was distributed by ResponseSource Press Release Wire on behalf of Russell Grant Astrology in the following categories: Entertainment & Arts, Women's Interest & Beauty, Media & Marketing, for more information visit https://pressreleasewire.responsesource.com/about.