EARN FREE MONEY WHEN YOU SHOP!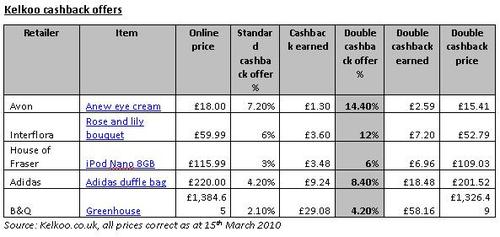 KELKOO LAUNCHES INTEGRATED CASHBACK AND VOUCHER CODES TOOLBAR

To celebrate, Kelkoo is offering shoppers the chance to earn double cashback throughout April with over 1,000 online retailers on anything they buy

• British shoppers are missing out on £3.2 billion in cashback each year, with 40% saying they have never used cashback and 25% admitting they have never heard of it[1]

• Kelkoo's free toolbar automatically alerts users to cashback deals and voucher code discounts whenever they visit the website of any participating retailer on the web

• The toolbar gives shoppers easy access to cashback deals at over 1,000 online stores on anything they buy, and over 2,000 discount voucher codes with almost 700 retailers

• Consumers can earn up to 20% cashback on their purchases and save up to 35% with voucher code discounts

• With the average online shopper spending £1,100 online each year, the toolbar could save them £220[2] in cashback alone - enough to buy an iPod Classic

• Throughout April, anyone who uses the Kelkoo toolbar will earn double cashback with 1,000 leading retailers such as Apple Store, iTunes, eBay, B&Q, Dell, House of Fraser, Expedia.co.uk and Hilton

• For example, Hilton is offering 7.2% on all bookings under the double cashback scheme – that's €28.51 cashback on 4 night stay costing €396 at the Vilamoura Hilton in the Algarve

• View the video of how it works on: http://cashback.kelkoo.co.uk/

London, 31st March 2010: Kelkoo has launched a downloadable toolbar giving consumers easy access to cashback deals from over 1,000 of the UK's leading online stores and over 2,000 voucher codes from 700 online retailers. This means that consumers can shop freely anywhere on the internet and the toolbar will automatically display a pop up alert whenever they visit the website of a participating retailer. With the average online shopper spending £1,100 online each year, downloading the toolbar could generate as much as £220 in cashback alone. [2]

According to research by Kelkoo.co.uk British shoppers are missing out on an estimated £3.2 billion in cashback each year. That's approximately £273 million of untapped cash that could be earned per month - just by taking advantage of cashback services when shopping online[1]. Typically, Kelkoo shoppers can expect to earn up to 20% in cashback savings, and as much as 35% in voucher code discounts. However, to celebrate the launch of the new toolbar, Kelkoo is offering double cashback throughout the month of April to anyone who downloads and uses the toolbar.

Once downloaded, the toolbar sits on the web browser and does all the hard work for you. Voucher code offers will instantly save consumers money once the relevant code is entered on the retailer's checkout page. Meanwhile, Kelkoo will automatically keep track of its users' cashback earnings and issue a cheque as soon as £12 has been accumulated.

For example, if you buy a Plasma TV from House of Fraser, the toolbar will automatically alert shoppers to the 3% cashback deal on offer. In monetary terms, this means you could earn £46 back on the original price tag of £1,549; although if you purchased the TV in April during the double cashback period you would earn £92. As this is more than £12, a cheque will be issued once the purchase has been processed. Some retailers are offering both cashback and voucher codes on the same items. For example, Austin Reed is offering 6% cashback and £10 off orders over £100. That's a regular saving of nearly £34 on a suit costing £400, or almost £57 with double cashback at 12%.

Although cashback services and voucher code offers are becoming increasingly popular, research from shopping comparison site Kelkoo found that 40% of online shoppers have never used cashback and a quarter have never heard of it. In addition, 60% of consumers are regularly failing to take advantage of the voucher code savings on offer [3].

Gilles Villautreix, Product Director of Kelkoo Europe, comments: "The days of trawling through lots of websites to hunt down the best deals and discounts are over. Consumers are now able to earn cashback and reap the benefits of voucher codes with very little effort. The toolbar gives you the piece of mind that you're finding the best value online while letting you earn while you shop."

To download the toolbar, visit www.cashback.kelkoo.co.uk and follow these three easy steps:

1. Signup for the Kelkoo cashback service
2. Click on the orange 'download' toolbar button
3. Click 'run' in the popup window to initiate the download and click 'run' in the second popup window to finalize the installation
4. The toolbar is completely free and is compatible with Internet Explorer or Firefox browsers.

Watch the video to see how it works on: http://cashback.kelkoo.co.uk/
Terms & Conditions for Double Cashback : http://cashback.kelkoo.co.uk/moreinfo/pgpromoterms

For Further information please contact:

Cristina Rebollo PR Director, Kelkoo.co.uk,
Tel: +44 (0)203 4029 446
Mobile: +44 (0)779 6540645
cristina.rebollo@kelkoo.com

Tracy North, Senior PR Manager, Kelkoo.co.uk
Tel: (0) 20 3402 9448
Mobile: (0)7940 753663
tracy.north@kelkoo.com

Brands2Life
Tel: +44 (0) 207 592 1200
Susannah Hardy, Associate Director, +44 (0) 778 840 5224
kelkoo@brands2life.com

Notes to editors:

All Cashback and Voucher code offers listed on the press release valid on 15th March 2010.

1. Kelkoo calculation based on the average consumer spending £450 each month (according to survey of 1,000 consumers carried out by Kelkoo in September 2009) with 17% of all shopping carried out online (source: IMRG) and 7% being the average cashback amount available via Kelkoo.

2. Average spend figures sourced from 'European Online Retail Trends 2010' report commissioned by Kelkoo and carried out by the Centre for Retail Research, 22nd December 2009. £220 calculation based on an average annual spend of £1,100, and a return of up to 20% cashback available through Kelkoo.

3. Figures from Moneysupermarket.co.uk

About Kelkoo

Kelkoo was founded in 2000, following mergers with Zoomit, Dondecomprar and Shopgenie. Yahoo! completed its sale of Kelkoo in October 2008, to Jamplant, a UK private equity firm.

With the largest Western European footprint in its sector, covering 10 countries across Europe, Kelkoo is a one-stop shopping service which helps shoppers to find research and buy products online with confidence.

As Europe's largest e-commerce advertising platform and third largest e-commerce website, its sites list 44 million offers from more than 10,000 online merchants, and attract over 10 million unique users per month. Kelkoo's goal is to provide the best possible service and value to consumers and retailers alike. 23 of the top 25 European retailers list their products with Kelkoo – 21 out of the top 25 do so in the UK.

According to Hitwise, the leading online competitive intelligence service, Kelkoo is the UK's favourite shopping comparison site, with around 5 million offers from more than 3,000 online merchants. It also offers additional services such as Kelkoo Cashback, Kelkoo Mobile, and Voucher Codes.


This press release was distributed by ResponseSource Press Release Wire on behalf of Brands2Life in the following categories: Personal Finance, Retail & Fashion, for more information visit https://pressreleasewire.responsesource.com/about.