A chance to become part of the West End musical phenomenon, Thriller Live: casting auditions taking place at Talent Expo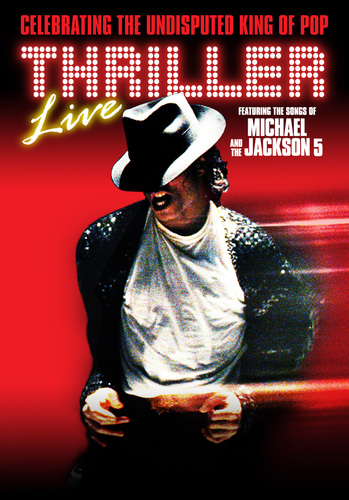 Real opportunities are on offer, including the chance to dance on stage like Michael Jackson at Thriller Live.
Ever wondered just how to get that a break into show business? The world's biggest talent fair is opening in London this June to show you how! Real opportunities are on offer, including the chance to dance on stage like Michael Jackson at Thriller Live.

London, 7 May 2010 – Live auditions for roles Thriller Live will be among the many dazzling opportunities for would-be stars of all ages on offer at Talent Expo. Taking place at ExCeL London between 25 and 27 June 2010, the event is the world's biggest live talent fair and promises to open up the talent industry to an audience of around 50,000 visitors. Visitors will gain the chance to take part in auditions, receive invaluable career advice from professionals of the worlds of music, dance, film and fashion; enjoy world-class performances from new and big-name artists; and to exhibit their skills to real agents and talent scouts.

The hit West End musical, Thriller Live, is spectacular show that celebrates the career of the world's greatest ever entertainer, Michael Jackson, and tells the story of the Jackson 5. The show's directors are seeking new dancers and have partnered with Talent Expo to run live auditions. To register your interest visit http://www.talentexpotickets.co.uk and respond to the email address shown. You will need to attend Talent Expo on Friday, 25 June. Discount tickets are on sale now exclusively at http://www.talentexpotickets.co.uk.

Gary Lloyd, director and choreographer for Thriller Live, talked about what he's looking for: "We're seeking up to twelve new performers. They must be strong, commercial dancers with great technique and specialised in hip-hop. Ability to perform acrobatic or trick moves isn't essential, but is definitely a plus."

As you can imagine with an event of this scale, Talent Expo will be offering many more exciting opportunities. Look out for news to come about further castings, celebrity appearances, electrifying performances and big-prize competitions. All will be announced throughout the weeks leading up to the Expo!

Given the number of TV programmes trying to make stars out of a select few, just how did this unique, ground-breaking 'event for all' come about? Talent Expo is the brainchild of Robert Fenton, a veteran of the talent industry, who saw the need to unite an array of enterprises that collectively form a major part of the UK economy and open up the way they function to would-be stars. As Robert says "A career in talent is an ambition for many, but too often people fall prey to charlatans who take advantage of their dreams. Talent Expo provides a forum for talent businesses to network, offering professional advice and genuine opportunities to those who enable their success. Our event aims to fulfil a serious purpose, but it will also be a fantastic day out for anyone who enjoys and is interested in the world of talent."

Talent Expo features around 150 exhibitors across nine zones, covering many major fields of talent including the film industry, dance, theatre, modelling, variety, comedy and Bollywood. Together with experienced professionals they will host workshops and seminars that will enable anyone seeking a career in talent to develop their skills, learn more about how the industry operates, manage a lifestyle in talent and improve their prospects for success.

-ends-

About Talent Expo

Talent Expo, "The World's Largest Live Talent Fair & Showcase", brings together all aspects of the industry under one roof. The event is the first of its kind and promotes both talent and the enterprise that supports it. Taking place at ExCeL London between 25 and 27 June 2010, and expected to receive over 50,000 visitors, the 4-day event offers a unique insight into the talent industry. Exhibitors will benefit from a leading range of services designed to help them make new connections and promote their businesses. Visitors will also have the opportunity to see spectacular performances, learn from industry professionals at seminars and workshops, meet around 150 exhibitors, and hear from their favourite celebrity idols.

Tickets to Talent Expo are available now from http://www.talentexpotickets.co.uk.

Media Contact

Curzon PR: +44 (0)20 3178 5693, http://www.curzonpr.com

James Ollerenshaw
james@curzonpr.com
07834 196817

Michelle Russell
michelle@curzonpr.com
07909 911275
This press release was distributed by ResponseSource Press Release Wire on behalf of Curzon Public Relations in the following categories: Children & Teenagers, Men's Interest, Entertainment & Arts, Leisure & Hobbies, Women's Interest & Beauty, Media & Marketing, Retail & Fashion, for more information visit https://pressreleasewire.responsesource.com/about.