IoD Debate dismisses Directors Re-election 'Side-Show', favouring Rigour of External Assessments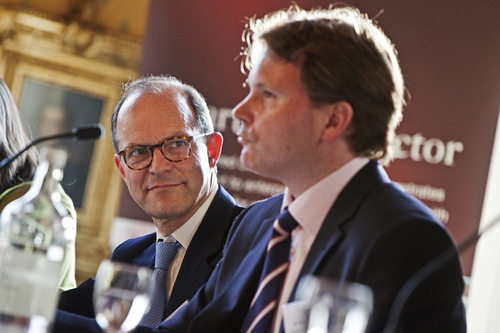 Press Release

IoD Debate dismisses Directors Re-election 'Side-Show', favouring Rigour of External Assessments

For Immediate Release – 11 June, 2010

Directors can live with the idea of annual re-elections proposed in the new UK Code of Governance, according to business leaders who congregated at the Institute of Directors earlier this week.

Around 100 company chiefs from FTSE companies, academics, and leaders from the public sector joined a debate to discuss the new Code - a week after the changes were made public by the Financial Reporting Council – to talk about subjects ranging from ethics and boardroom diversity, to shareholder responsibility.

The debate was held to mark the launch of a new edition of The Director's Handbook, published by the Institute of Directors and law firm Pinsent Masons. The handbook is designed to help company boards navigate their way through the perils of increasing regulation and new legislation.

Top of the agenda was the widely reported re-election issue for directors, which, despite much hype, was not a major concern to many in the room.

"I think the bigger issue behind annual re-elections is whether or not shareholders are actually going to step up and exercise their powers, either to influence boards to behave in a responsible manner, or if necessary to remove certain directors," says Dr Roger Barker, Head of Corporate Governance at the IoD, who chaired the debate. "I don't think annual re-elections will be for everyone, and boards should not feel obliged to comply with this new provision in the Code. Nor do I foresee a wholesale annual turnover of directors in many boards as a result of this inclusion."

Martin Webster, partner at Pinsent Masons and editor and lead author of The Director's Handbook, however pointed out that the members of a remuneration committee might now be more wary of adverse shareholder views on pay levels if they face re-election each year.

On the whole, however, board assessments were viewed as a more promising way for shareholders to hold directors to account, provided the relevant conclusions of the process were appropriately fed-back to shareholders and not diluted down.

"Re-election of directors is a sideshow," says Dr Neville Bain, Chairman of the IoD. "External validation of a board's performance every three years by external assessors has been proven to increase director effectiveness. The main focus should then be on how these assessments are accurately reported, and whether they also document the actions taken. The problem is that there is a shortage of assessors, which needs to be addressed."

There was not much support for the idea of positive discrimination towards women (or the quota allocation seen in some countries) simply to redress a gender imbalance. Instead, it was felt every member of the board should be judged to be there on merit in order to command the respect of their fellow directors.

Indeed, when it came to a wider discussion about diversity versus expertise, most company heads it seems recognised the benefits of drawing talent from a range of sources. Global companies, for example, were cited as having been strengthened by cultural diversity in the boardroom.

"I think gender diversity has been singled out wrongly," said Dr Barker. "Of greater import is the flexibility that boards need to show in recruitment which will then lead to greater diversity. An important issue, certainly within many FTSE 350 companies, is that boards tend to only appoint non-executives who have previously been executive directors. The debate highlights that this lack of diversity in professional background might be a limiting factor in opening up the board to greater diversity in terms of both women and new ideas. The sort of expertise needed for a non-executive appointment need not have been garnered by running a plc."

Mr Webster considered that greater diversity and balance could be achieved by recognising the need for training:" Directors should be trained in their business, which means they don't have to be simply recruited from the traditional sector or talent pool." A comment from the floor decried the FSA's over-aggressive grilling of prospective non-executive directors in regulated companies in the financial sector which was deterring excellent candidates from coming forward.

Many felt that ethics had been missing in boardroom behaviour in the run-up to the current crisis. However, while values and codes of conduct were felt to play an important part in corporate life, these needed to be bespoke for each company and could not be imposed by guidance from outside.

"Better to encourage companies to have a set of values that companies live and breathe, than try and frame an ethical policy for everyone," said Mr Webster.

Copies of the handbook, published by Kogan Page and priced at £25, can be purchased directly from the IoD by telephoning 020 7766 8866 or online at either www.koganpage.com/iod or www.iod.com/directorshandbook.

ENDS

Picture shows (left to right): Martin Webster, partner at Pinsent Masons and editor and lead author of The Director's Handbook, and Dr Roger Barker, the IoD's Head of Corporate Governance, at the IoD's debate on changes to UK corporate governance, held to launch the new Director's Handbook

Review copies of the Directors Handbook are available from Leader Communications.
Hi-resolution jpg images of the front cover are also available on request.

Please contact:

Gerry Vincent
Leader Communications
Tel. +44 (0)1564 796219
Mob. + 44 (0) 7879 600788
Email: gerry.vincent@leader.co.uk

Notes to editors:

• The Directors Handbook was first published in 2005; the latest edition published in June 2010 will be the third edition.

• In 2007, the handbook was first revised to take account of the Companies Act which was passed in 2006.

• The IoD (Institute of Directors) was founded in 1903 and obtained a Royal Charter in 1906. The IoD is a non-party political organisation with upwards of 45,000 members in the United Kingdom and overseas. Membership includes directors from right across the business spectrum – from media to manufacturing, e-business to the public and voluntary sectors. Members include CEOs of large corporations as well as entrepreneurial directors of start-up companies.

• The IoD offers a wide range of business services which include business centre facilities (including ten UK regional centres [three in London, Reading, Birmingham, Cardiff, Manchester, Nottingham, Edinburgh and Belfast] and one each in Paris and Brussels), conferences, networking events, issues-led guides and literature, as well as free access to business information and advisory services and a comprehensive Information Centre. The IoD places great emphasis on director development and has established a certified qualification for directors - Chartered Director - as well as running specific board-level and director-level training and individual career mentoring programmes.

• In addition, the IoD provides an effective voice to represent the interests of its members to government and key opinion-formers at the highest levels. These include ministers, constituency MPs, Select Committee members and senior civil servants. IoD policies and views are actively promoted to the national, regional and trade media.

• For further information, visit our website: www.iod.com

• Martin Webster, editor and lead author of third edition of The Director's Handbook is a partner at Pinsent Masons. He read law at Christ's College, Cambridge, and has practiced as a corporate lawyer for nearly 30 years. He has acted for both quoted companies and growing private businesses, and now advises companies and their boards on corporate governance, risk management, and general compliance issues.

• Pinsent Masons is an international law firm delivering solutions that enable its clients to meet their commercial objectives. It is ranked in the top 15 UK law firms and in the top 100 globally.


This press release was distributed by ResponseSource Press Release Wire on behalf of Leader Communications in the following categories: Business & Finance, for more information visit https://pressreleasewire.responsesource.com/about.