ONLINE DATING STATISTICS: British singles are most dissatisfied in Europe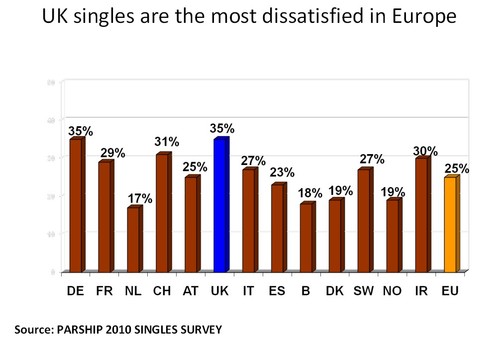 Bridget Jones may have been the UK's emblematic female singleton in recent years, but these days it's the men of Britain who are more likely to follow in her path … Say hello to Brendan Jones.

British singles are the most dissatisfied with their single status, men more so than women, according to a new survey by PARSHIP, Europe's largest premium online dating service, which uses a rigorous personality profiling test to determine compatibility

In the survey of 5,000 single Europeans, UK men and women may be the most dissatisfied, shy and serially single in Europe, but their lonesome state results partly from ideals: they believe in holding out for Mr or Ms Right and when looking for love favour marriage over a long-term commitment without the wedding contract.

UK singles, together with the Germans, are the least happy in Europe, with 35% saying they are dissatisfied with their single status and only 39% saying they are truly satisfied.

The happiest are the Dutch, with 62% of singles in the Netherlands claiming to be happy and satisfied.

To put this into perspective, 85% of British people in a relationship say they are very or fairly satisfied.

Bianca Mercer, PARSHIP's Country Manager UK and Ireland, commented:

"These figures show that, in the UK, men are more likely to be dissatisfied with their single status than women. One possible explanation could be that women have now become much more independent and many no longer see becoming a wife and mother as their ultimate goal.

However, it is well known that men benefit much more than women do from being in a relationship: scientific studies have shown that married men live longer and enjoy better physical and mental health compared to their single counterparts. The same trend does not exist for married women. PARSHIP's single survey complements these findings: UK men with partners are more satisfied with their relationship than women are, and UK single men are more dissatisfied with their single status than single women."

There are an estimated 15 million singles now living in Britain (source ONS 2006) of which half (51% or 7.65 million) are looking for a long term-relationship; 17% would prefer a casual relationship and 28% are not looking for a relationship at all. However, unlike their European counterparts – who, with the exception of Ireland, would choose an unformalised long-term relationship over marriage (across Europe an average of 35% favour a long-term relationship and 17% a marital commitment) – UK singles would go for commitment leading to marriage (29%) rather than simple cohabitation (24%). As might be expected, it's women in the UK who especially favour marriage vows: one third of them (33%) are looking forward to their Big Day, compared to just one quarter (24%) of British men.

- ENDS -

For more information, a copy of the http://www.parship.com report or case studies, please contact.

Bianca Mercer
Telephone: +44 (0)1379 490191
Email: bianca.mercer@parship.com

About PARSHIP

PARSHIP.co.uk, the largest premium online matchmaking service in the UK, is specifically for people who are serious about forming a lasting relationship and is built on a rigorous personality profiling test that determines compatibility.
It is the British subsidiary of Europe's most successful serious online dating service, now with millions of members, predominantly affluent, educated men and women between 28 and 55 years old.

Since its launch in Germany in 2001, PARSHIP has matched thousands people who are serious about forming a long-lasting relationship, and it now operates in 14 countries of Western Europe and also in Mexico

PARSHIP GmbH is headquartered in Hamburg and is 87%-owned by Holtzbrinck networXs AG, part of the Georg von Holtzbrinck publishing group, one of Germany's largest publishing companies with financial interests in more than 80 companies, including the Macmillan Group.

About the 2010Singles Survey

For this study, conducted in May 2010, PARSHIP joined forces with the market research institute Innofact to survey more than 13,000 people aged between 18 and 59, single and in long-term relationships, in 13 Western European countries. The study focuses on the topics of lifestyle, relationships, looking for a partner and online dating, embracing more than 100 different themes. The random sample in each country was identically structured in terms of age and gender, with a 50/50 split between: male and female respondents; single people/partnered people; the 18-39 and 40-59 age groups. The survey covered: Austria, Belgium, Denmark, France, Germany, Ireland, Italy, the Netherlands, Norway, Spain, Sweden, Switzerland, and the UK.

This press release was distributed by ResponseSource Press Release Wire on behalf of Senso Communications Ltd in the following categories: Men's Interest, Women's Interest & Beauty, for more information visit https://pressreleasewire.responsesource.com/about.