IF: Milton Keynes International Festival 2010 - The Countdown! 16 - 25 July 2010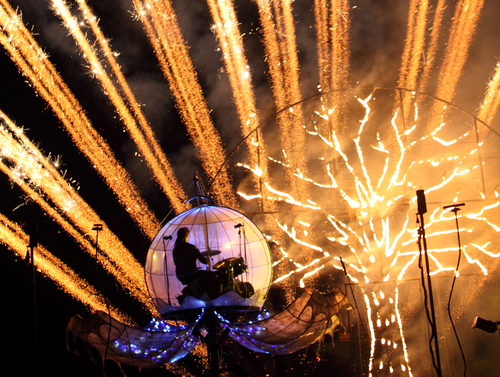 Milton Keynes is THE place to visit this summer and there will be a veritable cornucopia of entertainment and visual displays to excite and enthrall all the family.
IF YOU WANT TO EXPERIENCE SOMETHING AMAZING THIS SUMMER . . .

*Fantastic free events, great live music, cracking comedy nights, breathtaking shows, memorable experiences, incredible installations, new commissions and UK premieres...*

The countdown has begun in earnest and as the days and hours tick by, Milton Keynes is being transformed into a place of wonder and delight, as preparations roll out for IF: Milton Keynes International Festival. For 10 extraordinary and exceptional days, the city of Milton Keynes will welcome artists and performers from all over the world, to entertain, mesmerize and thrill visitors from all corners of the country.

Celebrating the city's unique architecture and utopian vision of its 1960s' founders, the festival will make use of the landmarks, parks, boulevards, disused buildings and unusual locations of central Milton Keynes in an ambitious programme of performances and family-friendly events, both ticketed and free, which include new circus, theatre, dance, music, visual arts and sound installations.

Milton Keynes is one of the most accessible cities in the UK, and easily reachable by train and car from all key cities: London is less than 30 minutes away, and visitors from Birmingham and Manchester can be in the city centre in under two hours. Milton Keynes is THE place to visit this summer and there will be a veritable cornucopia of entertainment and visual displays to excite and enthrall all the family.

UK Premieres will include the critically acclaimed InStallation – a Swiss collective of aerial and high wire artists, dancers, musicians, horses and their expert handler who will showcase this breathtaking theatrical performance in a Big Top. Telling the story of a chance meeting of these extraordinary artists in a horse's stable, a special universe unfolds both on the floor and in the air, with each scene heralding a new visual, artistic and musical world that comes together in a kaleidoscope of mesmerising artistry.

Architects of Air, from Nottingham, will unveil their new luminarium Mirazozo, a large walk-in inflatable structure in which neon-like illuminated seams create visual illusions similar to those encountered in the geometric surface design of Islamic art and architecture.

Artichoke, producers of extraordinary live events (The Sultan's Elephant and the astonishing, giant mechanical Spider, La Princesse), in partnership with Sky Arts, will work their customary magic bringing a mysterious and fantastical new experience to the Festival in The Magical Menagerie - an installation with a difference. A huge, square carousel, as tall as a house and populated by all manner of strange,mechanical creatures that can be operated by their riders, from gigantic buffalo to exotic fish and brightly coloured insects.

With IF: Milton Keynes International Festival produced by The Stables, one of the UK's leading live music venues currently celebrating its 40th anniversary, there is a strong music and sound theme underpinning the festival. World acclaimed percussionist Evelyn Glennie will perform with the New York based guitarist Fred Frith in the UK premiere of Late Night Lounge, an improvised concert in the City Church. The late night 'lying down' concert will feature a light display projected onto the Church dome, which the audience will view from a prone position on the floor of the church.

A Belgian Spiegeltent will be at the heart of Festival Central in Campbell Park and home to a live music, comedy and cabaret programme, with highlights including Karbido's electrifying audio visual spectacle The Table, Adrian Edmondson and his folk punk band The Bad Shepherds, festival favourites Bellowhead, and Perrier award winning comedian Rich Hall.

Award-winning Sound artist and this year's inaugural artist-in-residence, Janek Schaefer, will create Asleep at the Wheel, his new commission for the festival. Constructed in the old Sainsbury's superstore, the immersive soundscape will feature several upended cars on a fake tarmac road running through the disused structure. Climbing into the cars, audiences will hear their radios mysteriously tuning in to the newly composed sound-work. Schaefer's teenage years were spent in Milton Keynes and here he responds to the city and its connection to the car.

For anyone planning to visit the Festival, be it for a day, a weekend or longer, they are assured of an exceptional experience and a warm welcome. Milton Keynes is a thriving, exciting and cosmopolitan city that is mindful of its past and very much embraces the future.

For further information on why Milton Keynes is a must-visit-destination this July, and with details of some of the most exciting activities and some of the best entertainment experiences in the UK, please visit the Festival website: www.ifmiltonkeynes.org


For further information, photographs and interviews, please contact:
Carolyn Jardine: Jardine Michelson Public Relations
Telephone: 0845 1651651
Carolyn@jardine-michelson.com



EDITOR'S NOTES

IF: Milton Keynes International Festival is produced by The Stables in association with Milton Keynes Gallery, it was developed with the initial support of £462,000 from Arts Council England South East following a collaboration between The Stables and Milton Keynes Gallery, both Regularly Funded Organisations of Arts Council England. Following the inaugural festival in 2010, the next IF: Milton Keynes International Festival will take place in 2012.

Monica Ferguson – Festival Director
Monica Ferguson is Festival Director and Chief Executive of The Stables, which was founded by Sir John Dankworth and Dame Cleo Laine in 1970. She has over 20 years experience of managing arts venues, festivals and events and has overseen the artistic, organisational and building development of The Stables since 2003 into one of the UK's top 100 music venues (ranked 6th by the Performing Rights Society).

The Stables is a registered charity and presents over 350 concerts and 250 education events annually. Monica is a Fellow of the Royal Society for the Encouragement of Arts, Manufactures & Commerce. For more information on The Stables visit: www.stables.org

Bill Gee – Creative Producer
Bill Gee is one of the UK's leading producers of outdoor festivals and Chair of the Independent Street Arts Network. With 20 years of experience in the industry Bill continues to work with artists and performers from a range of disciplines, over the years working across theatre, dance, music, visual arts, live art, spoken word, participative arts, film and video.

In addition to his role as Creative Producer of IF: Milton Keynes, Bill is currently Co-Artistic Director of Inside Out Festival in Dorset, as well as working with Metis Arts on their Tipping Point funded 3rd Ring Out and various projects with Dutch theatre maker Dries Verhoeven. He is an Associate Producer with Artsadmin, regularly invited to speak and give papers, and undertakes strategic research projects for ACE and other agencies into arts in the public realm.

Bill is also on the board of Inbetween Time Productions, Rachel Davies Film Ltd and a member of the Regional Council for ACE East Midlands.

Arts Council England
Arts Council England (ACE) is the national development agency for the arts investing funds from the National Lottery and the Government into arts organisations and artists. The mission of Arts Council England is great art for everyone, believing that the arts have the potential to change people's lives; support young people to fulfil their potential; and make an important contribution to the economy. Arts Council England is committed to supporting the development of Milton Keynes' cultural infrastructure. Their investment of more than £462,000 to the international festival lies at the heart of that. The Arts Council has been a longstanding investor and supporter of the city's cultural offer. The Stables and Milton Keynes Gallery are receiving a total of £1.9 million in regular funding during 2008-11.

In addition, recent project funding into the city's arts organisations includes:
• Rendezvous - £118,508 to support The Stables to work with the MK Dons to bring singing back to the terraces
• MKFringe - the 2009 Milton Keynes Fringe Festival was supported with more than £43,769 in Grants for the arts funding towards a programme of public art across the city, featuring the work of both local and international artists
• Milton Keynes City Orchestra – last year we awarded the orchestra £54,774 for its project Make Music, which is creating more opportunities for the people of Milton Keynes to get involved with the orchestra and experience the joys of making music.

This press release was distributed by ResponseSource Press Release Wire on behalf of Jardine Michelson Public Relations in the following categories: Children & Teenagers, Entertainment & Arts, Leisure & Hobbies, for more information visit https://pressreleasewire.responsesource.com/about.