SWITCHING OFF – Why are we so bad at it?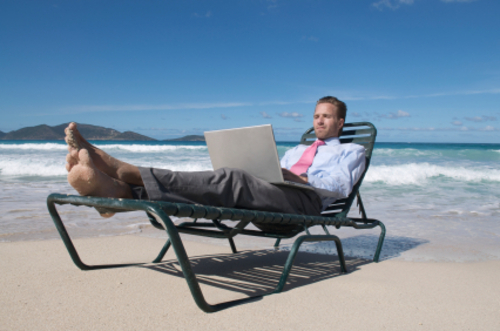 To get the benefit of your time away from the office it is vital to learn to how to wean yourself off your email/internet fix.
- Ten step plan to a summer holiday free from email or office interruptions

Even on holiday, many of us and especially managers now find it very hard to switch off from our email or taking phone calls. According to the recent Institute of Leadership and Management (ILM) survey the main reasons are fear of losing our jobs and anxiety about the backlog of email we will face on our return. Similar, research by Dr Monica Seeley one of the UK's leading experts in email best practise identified another possibly more critical reason. Most of us are now addicted to our email and social network pages. We just can't bear to be out of contact with either the office or our friends and family. Indeed, Dr Seeley points out that in the USA some psychiatrists have now suggested that internet addiction should be treated as a psychiatric disorder. Additionally Professor Cary Cooper, the great stress management guru cites email as one of the greatest stressors of modern 21st century working life. "This is a great communication technology if managed well, but unfortunately the technology seems to be managing us at work, home and even on holiday—we need to take control!".

Dr Seeley says;"To get the benefit of your time away from the office it is vital to learn to how to wean yourself off your email/internet fix. If you can stop logging on or taking calls, you will relax more quickly and your friends and family will appreciate your undivided attention. You and they are worth it!"

In an extract from her new book, Brilliant Email due out in early November (Pearson) Dr Seeley gives a ten step plan to combat the urge to stay connected. She adds; "These steps will enable you to get a proper break and return revitalised. Like so many things in life it just requires a little planning..."

Before you go on leave - prepare to switch off
1. Make time to de-clutter and empty your inbox – for example move all emails over a week old into a pending folder.
2. Use the Flag function to highlight any needing attention the week you return
3. If you don't have a PA, ask a colleague to monitor your inbox. Brief them about any important emails you are expecting, how to handle them and how your inbox is structured. You can return the favour when they go on leave. Write rules to move automatically all low priority and confidential emails to folders.
4. Set a simple, safe and secure Out of Office message (avoid saying you are on leave, this leaves the door wide open for potential burglars). Use your message to manage people's expectations.
5. Consider leaving your smart phone (Blackberry, iphone etc) at home and just take a conventional mobile phone.

Whilst on leave – switch off
6. If you really cannot resist logging on then only do it once a day and preferably at the end of the day – so you don't ruin everyone else's day. Alternatively wait until the last day. Reward yourself for every day you do not log in.

Day one when you return – handling the backlog quickly
7. Spend the first hour talking to the person monitoring your inbox and your colleagues. This will help you discover far more rapidly what is high priority and needs your attention rather than trawling unprepared through your inbox.
8. Only then, spend the next two/three hours dealing with your email. Prioritise what needs attention based on your colleagues' briefing. Group the emails eg by person, subject etc and move all low priority emails out to a folder for attention later in the week.
9. Filter and first view emails only 'To you'.
10. Open and handle each high priority email once and once only. Avoid scanning the lot and then having to go back as this wastes time. Action each email as you read it using the four Ds principle; deal, delete, delegate or defer action. In the latter case flag/mark it for attention and tell the sender when they can expect a reply.

ENDS
Dr Monica Seeley, founder of Mesmo Consultancy (www.mesmo.co.uk), is a leading international authority on email best practice. As 'Emaildoctor', Dr Seeley provides daily tips and hints on Twitter.

She is passionate about helping business users (from all sectors and sizes) to save time dealing with email and reclaim their lives from the tyranny of email. As a Senior Visiting Fellow at Sir John Cass Business School, City University her research includes the future of email and the use of social networking tools to gain sustainable business benefits. She is a well respected commentator on email best practise and has published many articles and books including 'Managing in the Email Office'.

Her new book 'Brilliant Email' will be out in November 2010.
She will also be speaking at [Office* 2010|http://
www.officeshow.co.uk]on
21-22 September and will be on Mesmo Consultancy's stand giving one -to-one coaching sessions.

For more information Monica can be contacted at monica@mesmo.co.uk, by phone on 07836 748445 or 01202 434340. Alternatively please contact her PR, Lorna Campbell on 07836 625999.

Professor Cary Cooper, CBE, is Distinguished Professor of Organizational Psychology and Health at Lancaster University Management School (07841929642).

This press release was distributed by ResponseSource Press Release Wire on behalf of Campbell Communications in the following categories: Men's Interest, Health, Women's Interest & Beauty, Consumer Technology, Personal Finance, Business & Finance, Travel, Education & Human Resources, Computing & Telecoms, for more information visit https://pressreleasewire.responsesource.com/about.