Protect sensitive skin naturally this winter with Allergy UK approved extreme tolerance skincare range, NATorigin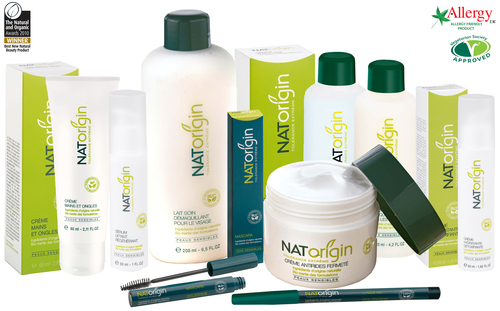 The winter can be extremely stressful for your skin. The combination of wind and cold temperatures outside and the drying environment created by central heating inside can cause irritation, sensitivity and dryness.

Following the award-winning UK launch of NATorigin's initial range of eco-friendly, naturally-sourced eye care and makeup, NATorigin is introducing six new skincare products to cleanse, rejuvenate and protect the face.
The extreme tolerance range which is the first of its kind in the UK is approved by the Vegetarian Society and comes in recyclable packaging. It not only contains a high percentage of naturally-sourced ingredients (a minimum of 97% and a maximum of 100%) but also follows the principles of bio-inertia to minimise allergichttp://www.natorigin.co.uk/acatalog/Approved_by_Allergy_UK.html] or [intolerance reaction.
The new launch coincides with Allergy UK granting the whole range their approved 'Allergy Friendly Product Award'. This Award is for products that may generally benefit allergy sufferers as part of a management plan and for those who are seeking to reduce their http://www.natorigin.co.uk/acatalog/Approved_by_Allergy_UK.h...' rel='nofollow' target='_blank'>chemicalhttp://www.natorigin.co.uk/acatalog/Approved_by_Allergy_UK.html] said: "Our panel of advisors was impressed by the selection of ingredients used in the range as the presence of 'natural' ingredients in skin care and cosmetics don't necessarily guarantee that they will not irritate the skin or cause dermal sensitization. At present, NATorigin is the only cosmetic/skincare product range to be approved by us."

The two key active ingredients in the NATorigin formulations are CELLULAR RED SEAWEED EXTRACT (Asparagopsis armata) and ARCTIC RASPBERRY SEED OIL EXTRACT (from organic farming). The former is responsible for a moisturising action to help skin stay supple and radiant while the latter has a detoxifying action to help neutralise harmful effects of environmental aggression such as pollution, UV rays, ozone or stress.

Red Seaweed Extract has a high concentration of biologically-active silicium with multiple cell-stimulating, hydrating, softening and purifying properties. This extract helps to develop and improve skin elasticity, radiance and softness.

The harsh Arctic climate with its long dark http://www.natorigin.co.uk/acatalog/Seaweed_Raspberry.html' rel='nofollow' target='_blank'>winters which has been selected for its skin-protective properties is no exception. These include significant amounts of polyphenol antioxidants and one of the richest sources of vitamin C. Together these provide a high ORAC (oxygen radical absorbance capacity) value (4900 to 100 grams) which help combat the harmful effects of free radicals. It is also a source high in vitamin E known for its http://www.natorigin.co.uk/acatalog/Seaweed_Raspberry.html' rel='nofollow' target='_blank'>anti-inflammatory properties and [Omega|http://www.natorigin.co.uk/acatalog/Seaweed_Raspberry.html 3, 6 and 9 which help nourish and rehydrating the skin.

The new additions to the range are:
NATorigin Detoxifying Moisturizing Cream 99.5% natural (RRP £17.50)
NATorigin Regenerating Lifting Serum 99.5% natural (RRP £20.00)
NATorigin Firming Anti-Wrinkle Cream 98.2% natural (RRP £19.00)
(In a recent study at the Institut d'Etudes Cliniques in Lyon, 22 volunteers tested this product over 4 weeks. 77% of the testers found the efficacy of the cream 'good to very good'. All the testers reported that their skin became more supple, softer and moisturized with 95% of them confirming their skin felt smoother.)
NATorigin Facial Cleansing Milk 98.5% natural (RRP £11.50)
NATorigin Facial Cleansing Water 98.4% natural (RRP £10.75)
NATorigin Hand and Nail Cream 98% natural (RRP £8.75)

The new products join NATorigin 100% Pencil Eyeliner (£6.75) (winner of the 'Best New Natural Beauty Product' at this year's Natural & Organic Products Awards and nominated for the Vegetarian Society Awards)- NATorigin's Eye Make Up Remover Lotion and Emulsion (both £10.25), and NATorigin's 98.5% natural Mascara (£12).

The products are available from www.natorigin.co.uk while the company establishes its stockist portfolio.

LATEST NEWS – NATorigin has been nominated in three categories in the 2010 PURE BEAUTY AWARDS: www.purebeauty.co.uk/vote.

For further information, please contact Belinda Boyd or Rebecca Rawson at 20-20 PR on 01793 780780 or email belindaboyd@2020pr.com.

This press release was distributed by ResponseSource Press Release Wire on behalf of 20-20 Public Relations in the following categories: Children & Teenagers, Health, Women's Interest & Beauty, Environment & Nature, Medical & Pharmaceutical, Retail & Fashion, for more information visit https://pressreleasewire.responsesource.com/about.