Learning Languages Has Been Made Fun At Last!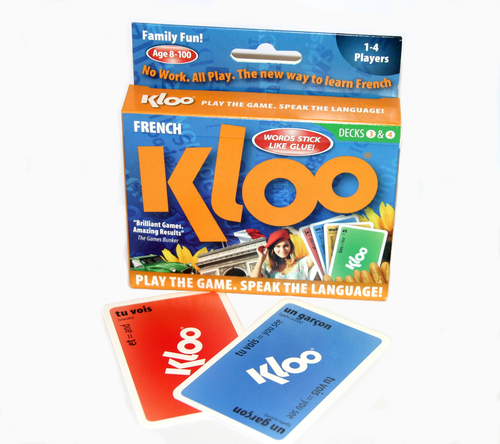 This Autumn sees the launch of a unique game which is set to take the language world by storm - KLOO®. Aimed at ages 8 upwards, this new concept is based on the five principles of language learning and is suitable for 1-4 players. There is no work, writing or study – just playing, learning naturally and having fun. With KLOO® you can learn at least 200% faster than usual methods, more easily and words really do, stick like glue! Perfect to help children with their school language studies (KLOO®covers many elements of Key Stage 2 & 3), adults who want to be able to converse with the locals whilst on holiday, or just as a great way of having fun - it really is a game for everyone!

THE GAME ITSELF
Each language pack contains 2 decks of cards (128 in total) which are colour-coded into nouns, verbs and adjectives. At the top and bottom of each card is an un-translated French/Spanish word also with a phonetic pronunciation. If the colour-coded cards are placed in the right order, you will make a sentence. There is no need to know an adjective from a pronoun or know what a conjugation is. With KLOO®, players can make grammatically correct sentences within one minute of playing.

Using this card system, there are a total of 16 different games, all based on card games we already know and love, which can be played. With fast-fire games for children and strategic games for adults - there's something for everyone. Games include Squeeze Box, Prisoner and Patience of a Saint!

Also available is a game board to further enhance the learning experience, where you can whiz through the streets of Paris or Madrid to become the KLOO® champion!

Developed by Andrew Finan - a husband, father and businessman who has worked with games most of his life. In the nineties he ran a series of international chess events with the world's best players in tournaments around the world. They culminated in the World Chess Championship Final with Garry Kasparov at the top of the World Trade Center, New York in 1995. It was through chess he learned how games can be used to teach people how to think ahead and anticipate consequences. He also ran a chess-in-school programme in the Tower Hamlets and was amazed at the impact chess had on children's' self esteem and on their overall school performance.

In 1996 he founded a company that developed a game concept called Intelligent Sport for businesses. By using smart game concepts he helped business executives create winning strategies and improve their performance at work with the concept being hugely successful for companies such as Microsoft, HSBC, Accenture, HP and Airbus who used it globally. By 2007 Intelligent Sport events were scheduled on 6 continents with events from Beijing to New York and Germany to South Africa and the company was subsequently bought by IMG – the world's leading sports events company. During this time he had come to see how games, more than other tools, could be used to help people reach their true potential. He left his role as Managing Director at IMG in 2008, to spend more time with his family. His next game adventure was soon to follow.

Married to an Italian, and with holidays planned to Italy every year, he wanted his two daughters to speak the language. He bought a range of products and activities: CDs, DVDs, software, books, audio devices and lessons and was perplexed at how slow they were learning. Two things were crystal clear: his children did not enjoy learning Italian – it simply was not any fun; and, secondly, the materials didn't seem to be at all effective anyway.

He started to wonder if you could create a game that replicated the way we learned our first language so learning was more natural, more fun and easier. Playing with scraps of paper around the dining room table, he designed and refined the KLOO® concept. The reaction of his daughters to the game shocked him. Within minutes his children were shouting out foreign sentences, laughing and completely absorbed in the game, while tests showed they were learning more in a single game of KLOO® than in a month of using other methods.

In 2009 he decided to develop KLOO® so other people could benefit. He worked with an Oxford University linguist and native speakers to develop the language content.

KLOO® is now available on-line at www.kloogame.com, Foyles and other selected stores.

For product samples, competitions and interview/feature opportunities with Andrew Finan, please contact;

Michelle Russell
e: michellerussell@meeshcomms.com
t: 07909 911275

This press release was distributed by ResponseSource Press Release Wire on behalf of Meeshcomms in the following categories: Children & Teenagers, Leisure & Hobbies, Travel, for more information visit https://pressreleasewire.responsesource.com/about.