STRUGGLING WITH INFERTILITY ISSUES? 'FULLY FERTILE' COULD HELP YOU TO CONCEIVE!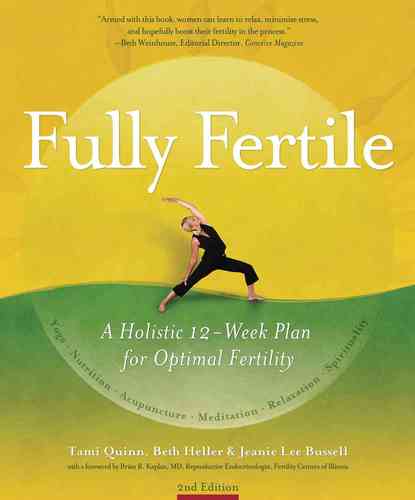 I find Fully Fertile to be a warm and reassuring read for patients. A wonderful book!" —Dr. Alice Domar
AN INTEGRATED HOLISTIC 12-WEEK PLAN FOR OPTIMAL FERTILITY
Increase your chances of natural conception the Fully Fertile way

"As someone who has worked extensively with the incorporation of mind/body medicine into women's fertility treatment, I find Fully Fertile to be a warm and reassuring read for patients. A wonderful book!" —Dr. Alice Domar, author, Self-Nurture: Healing Mind, Healthy Woman and Conquering Infertility

October 2010 — Considering having a child or struggling with an inability to conceive? Discover the healing powers of traditional yoga and other holistic therapies with this do-it-yourself manual for women looking to improve their chances of conception. In Fully Fertile: A holistic 12-week plan for optimal fertility 2nd Ed. (Findhorn Press, December 2010, £12.99), the authors offer the reader advice on nutrition, Oriental Medicine, meditation and other mind/body/spirit practices all designed to enhance the likely-hood of conceiving. View an extract http://issuu.com/findhornpress/docs/fully-fertile

This unique 12-week programme filled with sound advice, alternative practices, empowerment and positivity enables the reader to take control of the process of conception. It assists the reader to rise above their stresses and spiralling out of control fears; Fully Fertile is divided into three separate phases, focusing respectively on the physical, mental and spiritual aspects of the fertility journey.

The authors of Fully Fertile, all struggled to become pregnant and this book is a direct result of the steps they took to improve their fertility. Steps that they have been teaching women at their five Pulling Down the Moon centres. Steps they offer to the reader as they follow this twelve-week programme to optimize fertility. Their approach to Integrative Care for Fertility (ICF) is a holistic way of enhancing pregnancy and has received a warm reception from the medical fertility community, who are becoming more and more alarmed at the high levels of stress and anxiety exhibited by their patients. Whether you are 'going natural' or are using medical fertility treatment the information in Fully Fertile will enhance your chances of conception.

"As a practicing reproductive endocrinologist who treats couples suffering from a variety of infertility challenges, I believe that caring for the overall well-being of my patients yields the best success. I have seen the benefits of offering holistic adjuncts such as acupuncture, massage, nutrition and yoga to traditional IVF protocols. Fully Fertile has been a great resource to my patients who want to integrate these therapies into their medical treatment."
— Doctor Bryan Kaplan, MD, reproductive endocrinology, Fertility Centers of Illinois

"Fully Fertile is a twelve-week programme to optimize fertility, based on two ancient teachings from yoga philosophy that outline practical methods for attaining unshakable peace and happiness, or "yoga." These practices, while macrocosmic in origin, can be brought to bear on more specific life challenges, such as fertility. In this way, the entire programme is contained within a context that is designed to imbue even the most basic choices, such as what foods we choose to eat or how we move our body, with the power of spirit and sacred intention. We feel this is why women who come to us in search of family often leave us with more than just babies. By working with these profound concepts they also gain greater self-love and inner peace. Yoga is, after all, the process of reuniting with Self, and finding peace and contentment in the process."

"Armed with this book, women can learn to relax, minimize stress, and hopefully boost their fertility in the process."
—Beth Weinhouse, editorial director, Conceive Magazine

How Does Yoga Help with Fertility?
Yoga helps supports fertility in several ways. First, yoga postures can stretch and relax tight muscles and connective tissue. As musculature (particularly in the hips, groin and low back) begins to relax, blood flow into the pelvis can improve. In addition to physical postures, in yoga there is an emphasis on the breath and on learning to tune in to the quality and rhythm of the breathing in order to induce a deep sense of peace. Beyond the physical benefits of yoga are the benefits derived from age-old teachings of meditation and self-study. As you relax and let go of physical and emotional toxins, you begin to have a clearer sense of self and insight into your fertility journey.

With photographs to illustrate to the reader the proper yoga postures, and interspersed with stories from yoga students, patients and experts' present real-life struggles and victories in Fully Fertile that will inspire all women who are trying to conceive.
http://www.pullingdownthemoon.com/

-Ends-

Authors available for telephone interviews and to write articles. Book excerpts also available

Book Info:
Fully Fertile: A holistic 12-week plan for optimal fertility 2nd Ed
by Tami Quinn, Beth Heller & Jeanie Lee Bussell, £12.99, Findhorn Press. ISBN 978-1-84409-507-0 published December 2010.

Author Info:
Tami Quinn and Beth Heller are yoga instructors and the cofounders of Pulling Down the Moon*, a revolutionary holistic fertility centre. They are both members of the International Association of Yoga Therapists and the American Society for Reproductive Medicine. Beth Heller has a degree in nutrition and dietetics and is a former researcher for the Women's Walking Program. Jeanie Lee Bussell has a master's degree in Oriental medicine and is a fertility acupuncturist whose work with fertility and women's health has been featured on both Fox and CBS news.
http://www.pullingdownthemoon.com/

* Pulling Down the Moon is a unique place of community and holistic healing for women and couples trying to conceive a child. The Centre is the result of the personal experiences of teachers and practitioners who have "been there": through the shots, the procedures, the ultrasounds and the long waits of fertility treatment. At PDtM you will find everything you need to support your medical fertility treatment with acupuncture, massage, yoga, meditation or cognitive therapy.

All publicity enquiries and requests for media copies to
Carol Shaw, Findhorn Press. 01309 641576 carol@findhornpress.com

This press release was distributed by ResponseSource Press Release Wire on behalf of Findhorn Press in the following categories: Health, Women's Interest & Beauty, for more information visit https://pressreleasewire.responsesource.com/about.