Dremel Launches New Glue Gun System for DIY and Crafts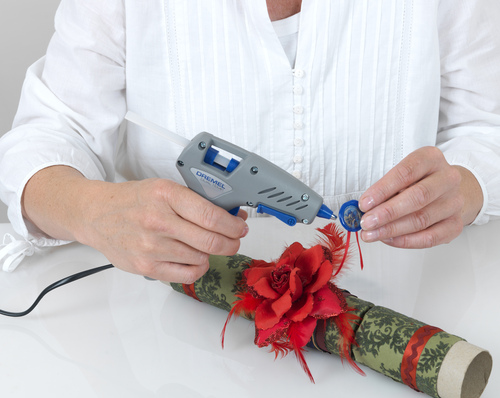 Dremel is introducing a new range of four high quality glue guns providing for every gluing need. Two high-temperature guns will target the practical DIY-er, whilst a low-temperature and a dual-temperature gun will be added to the Hobby range for creative and decorative projects. 

In addition, Dremel will offer a range of accessories and attachments for its new glue guns - plain glue sticks (7 and 11mm), wood glue sticks for specialised woodworking applications, glitter sticks to add sparkle to creative designs, solid colour glue sticks for work in 3D and a special glue work pad. This protects projects from getting dirty, is heat resistant and cleans easily - allowing you to remove glue spills from the pad and protect your furniture.


DIY AND HOUSEHOLD APPLICATIONS
The Dremel Glue Guns 910 and 940 are uniquely designed for precision DIY and household applications. They will tackle a myriad of tasks from gluing bird boxes and broken wooden chairs to children's fabric toys and cardboard storage boxes - on materials such as wood, plastics, ceramics, cardboard and textiles. Both tools have a stable foot, a heat-up time of five minutes, drip control and a silicone nozzle protection tip.

The Glue Gun 910 is smaller and operates at a temperature setting of 165 degrees centigrade using 7mm glue sticks. The sophisticated Glue Gun 940 works at a higher temperature of 195 degrees centigrade using 11/12mm glue sticks. It also has a replaceable nozzle and detachable cord, soft grip, on/off switch and power indicator light.

The Dremel Glue Gun 910 kit comes complete with the Glue Gun and three multi-purpose high temperature sticks, priced £11.99 (RRP). The Dremel Glue Gun 940 kit is priced £29.99. 


CRAFT AND HOBBY APPLICATIONS
The Dremel Glue Guns 920 and 930 are aimed at the hobbyist and creative crafter. They feature drip-control, five minute heat-up time, fixed precision nozzle and silicone nozzle protection tip - as well as having an extendable plastic stand, a stable base and an ergonomic handle. They are compatible with the 7mm glue sticks, the glittersticks and the new colour sticks. 

The Glue Gun 920 operates at a low temperature of 105 degrees centigrade for gluing and decorating a variety of heat-sensitive materials such as paper, cardboard, plastics, textiles. The clever Glue Gun 930 has a dual temperature facility of 105 and 165 degrees centigrade which allows gluing and decorating across a wide variety of materials from glass, wood, textiles, plastics, paper and cardboard.

The new Dremel colour glue sticks are an exciting addition to the hobby range when used to embellish decorative crafts and create 3D relief designs. For example, a beautiful faux wax seal stamped with a rubber or metal stamp adds instant charm to invitations, table place cards, announcements and awards certificates, as well as envelopes, gift wrapping and tags, or even your own wine bottles!

The Dremel Glue Gun 920 Hobby kit contains the Glue Gun, three multi-purpose low temperature sticks and twelve glitter sticks, priced £14.99. The Dremel Glue Gun 930 Hobby kit, which also includes three high temperature sticks, is priced £17.99. 

They will be available from stockists such as http://www.tool-shop.co.uk and http://www.dremel-direct.com

For more info, visit the Dremel website: http://www.dremel.co.uk

ENDS

For step-by-step guides to making Christmas crackers, cards and other decorations using the Glue Guns, or for high res images, please email: speed@starfishcommunications.com or visit:

http://www.dremeleurope.com/gb/en/vpo/kreativpool.html?naviO...

This press release was distributed by ResponseSource Press Release Wire on behalf of Starfish Communications in the following categories: Men's Interest, Leisure & Hobbies, Home & Garden, Women's Interest & Beauty, for more information visit https://pressreleasewire.responsesource.com/about.