Have a rose-free Valentine's Day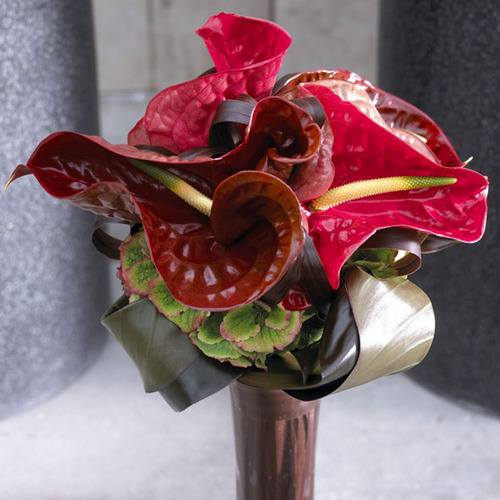 Not everyone wants red roses at Valentine's. Not only are they a little 'old fashioned' but with the world saying I Love You with red roses, market forces kick in and prices go up.

However think outside the box and there's a whole lot of love flowers out there that will send your romantic message with style and impact.

The Flowers & Plants Association have come up with their top twelve alternative flowers for lovers, each accompanied by a gorgeous picture to show you how wonderful they are.

1: Anthurium

Available in red, white, citrus green and palest pink, these heart-shaped flowers last for ages and look oh so stylish with either floaty bear grass all wrapped up in swathes of glistening cellophane and elegant ribbons or in structural designs.

2: Tulips

All Tulips are gorgeous when presented in a big bundle wrapped in Kraft paper and tied with raffia. But to be different ask your florist for the amazing feathery Parrot varieties like TopParrot and Rococo or the gorgeous, glossy and very appropriately named Pretty Woman. They last well and look absolutely amazing, especially as Tulips keep on growing and will curve and sway differently every day.

3: Ranunculus

Not the longest lasting flower in the world but certainly one of the prettiest with blooms that seem to have a million and one petals that gently open. Some of the best Ranunculus actually come from Israel. Ask for varieties like Fernandine, or the bigger and more exclusive Elegance and you won't be disappointed.

4: Lisianthus (Eustoma)

The call it the poor man's rose but that's actually being rude about what is a very beautiful flower. There's no red … the nearest is a dark pink called Piccolo Rose, but mix a large bouquet of green, purple and soft pink Lisianthus together and pop a heart-shaped pick in the middle and you've the perfect lover's bouquet.

5: Carnations

With Oscar de la Renta choosing them as his statement flower in his spring collection the Carnation is definitely not a granny flower but a cutting edge, sexy bloom that looks fab in a massed bouquet and will last forever.

6: Calla Lily

Very stylish, very modern and perfect for style lovers. Captain Romance is in limited supply at this time of year but its darker cousin, the richly warm Majestic Red is in plentiful supply.

7: Alstroemeria

It's also known as the Peruvian Lily which could be because some of the best Alstroemeria comes from South America. The multi-headed florets open into full blooms to provide loads of colour … look out for red varieties like Tornado and Napoli.

8: Anemone

They won't last forever but a huge armful of red Anemones will thrill anyone and if you mix in some of the other stunning colours, like the decadent, fruity purple Meron Bordeaux, or the subtle Galil Pastel the gift will look even more amazing.

9: Bloom chrysanthemums …

Forget the granny image, Bloom Chrysanthemums, with their big bold heads and incredible vase life, are this year's 'must have' flower especially if you choose the designer types like the deep magenta Luba or pretty Resomee Dark.

10: … and Button ones too!

And don't underestimate the power of button Chrysanthemums ... the 'spray' version of their big brothers. They are just as gorgeous and anything but boring ... we like the pretty purple and white Saba, the appropriately named red Merlot and think a mix of Lollipop pink and purples are just great fun.

11: Heliconia

For red hot lovers tropicals like Heliconia, with their bright red flowers, are definitely hot, hot, hot! Structural in appearance these aren't for soft and fluffy types but certainly pack a punch.

12: Gerbera

Gerbera are fun, funky and come in every colour you could want including some stunning deep reds. But if you want a zany love message we'd actually suggest you mixed pinks, purples, yellows, oranges and reds all together for a fun, starburst explosion of affection.


Editors Notes:

• The Flowers & Plants Association is the industry's promotion body and has been advising the press and public on flowers and plants for all occasions for over 25 years. See our website at www.flowers.org.uk

• For hi res images or further information please call the Flowers & Plants Association on 020 8939 6472 or email press-office@flowers.org.uk.

• Our thanks to www.justchrys.com, The Flower Council of Holland www2.flowercouncil.org/uk/, FloraHolland www.floraholland.com, The International Flower Bulb Centre www.flowerbulbs.co.uk, Carmel Agrexco and Royal Van Zanten Growers for pictures and information on varieties.


This press release was distributed by ResponseSource Press Release Wire on behalf of The Flowers & Plants Association in the following categories: Men's Interest, Home & Garden, Women's Interest & Beauty, Environment & Nature, Retail & Fashion, for more information visit https://pressreleasewire.responsesource.com/about.