Warwickshire food waste recycling plant to power 2,000 homes.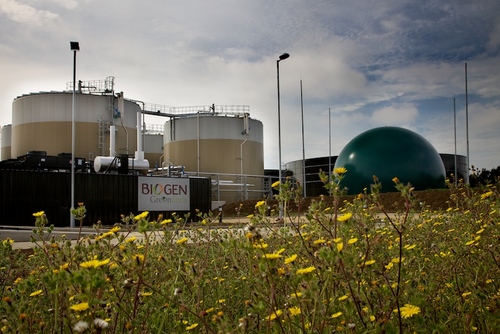 BiogenGreenfinch is pleased to announce that it has successfully secured planning permission from Warwickshire County Council for the construction of an anaerobic digestion (AD) plant at Merevale & Blyth Estate in Warwickshire.

The plant will be built, owned, and operated by BiogenGreenfinch and will treat up to 45,000 tonnes of food waste per year from households, food manufacturers and food retailers in the region.
The electricity produced by the Merevale plant will be enough to meet the annual demand of up to 2,000 average homes - equivalent to the combined households of Baxterley and Atherstone in Warwickshire.

The food waste will be processed by means of anaerobic digestion in order to generate renewable electricity for the grid and a valuable biofertiliser for use on the surrounding Estate and other farmland.

Richard Barker, CEO said, "We are excited about being involved with this market-leading project. Merevale is an excellent site for an AD plant – centrally located with excellent transport links to nearby large population centres. This is a definite "win-win-win" project – we are diverting food waste from landfill, we are generating renewable electricity for the national grid and also delivering a fantastic biofertiliser for crops on the land around the plant. We look forward to working with local food waste producers in the coming months and years to make this plant a success"

Philip Blackman, CEO Merevale Estates said, "We are delighted to be working with BiogenGreenfinch in this ground breaking project. Their proven track record in delivering AD plants, contracts in the industry and expertise with biofertilisers makes them an ideal partner to anchor the first phase of this centre for renewable energy in North Warwickshire."

BiogenGreenfinch is the country's leading integrated designer, manufacturer and operator of food waste anaerobic digestion plants. The company has three facilities already in operation in Shropshire, Bedfordshire and Northamptonshire with a network of plants planned around the country.

Ends

For further details contact :Helen Harrison, Marketing Assistant, 01234 827223 helen.harrison@biogengreenfinch.co.uk

The photo attached is BiogenGreenfinch's Westwood AD plant in Northamptonshire, this is similar to the plant that will be built at Merevale & Blyth Estate.

Notes to Editors:

• Merevale & Blyth Estate was granted the original planning permission in 2010 for the construction of an anaerobic digestion (AD) plant and biomass plant at the Baxterley Shale Tip Site.

• Anaerobic digestion is a biological process that happens naturally when bacteria break down organic material in a sealed environment with no oxygen. The process produces a methane-rich biogas which is captured and used as a renewable fuel to generate electricity and heat.

• Food waste which goes to landfill releases methane into the air. Once in the atmosphere, methane is twenty- two times more destructive as a driver of global warming than carbon dioxide.

This press release was distributed by ResponseSource Press Release Wire on behalf of BiogenGreenfinch in the following categories: Consumer Technology, Business & Finance, for more information visit https://pressreleasewire.responsesource.com/about.