Lifft Slings to be stocked in Boots UK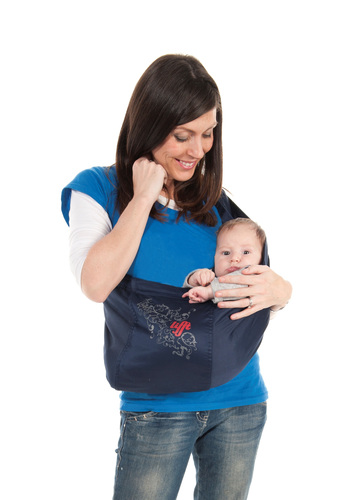 Title: Lifft Slings to be stocked in Boots UK

Summary: Lifft Slings, the only known baby sling scientifically proven to improve posture, has created an exclusive sling for Boots.

Body:
Lifft Slings, the only known baby sling scientifically proven to improve posture, has created a sling in an exclusive colour for the high street chain Boots.

LifftTM Slings is a baby sling that has been designed to fit perfectly and be easy to use. It also has proven health benefits, having been scientifically proven to improve posture, for both wearer and baby. Research carried out at the Biomechanical Testing Facilities in the North West University of Central Lancashire discovered that the sling evenly spreads the baby's weight across the wearer's body. This encourages a natural style of parenting and a stronger bond to be formed between the parent and baby as a result of the physical closeness experienced whilst wearing the sling.

Lifft is the brainchild of Louise Day, who founded LifftTM Slings in 2007, after she couldn't find a baby sling to use that suited her. Lifft is just one piece of fabric, has no tricky buckles or fasteners and therefore is easy to put on by oneself. It allows a range of wearing positions which make it suitable for use from birth through to approximately 35llbs (on average, the size of a three year old toddler). It also folds down to the size of a nappy, so can be popped into a handbag when not being used.

The sling for Boots, which has all the benefits of the original Lifft Sling, including the ability to breast feed discreetly, has been created in stylish navy, making it perfect for both mums and dads to use. It comes in dress sizes from 8 through to 20 or small, medium and large for men.

Louise said: "I am absolutely thrilled to see my products stocked on a Boots shelf – it is a dream-come-true for me. However, more importantly, it means that mums and dads nationwide now have more prominent access to Lifft, which hopefully means they can experience the many benefits of keeping their baby close to them, using a Lifft sling."

Lifft in navy is now available in more than 80 larger Boots stores and www.boots.com and costs £49.99. The original three Lifft colours are still available through independent baby retailers and online at www.lifftslings.com .

For more information about Lifft slings please contact Cream Communications either via email on info@creamcommunications.co.uk or by phone on 0845 3889584.

About us:

Lifft Slings were founded by Louise Day in 2007 and is thought to be the only baby sling scientifically proven to improve posture, as found in research undertaken by the University of Central Lancaster. The Lifft™ Sling is exclusively designed to offer you and your baby supreme levels of comfort and style, and that is very easy to use. It also ensures that the carrying positions of your baby are natural – the sling mimics how you would carry your baby in your arms. With a fuss free hands-free design the sling allows for discreet breastfeeding. Whilst in the Lifft™ Sling your baby can always see your face, hear your voice and your heartbeat and feel swaddled and secure. Lifft advocates the T.I.C.K.S system of babywearing. Lifft is available to buy from stockists nationwide in the UK as well as from the Lifft website and are now available at Boots.
This press release was distributed by ResponseSource Press Release Wire on behalf of True Story (Jupiter Design) in the following categories: Children & Teenagers, Health, Women's Interest & Beauty, for more information visit https://pressreleasewire.responsesource.com/about.