Study Shows Hayfever Affects Performance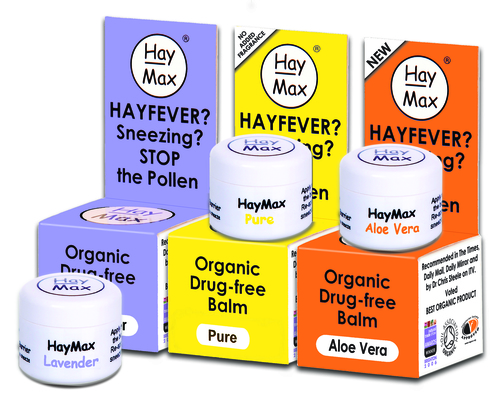 According to GP Dr Sarah Brewer, 'The HayMax pollen barrier is an easy, drug-free way to help prevent hayfever symptoms.
It's a common problem at the peak of the hayfever season – many students finding their usual hay fever medication is costing them an exam grade. Nearly three quarters of students using medication for their hayfever can expect to drop a grade, as ingredients in many hayfever products reduce their ability to concentrate, research suggests [1].

But even if they opt for taking no medication during their exams, they still face a 40 per cent risk of achieving lower grades than expected, as a result of their hayfever symptoms, the same study found.

And it's not just exam students that are being affected at the peak of the season; it's almost 15 million of us! Hayfever affects us whether it's leisure time, being able to go out into the garden and not sneeze, enjoy the countryside or just walk the dog.

Hayfever also affects job performance and even before we get to work, hayfever disrupts driving, with a recent survey showing around 2 million UK motorists (7%) have either had an accident, a near miss or have temporarily lost control of their car whilst sneezing at the wheel [2].

According to GP Dr Sarah Brewer, 'The HayMax pollen barrier is an easy, drug-free way to help prevent hayfever symptoms. The beeswax balm can be used as soon as hayfever symptoms start. Simply wipe it, invisibly, inside your nostrils to trap pollen as you inhale. This physical barrier helps to stop pollen from entering the body and gaining contact with your nose lining, so it cannot generate an allergic response. Each person has a different 'trigger' level – the amount of pollen they can tolerate before an allergic reaction occurs. If a pollen barrier stops enough pollen from entering the body, you stay below your trigger level so no adverse reaction occurs. It can be very effective if used regularly.'

And an independent study in July 2009 by Professor Jean Emberlin, Director of the National Pollen and Aerobiology Research Unit (NPARU), showed that HayMax™ "does trap significantly more pollen than an uncoated nostril". [3]

This unique balm was developed by hayfever sufferer, Max Wiseberg, in his own kitchen, and has now become a major brand stocked by major supermarket and pharmacy chains throughout the UK – including Boots, Asda, Tesco, Lloyds pharmacy, Holland & Barrett and Waitrose.

HayMax™ is natural, 100% organic and drug-free with no drowsy side effects, so is suitable for pregnant women, breast-feeding mothers, and children. It has recently added to its list of awards, achieving a 'BizzieBaby' 2010-2011 Gold Award, a 'Highly Commended' in the Natural Lifestyle Awards and a nomination at the recent Vegetarian Society Awards. HayMax also regularly features in national newspapers and is written about positively by the country's leading doctors.

The balm comes in a handy pot, so fits easily into a handbag, makeup bag or pocket. And HayMax™ is very economical too – several users reporting that one pot lasts the whole season.

HayMax™ retails at £6.99 for a 5ml pot, and is available from www.haymax.biz, on 01525 406600 or from Asda, Holland & Barrett, Lloyds pharmacy, selected Boots, Tesco, Waitrose, and independent chemists, pharmacies and health food stores nationwide.

Notes to Editors:

References:

[1] Walker S, Khan-Wasti S, Fletcher M, Cullinan P, Harris J, Sheikh A. J Allergy Clin Immunol.
2007
Bousquet J. ARIA in collaboration with the World Health Organisation. Allergy 2002:57:841-
855
Sheikh A, Panesar SS, Dhami S, Salvilla S. BMJ Clinical Evidence. Web publication date: 01
Apr 2007 (based on September 2005 search)
http://www.clinicalevidence.com/ceweb/conditions/ent/0509/05...
Shedden A. Treat Respir Med. 2005; 4 (6):438-445
O'Connor & Punekar. J Allergy Clin Immunol. 2006; 117: S322. Abstract 1244
Kay CG, Berman B, Mockoviak SH et al. Arch Intern Med 1997;157(20):2350-2356

[2] Survey carried out by insurance company esure.

[3] Prof Jean Emberlin, Independent Research on HayMax Pollen Barrier Balm, The National Pollen and Aerobiology Research Unit (NPARU) University of Worcester WR2 6 AJ, July 20th 2009. The study "aimed to assess the number of pollen grains that are trapped by the HayMax™ balm when applied in a standard manner to the rim and the inside of nostrils compared with the amount deposited on uncoated nostrils" and used adult volunteers (over 18 years). The experiment was carried out on high grass pollen count days (50 grains per cubic metre or more daily average). Professor Emberlin found that HayMaxTM resulted in a "reduction to the amount of allergen entering the nose".

Many new case studies are available, with pictures.

Why do we get hayfever?

Hayfever is a result of our immune systems' overreaction to innocuous antigens such as pollen. These antigens stimulate the bodies' mast cells, which then break or degranulate, releasing mediators that include histamines. These mediators can cause the unpleasant itching, redness and inflammation associated with hayfever.

Further Information

Max Wiseberg, founder of HayMax Limited, is available for interview. He is an excellent speaker on the subject of hayfever, having appeared on 34 radio stations and a 2 hour chat show on the BBC. If you would like to arrange an interview or require any further information, please call Ian or Jenny Liddle on 01761 413 022.

If you require any further information about HayMax™, please contact:

Ian and Jenny Liddle, Excellart
Telephone: 01761 413022
email: zippy@excellart.co.uk
website: www.excellart.co.uk

ENDS

This press release was distributed by ResponseSource Press Release Wire on behalf of Excellart in the following categories: Children & Teenagers, Health, Medical & Pharmaceutical, for more information visit https://pressreleasewire.responsesource.com/about.