ekmPowershop.com makes ecommerce and eBay easy with ChannelGrabber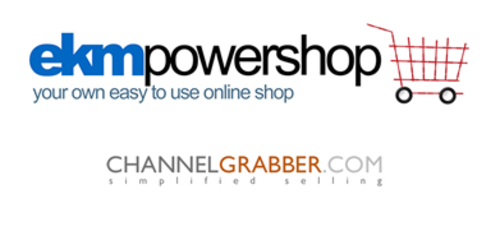 UK's largest ecommerce platform syncs stock on ebay, Amazon and 1 in every 5 online shops through latest integration.

This week thousands of online shop owners can look forward to selling their products through two of the internet's most popular marketplaces, without the headache of manual stock control.

ekmPowershop.com have added multi channel functionality to their market leading ecommerce solution, by teaming up with inventory management platform ChannelGrabber.

ChannelGrabber's inventory manager combines stock levels from your ecommerce website, eBay and Amazon. This means online retailers can take full advantage of all 3 channels with seamless, automated stock control.

Antony Chesworth, Managing Director of ekmPowershop.com welcomed the additional functionality to his company's award winning ecommerce solution:

"Multi channel stock control has been on the radar for a while, as well as other levels of back office integration. That's why we built an API into ekmPowershop, so any third party system like Channelgrabber can take the initiative and 'bolt on' to our shopping cart.

With so many 3rd party solutions out there for anything from EPOS, stock control, accounts and order fulfilment, through to CRM and ERP; we were being bombarded with requests from our customers to integrate with an endless list of systems. Now 3rd parties offering these sort of solutions can integrate themselves into our platform, and ChannelGrabber were the first to deliver this.

It's great to be able to offer multi channel ecommerce at a truly affordable price. We've always been exceptional value at £19.99 per month, and I know alternatives to ChannelGrabber cost hundreds per month, with some even taking a percentage of sales. Through this integration we're making the whole multi channel process more accessible to independant retailers, which can only be a good thing."

Channelgrabber costs £50 per month with no contract and now integrates direct with your ekmPowershop.com online store, allowing you to trade freely and effectively through eBay, Amazon and your own online shop.

==ENDS==

For more information please contact Steven Hickey at Ekm Systems Ltd at stevenhickey@ekmsystems.co.uk or 0844 858 8580.

== About Ekm Systems Ltd: ==

Founded in 2002 by then 22 year old Antony Chesworth, the main products ekmPowershop.com and ekmResponse.com have grown to become the UK's largest ecommerce and email marketing software provider, powering 1 in every 5 online shops in the UK.*

Clients include Lotus Cars, O2, Michelin Tyres, Future Publishing, Madame Tussauds, The NHS, ITV, The BBC and thousands of SMEs.

ekmPowershop.com and ekmResponse.com have become the dominant forces in 'off the shelf' ecommerce and email marketing throughout the UK and beyond, helping over 17,000 businesses sell their products over the internet since its inception.

Other Ekm Systems products and services include website CMS (ekmSitebuilder.com), Web Design (ekmWebDesign.com), web hosting (ekmHosting.com), Geo IP Redirection (ekmCompass.com), Web Statistics (ekmPinpoint.com) and digital delivery (ekmDigitalVault.com).

*According to stats from IMRG and Hitwise there are around 20,000 - 30,000 'transactional' websites in the UK.

This press release was distributed by ResponseSource Press Release Wire on behalf of ekmPowershop.com in the following categories: Consumer Technology, Business & Finance, Media & Marketing, Retail & Fashion, Computing & Telecoms, for more information visit https://pressreleasewire.responsesource.com/about.