Rediscover your cookbook collection as Eat Your Books launches in the UK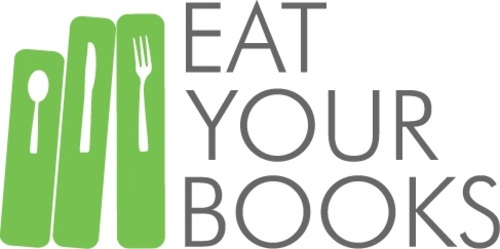 Our members have cookbook collections from 10 to over 3,000 books and now they are making use of them like never before.
UK, 19 April 2011 - Eat Your Books, (www.eatyourbooks.com) a new recipe indexing website where members can search for recipes in cookbooks they already own launches today in the UK.

Eat Your Books currently has 83,000+ cookery books listed with 1,800 of the most popular cookbooks now fully indexed with a total of 400,000 recipes and around 10,700 searchable ingredients, with more books being added and indexed daily. In addition, every book listed on the site is available to buy, making it the most comprehensive range of cookbooks in the world!

Eat Your Books is aimed at people who love using cookbooks and love to cook. The site does not reproduce the actual recipe; it simply helps members quickly find their recipes in their cookbooks.

The subscription based site has already attracted thousands of members from over 50 countries worldwide. Members can:

Search for recipes in their cookbooks using the main ingredients, ethnicity, course, occasion or several other categorisations.

Search for recipes based on seasonal produce.

Create menus and print off shopping lists.

Organise books and recipes by using bookmarks.

Share with other cookbook lovers and the EYB community their experiences and views of books and recipes.

Be inspired and introduced to new cookbook authors by viewing other member's collections.

Make notes specific to family and friends tastes and food preferences and allergies.

Bulk scan their cookbook collections onto their online bookshelf quickly and easily.

With cookery books currently dominating the top 10 UK non fiction books sales* chart and the continued presence of food and cookery shows on TV, it's clear the nation still has an appetite to be inspired in their culinary efforts, yet what happens after that first wonderful mouth watering moment brought on by sitting down with your new cookbook?

"There is no substitute to browsing through a new addition to your cookbook collection or a much loved cookbook." says Jane Kelly, co-founder of Eat Your Books, herself an admitted hoarder of cookbooks with a personal collection of over 1000 books. "Nothing beats that first feeling of culinary inspiration when you have a brand new cookbook full of wonderful mouth-watering recipes and beautiful photography. However the reality for many like myself is that it is impossible to remember every recipe and which cookbook you first saw it, so instead of heading to my cookbook collection I found myself increasingly searching online for recipes, some of which were definitely not tried and tested resulting in disappointment and grumbles at the dinner table. Our members have cookbook collections from 10 to over 3,000 books and now they are making use of them like never before."

As more UK members join the site, more UK cookbooks will be indexed; key to this is that the more members owning a specific book, the quicker it moves up the indexing priority list. In addition, members can request for their favourite books to be indexed and the site also plans to enable members to start indexing their own books – something which will be particularly exciting for those members with older vintage cookbooks they want to be able to search through.

Eat Your Books is a subscription website; A monthly membership is £1.50 and annual membership is £15. A free trial allows up to 5 cookbooks to be searched. In addition, gift certificates are available for annual memberships making it a great gift idea for the cookbook enthusiast among your friends or family. www.eatyourbooks.com

- ends-

Editor's Notes:

*Nielson Bookscan Top 10 Non-fiction UK & Ireland April 2011
http://www.nielsenbookscan.co.uk/topsellers.php?country=uk&c...

A free lifetime membership to Eat Your Books is available to all published food & cookbook authors, food and cookery editors, writers and bloggers. You can set this up by registering on site for a free trial membership and emailing jane@eatyourbooks.com
Upon verification, your membership will be converted to a full lifetime membership.

About Eat Your Books www.eatyourbooks.com

Eat Your Books is a privately owned company, set up by two British sisters, Jane Kelly now living in Boston, USA and Fiona Nugent now living in Auckland, NZ. Jane's background is as a senior manager and CEO in the entertainment business in the UK and she also started a website business selling cookbooks in 1997. Fiona's background is 18 years in the IT industry including 10 years in senior marketing roles for Microsoft in the UK, US and NZ.

The idea for the website came from Jane's love of cooking, her large bookshelf of over 1000 cookbooks and her busy lifestyle. She really wanted a quick way to search through her cookbooks to help her plan the family meals, social get-togethers and to find particular recipes. For a couple of years Jane had been thinking about this idea and informal research showed that there are many others like her who would love to be able utilise their collection of cookbooks more effectively. A great deal of thought and planning has gone into the design of the site to provide a service that will enable people to make greater use of their cookbooks, to simplify the process of menu planning, and to bring together a community of cookbook lovers who want to share their experiences and be inspired by others.

UK Press Contact:

If you would like further information or are interested in setting up promotions/competitions to offer your readers free lifetime membership to Eat Your Books.com please contact:

Diane Davidson, The PR Exchange
Tel: +44 (0)208 781 0658
diane@theprexchange.co.uk


This press release was distributed by ResponseSource Press Release Wire on behalf of PR Exchange in the following categories: Men's Interest, Women's Interest & Beauty, Food & Drink, for more information visit https://pressreleasewire.responsesource.com/about.