Fast growing British audio technology company Orbitsound confirms a distribution deal with specialist UK distributor Widget.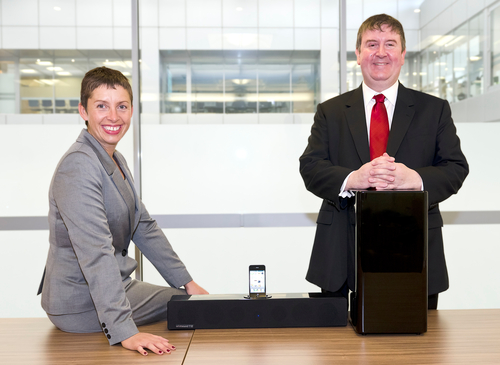 Stevenage - Specialist technology distributor Widget UK Ltd and acclaimed British audio technology company Orbitsound announce a UK distribution deal. The contract, which takes immediate effect, makes Widget the sole UK distributor of Orbitsound's full soundbar range. The agreement brings together two British companies who are at the forefront of pioneering new technology.

Widget has been monitoring the growth of the soundbar market with interest and this has led to its appointment by Orbitsound.

According to market research agency GfK Retail and Technology UK, the market has increased by 55% year on year from March 2010 to February 2011. Orbitsound has proved itself a major performer within the field with an 8.8% share by volume of the GB market for the year to February 2011, despite not having any significant sales in the period until the first T12 v2 units arrived in the UK in August. Orbitsound has seen strong sales of its T12 v2 soundbar in the second half of the year to February 2011, with market shares by volume of 11.5%, 12.5% and 14.7% respectively for the three peak months for soundbar sales of November, December and January*.

Orbitsound has at the core of all its products a unique patented technology known as 'spatial sound'. Orbitsound's technology is unique to Orbitsound and is ideal for today's ultra thin LCD and plasma TVs, where the quality of the sound all too often does not match up to that of the picture. Orbitsound's popular soundbars bring cinema-quality sound to flatscreen TVs without the need for multiple speakers and have redefined the way increasing numbers of consumers watch television and films at home, bringing a real clarity and arena-like depth of sound, no matter the positioning of the soundbar or the shape of the room. The British designed Orbitsound range is purpose-built to work with the latest flat screen TVs and includes an iPod and iPhone dock to play music from or stream video content to the TV.

Orbitsound was first incorporated in late 2007 and has gone from a standing start to being a leading player in the UK soundbar market in this time. Orbitsound's products are currently sold nationally through John Lewis Partnership as well as being available from Harrods and Selfridges and a variety of specialist independent retailers. Widget will be looking to build on and significantly increase Orbitsound's retail channel to reach a larger consumer audience. Orbitsound will be launching a number of new soundbar products in the second half of 2011.

Established in 1987, under the name of Widget Software, Widget originally specialised in selling Psion handheld computers. Renamed Widget UK Ltd in 2000, it has a strong history of sourcing and distributing new and innovative technology to the British market. The company first introduced satellite navigation pioneers TomTom to the UK and its portfolio has also included ground-breaking technology such as e-readers and handheld video cameras. Widget has spent years developing excellent relationships with the British retail channel and it is these that Orbitsound will be looking to utilise.

Orbitsound's Chief Operating Officer, John Cameron, comments, 'We are delighted to have agreed a distribution deal with Widget. We are in no doubt that they are the right company to promote Orbitsound's range of soundbars to the UK market. They understand the emerging technology market better than anyone and have proved themselves as a power force in this field. With our unique products, and with Widget's support, we are confident that we can become the UK's number one soundbar manufacturer in 2012.'

'The soundbar market has proved itself to be one of intense growth and Orbitsound's "spatial sound" is truly unique,' says Widget's Managing Director Jo-Anne Foreman. 'We have been watching Orbitsound with increasing interest since its launch. We are thrilled to be working with a British company that is developing such cutting edge technology and which is also showing real momentum in sales growth. We are positive that together we can make a real impact on the soundbar market and create a winning partnership for UK technology.'

- Ends -

Orbitsound press contact:
For more information, or interviews with the Orbitsound team please contact:
Anna Taylor or Leonie Martin at Beam Agency:
1 Rosoman Place, Exmouth Market, London, EC1R 0JY
T: +44 (0)20 7833 9595
E: orbitsound@beamagency.com

Widget press contact:
For more information, or interviews with the Widget team please contact:
Mark Needham at Widget
E: mark.needham@widget.co.uk
Twitter feed: http://twitter.com/widget1

Editors Notes:

About Orbitsound

Orbitsound's unique spatial stereo technology was first designed and realised in 2005 by Ted Fletcher, a former musician and renowned audio electronics designer with more than five decades in the music business. Former investment bankers Harvinder Hungin and John Cameron supported the development of the technology from early 2006, becoming Executive Directors of Orbitsound shortly after the company was established in late 2007. At CES 2008 Orbitsound's products were highlighted on BBC and CNN news, and won a prestigious place in Disney's Best of CES show. And at 2010's CES Unveiled, Orbitsound was showcased by UK Trade & Investment (UKTI) as one of the top two innovative UK technology companies with potential for international success.

About Widget UK Ltd

Widget UK Ltd distributes a tightly focussed range of satellite navigation, networking and video products for manufacturers such as TomTom, Cisco and Cloud Engines. Widget UK Ltd sells only to trade, and not directly to the public. Its customers are UK retailers and resellers, including Staples, DSGi, Maplin, Comet, Amazon.co.uk, Dabs.com, Play.com, QVC, Ideal Shopping Direct, Computacenter and SCC.

About GfK Retail and Technology UK

The GfK Group offers the fundamental knowledge that industry, retailers, services companies and the media need to make market decisions. It offers a comprehensive range of information and consultancy services in the three business sectors of Custom Research, Retail and Technology and Media. The no. 4 market research organization worldwide operates in more than 100 countries and employs over 10,000 staff. In 2009, the GfK Group's sales amounted to EUR 1.16 billion. For further information visit www.gfkrt.com or www.gfkrt.com/uk

This press release was distributed by ResponseSource Press Release Wire on behalf of Widget UK in the following categories: Consumer Technology, Computing & Telecoms, for more information visit https://pressreleasewire.responsesource.com/about.