Staff engagement fits franchising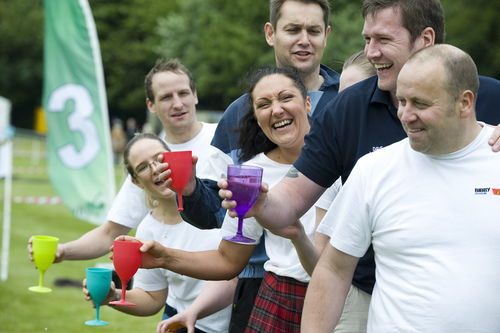 Franchise business activitymix has seen a growing demand for corporate employee engagement programmes since it began in 2003.

"The key developments are having fun with the team and the importance of the relationships people have with their colleagues. Their significance has increased and are they now primary drivers of engagement," says Jules Lancastle of activitymix.

A business based in London, Edinburgh and Aberdeen, activitymix has retained 80% of its clients year-on-year. The company is using this success to expand across the UK through a franchise business expansion model.

activitymix works with global brands including Shell, BP, BarclaysCapital, and Bank of America Merrill Lynch. Companies invest in activitymix's annual Corporate Decathlon engagement programme. More than 20,000 people have taken part since 2003, and participation rates within individual client organizations are increasing.

Founders Jules Lancastle and Richard Johnston see their enviable retention rate as an indication of good market analysis and excellence in service delivery. "We have worked hard to protect our business model," says Jules. "We now offer an exciting business option for future Franchise Partners with a desire to combine sport with business objectives."

Through sports and team-orientated activities, activitymix encourages employee engagement. They asked engagement specialist Peter Wilde to review recent research. He was commissioned to develop a model to reflect the new relationship between recognized drivers of engagement and the profitability of a business.

Gordon Fraser, Partner at activitymix Edinburgh, believes that effective employee engagement is fast becoming a key priority for businesses, leading to an increase in demand for this type of outsourced service. "This research formally acknowledges what I've found anecdotally over the last year," he says.

"Engagement in some form or another is the hot issue. Business advisers estimate the cost of replacing staff who resign to be around a year's salary. In this environment companies know that retention through engagement is the way forward which is good news for our franchise partner network."

activitymix sees positive connections between sport and physical activity among work colleagues, and bottom line benefits. It knows the importance of fun in the workplace in this new and challenging corporate landscape.

Notes to Editors:

Contact: Jules Lancastle, activitymix, 07968 049177, Jules.Lancastle@activitymix.com www.activitymix.com
or
Nick Keith, Navigate Design, nick.keith@navigate-design.com, 01730 235668
Faye Genn, Navigate Design, faye.genn@navigate-design.com.

1. Peter Wilde

Peter brings a deep understanding of engagement, employee research and human capital. He is a regular presenter at industry conferences as well as being a renowned expert on employee engagement and author of academic and conference papers.

- Since graduating in psychology from Manchester University 15 years ago, Peter Wilde has worked as an engagement specialist. As part of the engagement team at Ipsos MORI, he conducted global projects for a range of organizations and worked internationally with the UK's best-known pollster, Sir Robert Worcester.

- 2004: joined UBS, with the role of overseeing engagement research globally. He developed a centre of excellence within the organization and his 'employee lifecycle' research model is now implemented across the Firm.

- 2007: work on engagement led to UBS being included in the Financial Times' Great Place To Work list, receiving considerable external coverage.

- named a 'Top 50' industry figure to watch by the Market Research Society journal Research

- profiled in the November 2010 edition of The Psychologist magazine.

- 2011: Global Head of Engagement for Unilever.

* Studies include:

* In the most recent global study undertaken by Peter Wilde, the key driver of engagement for the 70,000 people surveyed was 'my team is fun to work with'.

* In the 2008 Towers Watson study ('Closing The Engagement Gap'), the most powerful driver listed was senior management's interest in employee well-being.

* In 2008, Kenexa produced an analysis of the key drivers of engagement, based on the survey results of over 1 million employees. The second strongest driver was the importance of a sense of teamwork. This is more important, the study suggests, than pay, promotions, career and advancement.

* The link between customer satisfaction and profit is best exemplified in the
'service-profit chain'. This well-known Harvard Business Review paper in the late 90s looks at engagement, customer satisfaction and profit levels at US stores of the Sears Company. It showed (both through survey data and hard
measurements) that employee satisfaction increases customer satisfaction,
which increases revenue.
The study also calculated values for this relationship. It showed that a 5% increase in employee engagement causes a 1.3% increase in customer satisfaction which in turn leads to a 0.5% increase in profit for that store.

* Key evidence that engagement drives positive behaviours is in The Corporate Leadership Council's 2004 report: 'Driving Employee Performance and Retention Through Engagement'. Based on a survey of more than 50,000 employees at more than 30 companies, the study showed that engagement increased both performance and retention, and highlighted that a move from strong disengagement to strong engagement decreased the probability of departure by 87%.

* The 2008 Conference Board study 'Engaging Your Global Workforce' carried out a meta-analysis of the most commonly cited engagement drivers. It found that a principal driver of engagement is the relationship one has with one's colleagues and that this relationship was quoted as being a key driver of engagement in the following studies:

Towers Perrin (2003). The 2003 Towers Perrin Talent Report: Working Today:

Understanding What Drives Employee Engagement. Research Report. Stamford, Conn.

The Conference Board (2003). Linking People Measures to Strategy. Research Report R-1342-03-RR. New York, NY.

Gubman, E. (2004). "From Engagement to Passion for Work: The Search for the Missing Person," Human Resources Planning, The Human Resource
Planning Society, Vol. 27.3, September.

Towers Perrin (2005). Towers Perrin 'European Talent Survey: Reconnectingwith Employees: Attracting, Retaining, and Engaging Your Workforce'. Research Report, London, UK.






This press release was distributed by ResponseSource Press Release Wire on behalf of Navigate & Designline in the following categories: Sport, Education & Human Resources, Manufacturing, Engineering & Energy, for more information visit https://pressreleasewire.responsesource.com/about.