WOOL TO WOOL COLOUR - British Wool Brings Explosions of Colour To The Home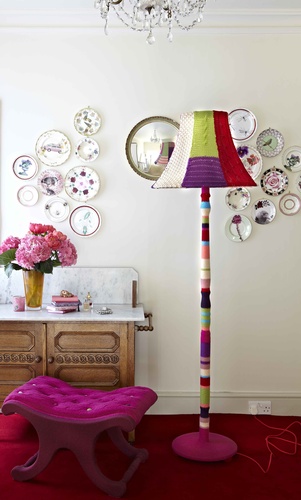 Bold Colours may have been adorning our wardrobes in 2011, but British Wool is bringing the colour blocking trend into the home from the floor up with a collection that is big, bright and bold. Whilst British Wool naturally offers robust resilience as a carpet fibre it also brings a unique twist to innovative accessories and clothing in glorious technicolour and tactile texture.

"Teaming high quality craftsmanship in shades that omit high intensity, British homes will be crying out for home grown wool" says Irfan Khan, Promotions Manager at The British Wool Marketing Board "With the growing trend for all things British, it's great to be collaborating with so many innovative companies that make fantastic products from British Wool."

Where There's A Wool There's A Way

The living room is THE place to generate stand out, so inject eye popping colour with British Wool – offset primary shades against clashing acid brights for the ultimate in wool factor! This trend is best combined with one solid shade of colour so choose carpet from Ulster that is hardwearing yet soft and luxurious underfoot or add a focal point to a plain sofa with vibrant wool tapestry cushions in delicious shades of colour made with Elizabeth Bradley tapestry kits.

From Sheep to Sleep

'Shear' sumptuous surroundings are a given when you use British Wool in the bedroom. Opt for opulent, luxurious surroundings which are guaranteed to keep you warm at night. Use a bold Red Velvet carpet from Ulster to instantly brighten your day as soon you step foot out of bed. Collaborations with key designers see the ultimate in bold and tactile accessories hand-made from natural yarns including Melanie Porter's statement piece knitted furniture, the added 'Passion' comes from Emily Peacock's statement cushion.

Loud and Proud to be British

Celebrate everything we love about the Isles with woollen fabrics that add instant interest and depth and help to make your house a home. Melanie Porter has created knitted furniture that merges rich warmth with distinct British tones. The classic red white and blue is a tradition that just isn't ready to leave our homes so hang your flag with pride.

Cosy up with British Wool

When the nights draw in, cosy accessories from British Wool are the perfect winter antidote. Light a fire and cuddle up in woollen fabrics and yarns. With the latest cutting edge and unique scarves from Izzy Lane and lacy scarves from Makepiece, you won't be cold this winter. And when it's time to hang the stockings choose socks from John Arbon Textiles made from British Wool in an array of dizzy brights and make sure your mantelpiece has one for all the family.

For more information about British Wool visit www.aboutwool.com

-ends-

Press enquiries, imagery and more information contact: Irfan Khan irfankhan@britishwool.org.uk 01274 688666 www.britishwool.org.uk
www.aboutwool.com

All images and captions are available from the press area on aboutwool

About British Wool

Britain has wonderful sheep, over 60 pure breeds - more than any other country in the world. British sheep produce wool that offers great variety in texture and colour. It is the aim of British Wool, which offers wool from over 50,000 UK sheep farmers, to encourage greater use of this superior fibre, and buy British.

This press release was distributed by ResponseSource Press Release Wire on behalf of British Wool in the following categories: Home & Garden, for more information visit https://pressreleasewire.responsesource.com/about.