From five years as a creative hermit in former prison cell to best-selling artist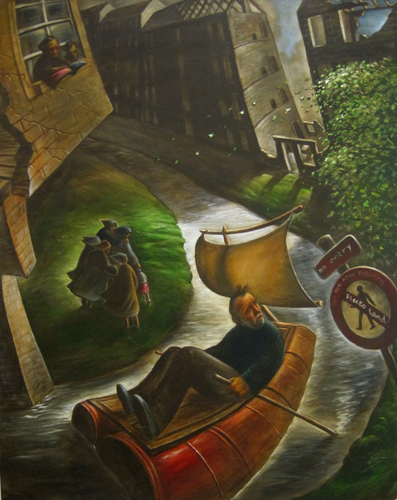 In his painting Leaving Fleeto Land, women and children huddle together as their former homes are pulled down to make way for a new development
Joe O'Brien – from cell to studio

Artist spent five years as a hermit

There must be something in the water in Maryhill, given that the north Glasgow district's artistic talent pool takes in Turner Prize winner Susan Philipsz, actor Robert Carlyle and troubadour Donovan.

Now, in his new solo exhibition at scotlandart.com's Glasgow gallery, artist Joe O'Brien (49) shares his view of a typical tenement upbringing in Maryhill the 1960s. Fragments of a Scottish Childhood runs from July 1 – 24, but far from painting his childhood in dark brushstrokes of misery and deprivation, O'Brien offers an unsentimental portrayal of an area that was changing before his eyes.
In his painting Leaving Fleeto Land, women and children huddle together as their former homes are pulled down to make way for a new development, echoing the artist's childhood home in South Woodside Road which was also demolished.

O'Brien, who was one of four brothers and the son of a railway worker, says that inspiration for the exhibition came in fragments, from dreams, memories and experience. The River Kelvin (he called it the Kelly) loomed large in his childhood, not only giving him a love of nature, but also sparking the young Joe's imagination with visions of crocodiles in the Kelvin's then murky waters.

"It was a sort of Peter Pan world for us, and in those days, there weren't so many footbridges linking Maryhill across the Kelvin to the west end which we regarded as the 'other side'.

"It was a breath of fresh air skiting through Kelvingrove Park of a Sunday and into the art gallery. Even then, the textures, colours and narratives of the paintings gave me a feeling of awe, not that I knew anything about the technicalities at that time.

On leaving school Joe worked in what he describes as a 'patchwork of jobs', but always sketching and painting in his free time. It was when Joe was working at the pool hall in the QM Union at Glasgow University, dishing out change to students, that a lecturer took an interest in his drawings, and suggested that it was time he became a proper artist.

"That one voice, confirmed what I'd always known inside and I decided to try it," explains Joe, who ended up disappearing into the east end of the city, and using a prison cell in a former jail in the Calton district as his studio.

"I spent the next five years living and working there in complete isolation, not even my close family knew what I was doing. If my family had seen where I was living they would have been concerned, but I was having a great time, paring things down and having time to develop and be creative. I wasn't afraid, in fact a life spent unfulfilled would have been far more scary."

During the five years working in his 'cell', Joe's work progressed from small landscapes to more surrealistic and figurative pieces. When he emerged from his creative cocoon, Joe took his work to a couple of galleries and it wasn't long before he was earning a living as a fully-fledged artist.

Joe recalls that when his first painting was sold, he felt like shouting it from the rooftops. Although discrete about who buys his work, Joe says he rarely meets the buyers or the sellers, he has heard it said that actors Sean Connery and Ewan McGregor are admirers.
Things have come full circle now that Joe is once again living in his native Maryhill, while working from a WASPs studio in Denistoun. He is emphatic that these recent paintings are not a sepia coloured view of his childhood, but rather they stem from a time when he used his imagination to reinvent his surroundings.

"It feels as if the River Kelvin has been coursing through my life," concludes Joe.

-ends-

Exhibition Preview Night, Thursday 30th June 6-8pm at scotlandart.com's Glasgow gallery at 193 Bath Street, Glasgow G2 4HU. All welcome.

Exhibition run: 1st July - 24th July

Artist talk/coffee morning, Saturday 2nd July 1pm from 11.30am – 1.30pm with artist talk at 12 noon. sponsored by Coffee Chocolate and Tea of Glasgow, an artisan shop on Argyle Street who roast their own coffee beans/make their own chocolate etc.

For further information & images, or to arrange an interview with Joe contact Heather MacLeod on 07891144157 or words@heather.uk.net.

scotlandart.com

Glasgow Gallery
193 Bath Street
Glasgow G2 4HU Tel: 0141 221 4502
Opening Hours:
Tues – Fri 10.30am - 5.30pm
Saturday 11am – 5.00pm
Sunday 12 – 5pm
(Closed Mondays)

enquiries@scotlandart.com

www.scotlandart.com


Notes to editors:

• scotlandart.com holds Scotland's largest stock of original paintings and offers a free consultancy service to homes or businesses. As well as its online gallery, scotlandart.com has real life galleries in Glasgow and in Stockbridge, Edinburgh.
•
• Over the past 12 years, scotlandart.com has established a UK-wide and international reputation with its 6000-strong customer base, for the calibre of its artists and customer service.

• Customers can try paintings at home before making a decision.

Gift vouchers for any amount are available without time limit.
• Wedding Gift List service available.

• The Gallery is part of the Scottish Arts Council's Own Art initiative, offering buyers a 10 monthly payment interest free instalment plan.



This press release was distributed by ResponseSource Press Release Wire on behalf of Heather MacLeod in the following categories: Men's Interest, Entertainment & Arts, Home & Garden, for more information visit https://pressreleasewire.responsesource.com/about.