Goldsmiths' Fair 2011 - selling exhibition of contemporary jewellery and silver by designer-makers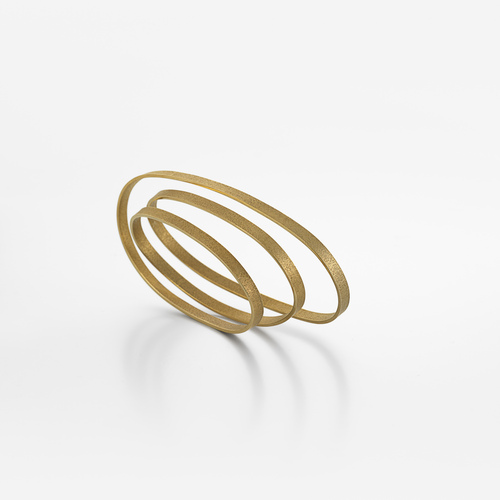 PRESS RELEASE:
Press Office Contact: Amanda Stücklin
T 020 7367 5913 E Amanda.stucklin@thegoldsmiths.co.uk

ALL THE FUN OF THE FAIR!
Goldsmiths' Fair 2011

A unique opportunity to buy direct from the
crème de la crème of the jewellery and silversmithing talent in the UK

Goldsmiths' Fair is a huge melting pot of unbridled, audacious creativity and skill. As well as being both informative and inspirational, it is an event where everyone, both exhibitor and visitor alike, shares a common passion for artistry, craftsmanship and the love of jewellery, silver and other precious objects.

At Goldsmiths' Hall
Week One - Monday, September 26 to Sunday, October 2
Week Two - Tuesday, October 4 to Sunday, October 9
Entrance by catalogue purchasable on the door (£7 for one week, £12 for two weeks)

"It manages to be a hedonist's paradise of beautiful things and yet surprisingly affordable – it's an annual treat. It's got a sociable atmosphere – not only do the cognoscenti of the silversmithing and jewellery worlds go, but there's also the excitable air that always accompanies buying and all the exhibitors give great personal attention."

"It's a chance not only to see some of the most beautiful and stylish jewellery in the country but to meet and talk to those who have designed and crafted it."

"An opportunity to see one of the City of London's historic livery companies on site and in action…..with dozens of jewelers and gold & silversmiths displaying and selling their very contemporary pieces."

"It's fantastic to meet some of the best gold and silversmiths in the UK. I love the fact that you can see and touch!
And Goldsmith's Hall is amazing and feels so special."

"I would describe Goldsmiths' Fair as the place to find the very best modern, contemporary designers under one roof, the coup being that the exhibitors have been discerned by the Goldsmiths as being excellent in their fields. It is also the place to take note of designers and make contact later on."

Goldsmiths' Fair presents the crème de la crème of jewellery and silversmithing talent in the UK. The gilded rooms of Goldsmiths' Hall are filled with rows of capsule boutiques each one offering a cornucopia of original jewels and stunning silver by individual designer-makers from around the country. 90 exhibitors take part each week, with a change over in the middle necessitating a second visit to fully appreciate the complete spectrum of creative diversity that the Fair offers.

One of the special and most loved aspects of the Fair is that all the designer-makers attend in person and are able to offer a highly personal, bespoke service, providing the opportunity to buy directly from them or commission something quite unique.

The line up of virtuosity at this year's Fair is as exceptional as ever with an energetic, fresh trailblazing young contingent providing proof of a budding new generation of exciting emergent talent. Each year the Goldsmiths' Company awards a bursary, a loan and a free stand to 10 up-coming designer-makers to help launch their career. Among them are Frances Wadsworth-Jones whose jewellery is playfully provocative and Milly Swire who effectively sets individually sourced stones from India into richly textured gold to create bold, striking jewels.

Rising stars in the silversmithing galaxy include award-winning Jemma Daniels, who hand-raises eminently tactile sculptural pieces for the table and Simon Pattison, who focuses on making simple functional objects for the home which are also intentionally challenging, exciting and amusing. In contrast, Nan Nan Liu's stunningly original silver is inspired by the circular patterns found in tree trunks. By building up layers of silver in an expressively fluid and original way she is able to capture the essence of this natural phenomenon, and create visually ravishing pieces.

Several of the young designers, who made their debut at last year's Fair are back again having grown in confidence and skill over the intervening months. On the silver side silversmith Edward Mahony, who won a "Best New Design" award last year returns with a new collection of his visually exciting hand-made silver, with its exaggerated raising marks and uneven rims.

Returning jewellers include Jessica Poole and Shivani Patel. Although totally different in design and approach, both make extremely stylish, sophisticated and wearable jewellery which is both classic and yet totally à la mode. Jessica Poole, together with another new Fair exhibitor Ute Decker, is among a handful of jewellers in the UK licensed to use Fair Trade Gold. Ute only uses Fair Trade gold from Corporación Oro Verde, a collective of community, sustainability and environmental groups from the Choco Bioregion of Colombia, and or recycled silver to make her distinctive bold, sculptural creations.

Making his first appearance at the Fair is jeweller Leo de Vroomen, who is internationally renowned for his sculptural, elegant and sophisticated jewellery. Each piece is hand-made with exceptional precision-engineering and attention to detail. Leo doesn't simply design stunning jewellery he considers how every piece will be worn, for example a necklace isn't just circular it is sculpted to perfectly fit the contours of the neck. Shapes are simple and bold, with colour an important feature achieved through the use of exotic gemstones and or enamel. Leo is the master of understated statement jewellery!

Julian Stephens is also one of the new contingents of arrivals whose latest collection combines romantic Pre-Raphaelite design with modernity in the form of clean lines and flawless surfaces. New too is Helen Smith. Helen's 'Full on Glamour' collection, designed for the "modern day siren" is inspired by the opulence and glamour of the 1950s with its elegant fashion styling and calligraphy.

Likewise Alexander Davis makes jewellery which is similarly dramatic, colourful and visually arresting. Always innovative in design and technique, Alexander constantly utilises new ways of capturing gemstones to accentuate their shape and enhance their colour. His latest collection, "Deadly Night Shade" is based on the flowers of this poisonous plant. The result is exotic and edgy with stylised angular shapes and a rich palette of purples, yellows and greens. Last year Alexander won the Best New UK Designer Jewellery Award 2010.

Having recently completed a degree at the Royal College of Art, jeweller Kathy Vones returns to the Fair unveiling her latest 'Microcosms' jewellery collection. The collection comprises complex multi-faceted architectural structures made from fine laser-welded precious metal wire, often incorporating sparkling gemstones to provide a tantalising focal point.

Multi-award winning jeweller Tomasz Donocik has just launched his first fine jewellery collection for women entitled 'The Garden of Good and Evil'. The collection simply oozes opulence and sophistication with its original use of imagery and exotic combination of stones and materials. His new women's jewellery will be shown alongside his established male range, including his ever popular leather and silver "wrap" bracelets, all designed for the style-conscious man.

The United Kingdom has a reputation for being the undisputed leader in the world of the contemporary silver and this is borne out by the incredible variety of exceptional silver shown at Goldsmiths' Fair. Collectively the participating silversmiths demonstrate the most fantastic creativity and craftsmanship, with many of them taking traditional silversmithing skills to new heights. From spoons and bowls, to magnificent candelabra and centrepieces, each piece is designed to enhance and be relevant for contemporary living, while simultaneously destined to become a cherished heirloom.

Among the first-time silversmiths exhibiting this year is Rebecca Lawley. Rebecca takes design elements of the 1950's and 60's and reinterprets them to produce functional and practical silver with simple, clear, crisp forms, and beautiful finishes. Another newcomer, silversmith Jacqueline Harold should also receive an enthusiastic welcome with her highly original and quirky automated condiment holders which encourage the diner to "play" adding an element of fun to dining. In contrast Carolyn Stephenson creates sculptural silver pieces on a grand scale with real "wow" factor appeal.

Whether you are looking for a piece of silver for the home, an original present or an indulgent jewel to wear to a special event or to accessorise with a new outfit – Goldsmiths' Fair has something for everyone – for both women and men, both young and old, from the classic to the radically modern. And with prices starting from as low as £60 for something that has been hand-made by a skilled designer-maker, everyone can take home a piece of creativity to be treasured for years to come.

NOTES TO EDITORS:

Week One - Monday, September 26 to Sunday, October 2
Week Two - Tuesday, October 4 to Sunday, October 9
Closed Monday October 3 for change over of exhibitors
11am to 7.00pm Monday to Friday (last entry 6.30pm)
10am to 6.00pm Saturday and Sunday (last entry 5.30pm)
Entrance by catalogue purchasable on the door (£7 for one week, £12 for two weeks)

FACTS:

• The 29th annual Goldsmiths' Fair (first Fair took place in 1983)
• A selling exhibition open to the public and trade.
• 90 exhibitors each week (107 jewellers and 61 silversmiths)
• 11 exhibitors take part in both weeks
• All the exhibitors are vetted by the Goldsmiths' Company
• 10 recent graduates have been granted a stand, a loan and a bursary by the Goldsmiths' Company
• Prices range from £60 upwards
• All the silver and precious metal jewellery is hallmarked by one of the four UK Assay Offices.

VENUE:

Goldsmiths' Hall,
Foster Lane,
London EC2V 6BN
Tel: 020 7606 7010
www.thegoldsmiths.co.uk
Licensed Café on site offering drinks and refreshments throughout the day

UNDERGROUND STATIONS:

St Paul's, Mansion House, Barbican, Bank
BUSES:
8, 11, 25, 100, 242, 56, 521

For further information and images please contact:
Amanda Stücklin, the Goldsmiths' Company, Tel: 020 7367 5913
Email: Amanda.stucklin@thegoldsmiths.co.uk
www.thegoldsmiths.co.uk

www.whoswhoingoldandsilver.com

The Goldsmiths' Company's on-line directory for jewellery, silver and works of art enables the public to browse on line to make contact with the maker of their choice. With more than 300 craftsmen, all approved by the Goldsmiths' Company, the website is the ultimate resource for any requirement in precious metal.

This press release was distributed by ResponseSource Press Release Wire on behalf of The Goldsmiths Co. in the following categories: Entertainment & Arts, Leisure & Hobbies, Home & Garden, Women's Interest & Beauty, Food & Drink, Retail & Fashion, for more information visit https://pressreleasewire.responsesource.com/about.