New look pet insurance policies keep Petplan well in front of the market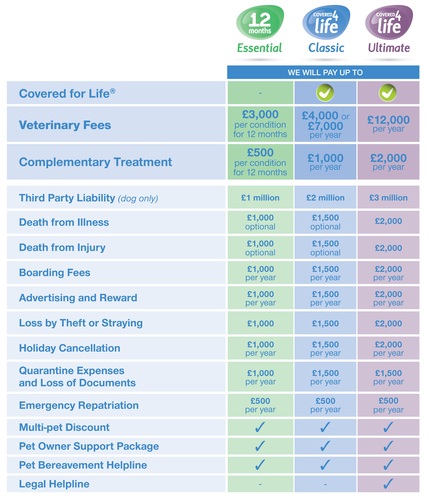 With over 250 pet insurance policies now in the market, the industry is becoming a minefield for pet owners with varying benefits and levels of cover often confusing them to a point where they think they're getting lifetime cover but instead trapped with a restrictive policy.

However, to make it easier for pet owners to understand the types of cover available, Petplan the UK's largest pet insurance provider, has launched a new look policy range which will also give pet owners more comprehensive cover.

Simon Masding, Petplan's Head of Sales and Partnerships said since Petplan started 35 years ago the pet insurance market and vet industry has changed significantly, especially in the last few years.

"Advances in new technology and better diagnostics allowing vets to save and treat more pets means our policies need to evolve so that pets can continue to get the best possible treatment."

To better understand these changing market dynamics Petplan undertook extensive research with vets, breeders, charities, customers and non-customers.

The feedback showed that despite having the most comprehensive policies in the market, it was important for Petplan to more clearly communicate their range of policies to shift away from the confusion created by other brands and meet the changing demands of pet owners better.

This has led to the specialist insurance provider simplifying their policy range, adding and increasing each policy's benefits and developing easy to understand policy names.

Petplan's new look policies for both cats and dogs are:

• Petplan Ultimate – Petplan's most comprehensive Covered for Life® plan with exclusive additional benefits and up to £12,000 vet fee cover for complete peace of mind. Maximum protection for maximum reassurance.

• Petplan Classic – Petplan's most popular plan providing comprehensive Covered for Life® pet insurance for accidents and chronic illnesses. The original Covered for Life® policy.

• Petplan Essential – providing high quality 12-month cover for accidents and illness. Petplan quality at an affordable price.

Zeta Frasca, owner and practicing vet at Kitten to Cat in Richmond London says a lot of pet owners find pet insurance really confusing to understand all the fine print especially with many insurance companies not making it clear that although your pet is insured they are not covered for life.

"These changes will not only make it clearer for the pet owner but it will also make it a lot easier for us as an industry to explain pet insurance to our clients, which is really important," says Zeta.

In terms of the new benefits for each policy, pet owners now have greater flexibility with the Petplan Essential and Petplan Classic policies allowing them to add optional death cover, and Petplan Classic policy holders will also be able to choose between £4,000 and £7,000 worth of veterinary fee cover.

Petplan Ultimate has significantly increased cover limits across the policy including complementary treatment and loss by theft or illness. They've also added extra benefits such as a pet owner support pack, a Pet Bereavement Helpline provided by Blue Cross and access to the Petplan legal helpline.

"We're always looking at ways we can better keep pets healthy and owners happy and these changes will compliment our ability to pay vet practices direct and settle 90 per cent of claims within 5 working days," says Simon.

For more information about Petplan's new look policies visit www.petplan.co.uk or call
0845 077 1934 to talk to one of their sales teams.

-END-

For more information please contact the Petplan press office on:

Carl Stephens 0208 580 8033 carl.stephens@allianz.co.uk

Notes to editors:

Petplan is the largest pet insurance provider in the world, offering comprehensive lifetime pet insurance cover for dogs, cats and rabbits.

Established more than 30 years ago, it is part of Allianz Insurance, one of the largest general insurers in the UK.

For more information about Petplan pet insurance, please visit:
http://www.petplan.co.uk/therightcover/makingyourchoiceeasie...

This press release was distributed by ResponseSource Press Release Wire on behalf of Equi=Media Limited in the following categories: Leisure & Hobbies, Home & Garden, Personal Finance, Farming & Animals, for more information visit https://pressreleasewire.responsesource.com/about.