Filling emailed forms is simplified by the new pdfFactory release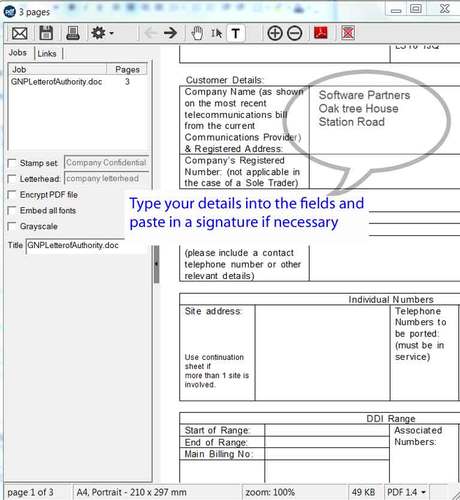 pdfFactory professional now cuts out the need to print, hand write and re-scan electronically received forms
pdfFactory professional now cuts out the need to print, hand write and re-scan electronically received forms.

Print the form to pdfFactory and use the straightforward type
entry feature to type into the form's boxes using any of the computer's fonts. It removes the potential risk of misinterpretation of handwritten entries.

Paste a signature and right mouse click to save it for future use. This removes the task of finding the signature each time. Simply click to sign next time.

Select the option to prevent the document being amended or the signature being copied.

Press the Send button to email it back.

The key benefits of pdfFactory are: simple installation, compact and reliable PDFs and a preview window that lets you enhance the final PDF.
With the preview you can:
- add overlays such as letterhead, comments or page numbers
- highlight or black out marked text
- combine as many separate documents as you want into a single PDF
- remove and reorder complete jobs and individual pages
- create bookmarks automatically and modify other aspects of the finished PDF.

PDFs are the perfect format for emailing and archiving documents. They are compact, universally readable and simple to create with pdfFactory.

For more information contact: Richard Blundell
Software Partners Ltd.
tel: 01926842998
richard@software-partners.co.uk

Software Partners are the UK distributors for the FinePrint and pdfFactory printer utilities that simplify and enhance printing from computers and PDF file creation.
This press release was distributed by ResponseSource Press Release Wire on behalf of Software Partners in the following categories: Consumer Technology, Business & Finance, Computing & Telecoms, for more information visit https://pressreleasewire.responsesource.com/about.