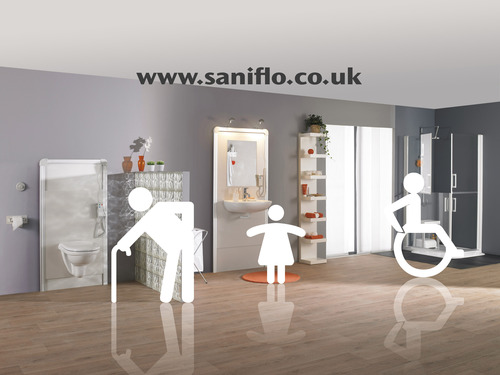 By 2020 in the UK there will be more people over 60 than under 25, an alarming statistic highlighting the extent to which we are an ageing population. Aspirations and disposable income for many within this band may be high, mobility, however, may not.

Families are more geographically dispersed than in previous years, leaving older relatives to fend for themselves in houses which may be increasingly unsuitable for their needs. Moving costs are escalating and for many there are also emotional ties to buildings which make them reluctant to leave. The addition of extra facilities and simple modifications can make the existing home safer and more comfortable.

If stairs are becoming an obstacle it makes sense to modify the house in order that access to a WC and shower no longer means grappling with this unwelcome hurdle. The Saniflo range of small bore macerator pumping units means that home owners can re-evaluate space usage and site additional facilities without being reliant on traditional gravity drainage. An under stairs cupboard, for example, can be transformed with an unobtrusive Saniflo unit, enabling occupants to regain confidence in their home surroundings.

Hide and sleek

Sanislim takes waste from a WC and waste water from a wash basin, shower or bidet, pumping it away to 4 metres vertically, 40 metres horizontally or a lesser combination of both. The unit's diminutive size means it can be easily concealed behind contemporary slim line sanitaryware.

Where existing facilities can be adapted, the Sanilife range from Saniflo has been designed to enable practical modifications to be made to a bathroom to enable the elderly and less able person to remain in their own home. Saniflo have developed a range of products called Sanilife designed to meet the increasing demand for products that improve the quality of life for the less able either through disability or the natural ageing process.

The Sanimatic bathroom range consists of an electrically controlled rise and fall WC, wash hand basin and the Kineduo, a bathtub with access door.

To enable showering facilities the Sanidoor, a split shower door and the Traymatic, a low profile tray provide ease of access. These can be used in conjunction with the Showermatic, a low level shower waste pump.

The versatility of the design makes them perfect for use by the whole family.

Aspirations do not fade with age and the Saniflo products can be used with stylish, contemporary sanitaryware – there is no need to downgrade on style when you can no longer go upstairs to the loo!

For further information please contact:

Saniflo Ltd., Howard House,
The Runway,
South Ruislip,
Middx., HA4 6SE
Tel: 020 8842 0033
Fax: 020 8842 1671
email: sales@saniflo.co.uk
www.saniflo.co.uk


This press release was distributed by ResponseSource Press Release Wire on behalf of Consortium Communications in the following categories: Health, Home & Garden, Women's Interest & Beauty, Media & Marketing, Construction & Property, for more information visit https://pressreleasewire.responsesource.com/about.