Dartmoor without ponies? Like a shark without teeth! says Nick Baker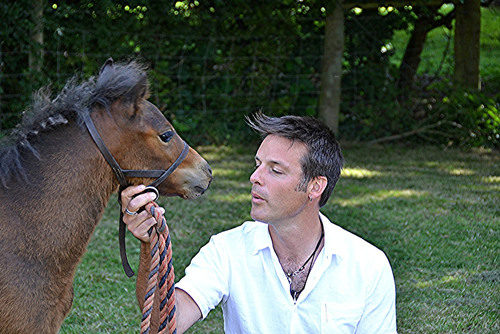 Everyone loves a Dartmoor pony; they are an icon of the windswept wild uplands, the emblem for our Dartmoor National Park
National Trust

Registered Charity No 205846
Registered Charity No.1109196

PRESS INFORMATION
FROM THE DARTMOOR PONY HERITAGE TRUST
AND NATIONAL TRUST

Date: 14 July 2011

Contact: Further information, or to speak to Nick, call Clare Stanton, 07885 699802


"DARTMOOR WITHOUT PONIES? LIKE A SHARK WITHOUT TEETH!" SAYS NATURALIST AND TV PRESENTER, NICK BAKER

PICTURE SHOWS NICK WITH DARTMOOR FOAL, LANGWORTHY KINGFISHER; OR DRIVING BASIL AND FELIX WITH OWNER TRISHA LUXTON:
OTHER PHOTOS AVAILABLE ON REQUEST

Quoted during his visit to a recent Showcase and Sale organised by the Dartmoor Pony Heritage Trust at its new Information and Education Centre at Parke, Bovey Tracey in Devon, Nick Baker was adamant that the native Dartmoor pony, acknowledged as being on the 'At Risk' register of endangered native animals in the UK, must be preserved on the Moor:

"In recent years much publicity has been made of the 'lack of interest' in these fabulous beasts; they have suffered a massive decline and are no longer valued, yet the qualities of the true Dartmoor ponies are still superb, making them ideal multi purpose family ponies, desired by many."

Adds Nick: "Dartmoor without ponies would be like a shark without teeth! Preserving the better quality Dartmoor ponies on the Moor is critical for the future of this superb natural ecological gem, which plays a vital role in the balance of nature.

"Everyone loves a Dartmoor pony; they are an icon of the windswept wild uplands, the emblem for our Dartmoor National Park and a well known attraction for the thousands of visitors to the Moor each year. But these ponies also play a vital role in maintaining the flavour of the place itself, in shaping the landscape: as pack animals, pit workers and transport in the industrial past, as well as being 'gorgeous grazers', helping to maintain the vegetation that we have come to associate as the colours, textures and smells of Dartmoor. As a conservation tool they are not beaten by the harsh conditions found on the moor, even preferring to graze the windy exposed tors often wimped out on by other stock.

"Living on the Moor myself, I see the challenges for this environment and the need for effort to preserve Dartmoor's heritage. The ponies are the best 'hairy management tools' we could ask for; they must not be lost."

"The Dartmoor Pony Heritage Trust, having recognised the need, is dedicated to promoting and preserving the heritage of this tough little pony, for its sake and that of the Moor. The DPHT is successfully promoting the qualities of the 'real deal', through its work in support of the people who own the ponies on Dartmoor; through its innovative education work to demonstrate the superb temperament of the breed; and through conservation grazing placements of Dartmoor ponies all over the UK, as well as striving to raise its profile pony as widely as possible."

Perhaps best known for his 'Really Wild Show' and despite an extreme allergy to horses and ponies, Nick Baker is determined to further develop his interest and support for Dartmoor ponies.


By Nick Baker
14 July 2011

TO FIND OUT MORE ABOUT THE DPHT AND/OR TO BUY OR FOSTER A DARTMOOR PONY, GO TO www.dpht.co.uk OR CALL DRU BUTTERFIELD ON 01626 355314
- ends -

"The European Agricultural Fund for Rural Development: Europe investing in rural areas"

For further press information and images please contact:

Clare Stanton - Dartmoor Pony Heritage Trust on 01647 433940/07885 699802 or cgs222@btinternet.com or Gus Fergusson, National Trust Head Ranger, South Dartmoor on 01626 834748 or 07812 974504 or gus.fergusson@nationaltrust.org.uk or Claire Bolitho, National Trust Communications Officer on 07901 971156 or Claire.bolitho@nationaltrust.org.uk or Catherine Maddern, National Trust Visitor Services Manager, Dartmoor on 01647 434111 or 07767463344 Catherine.maddern@nationaltrust.org.uk

Notes to editors:

• The Dartmoor Pony Heritage Trust (DPHT) is a registered charity established in 2005 to protect and conserve the Dartmoor Pony on Dartmoor . It runs innovative educational programmes using the Dartmoor Pony as a platform for learning, helping to promote the ponies fantastic temperament and versatility. During the summer of 2010 Fingle Farm Buildings erected a 75ft x 40ft building, containing two toilets, one disabled, a classroom and internal pony pens - so visitors can enjoy the ponies in even the wettest weather.

• The DPHT works closely with Moorland Pony Keepers and runs a value added programme, helping to raise the value of the annual foal crop by taming feral foals and youngstock, so they can be safely sold to good equine homes.

• The DPHT first started working with National Trust in 2007 when it started training rangers in management techniques suitable for dealing with semi-feral ponies on conservation grazing sites across the UK . The DPHT has also sourced a number of good quality Dartmoor Ponies for National Trust and its tenants to benefit wildlife habits through their ability to graze poor vegetation.
• The new Visitor / Education Centre is funded by Greater Dartmoor LEAF, incorporating funding from the EU, Defra, SWRDA and LEADER a grant from Clare Milne Trust, Baily Thomas Trust, a hefty contribution from National Trust and DPHT fundraising initiatives.

The new facility will provide everyone the opportunity to learn about the iconic Dartmoor Pony, its past and its future. We look forward to welcoming you to the new centre in Autumn 2010.

• For further details please visit the DPHT website www.dpht.co.uk

• Parke is owned and managed by National Trust. It was bequeathed to The National Trust by Major Hole, in 1974. It is also the headquarters for Dartmoor National Park Authority. It is open everyday of the year for more details please contact 01626 834748.

• Parke is situated on the edge of Bovey Tracey 2 miles north of the A38. There are many fine walks through parkland, woods and meadows throughout the year. There are also orienteering trails; downloadable from http://www.nationaltrust.org.uk/main/w-vh/w-visits/w-findapl...

• The orchard at Parke is planted with 150 cider apple trees which came into production in 2008.

• The walled garden dates back to 1800's providing mainly soft fruit to Parke House (not open to the public. It is leased to the Dartmoor National Park Authority). After being neglecting for a number of years the walled garden was restored and brought back into production earlier this year in partnership with Bovey Climate Action Group, based in Bovey Tracey. The aim of the partnership is to promote and support growing fruit and vegetables locally.

• Dartmoor blog address: http://dartmoornt.org.uk/

• The National Trust cares for 300 inspiring historic houses and gardens across England , Wales and Northern Ireland . From former workers' cottages to the most iconic stately homes, and from mines and mills to theatres and inns, the stories of people and their heritage are at the heart of everything it does. People of all ages, individuals, schools and communities, get involved each year with its projects, events and working holidays and over 56,000 volunteers help to bring the properties alive for the Trust's 3.7 million members. Find out more at: http://www.nationaltrust.org.uk/

• The National Trust is a charity with a love for preserving historic places and spaces across England , Wales and Northern Ireland . In short, we're a conservation charity that protects over 350 historic houses, 160 gardens, 1,100 kilometres of coastline, 254,000 hectares of land of outstanding natural beauty, 6 World Heritage Sites, 28 castles and 60 pubs - and opens them for people like you to enjoy. Find out more at: http://www.nationaltrust.org.uk/

The National Trust is a registered charity no. 205846. Our registered office is Heelis, Kemble Drive, Swindon, Wiltshire SN2 2NA.



This press release was distributed by ResponseSource Press Release Wire on behalf of Dartmoor Pony Heritage Trust in the following categories: Children & Teenagers, Men's Interest, Women's Interest & Beauty, Environment & Nature, Farming & Animals, for more information visit https://pressreleasewire.responsesource.com/about.