RECESSION ALLOWS STUDENTS OF THE OXFORD COLLEGE OF GARDEN DESIGN TO RETRAIN ON-LINE AND STILL WORK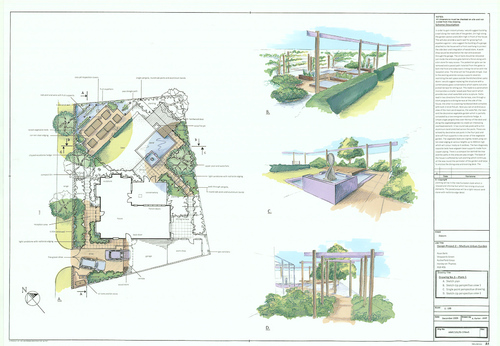 I pride myself on the fact that the Oxford College of Garden Design has always been a market leader in technology and innovation
Traditionally, if you wanted to train to be a professional garden designer, you would be forced to give up a good job and salary to attend college, then struggle financially for several years, while you built up your new business.

Now with the Oxford College of Garden Design's new updated on-line course, you can study while continuing to bring in a salary and build your business gradually without having to quit your day job.

Award-winning British garden designer, Duncan Heather, will launch the newly updated interactive online garden design course which starts this October (2011) which means you can now train as a top-class garden/landscape designer from the comfort of your own home, and still continue to earn a living.

Heather is founder and principal of the prestigious Oxford College of Garden Design which has trained most of the country's top contemporary designers; including the award-winning, Olympic garden designer, Sarah Price and the flamboyant Charlotte Rowe - and was himself trained by Britain's best-loved octogenarian designer and garden writer, John Brookes OBE, whom many regard as one of the world's top five garden designers of the 20th Century.

"I pride myself on the fact that the Oxford College of Garden Design has always been a market leader in technology and innovation," says Heather whose updated online course goes live on October 1st , 2011.

"Unlike other courses, this is NOT an online gardening correspondence course, This is the world's first and only video based course where you get exactly the same lectures via the internet as you would if you were sitting in the classroom in person and allows you on-line daily contact with your fellow classmates and your personal tutors"

The one-year course now being offered online provides a post-graduate level qualification in Residential Landscape Design. It also, says Heather, will significantly reduce the carbon footprint of both students and the college; allowing those who want to train as garden designers to do so from the comfort of their own homes anywhere in the world and without long commutes to Oxford.

In the decade since the Oxford College of Garden Design first started, it has attracted students from around the world, including America, New Zealand and Japan and Heather is confident the online course will enable even more students who could not otherwise have been able to relocate to the UK to benefit from the same high standard of training as those based in the UK.

Each on-line participant will be allocated their own qualified garden designer tutor and will follow the exact same timetable as the on-site classroom students. Scientists have already shown how "whole brain training" will be the foundation of a new wave of 21st century education and the Oxford College of Garden Design is one of the first UK organisations to offer that pioneering technology to students around the world.

Spokespeople and further information:

About Duncan Heather
Duncan Heather set up practice as a garden designer in 1987 and is the director of the prestigious Oxford College of Garden Design which offers a post-graduate diploma in residential landscape architecture now widely recognised as one of the best garden design courses in the world (www.garden-design-courses.co.uk).

In a career now spanning over 30 years, Duncan has won five gold medals, one silver, one bronze and three awards for innovative design.
Skype Me:dgheather Phone: +44(0) 1491 628 950 Email: ocgd@ocgd.org

Heather has partnered with Elspeth Briscoe to launch the online college and other exciting technology projects that combine design and new technologies

About Elspeth Briscoe
Elspeth Briscoe spent 15 years working in strategy and marketing developing some of the world's most successful internet companies. Briscoe was one of the first 30 people at www.ebay.co.uk. She is also a qualified landscape designer PGDip OCGD (distinction) and enthusiastic blogger! See www.elspeth.tumblr.com for further information.
Skype Me:elspethaknight Phone: +44(0) 07884267306 Email: info@elspethbriscoe.co.uk


Larger image available upon request.
This press release was distributed by ResponseSource Press Release Wire on behalf of e-Zone UK in the following categories: Men's Interest, Home & Garden, Environment & Nature, Business & Finance, Education & Human Resources, for more information visit https://pressreleasewire.responsesource.com/about.