Arrow Medical supports Deltex Medical's oesophageal Doppler monitoring technology which gives reduced stays in intensive care and radically reduces total treatment times.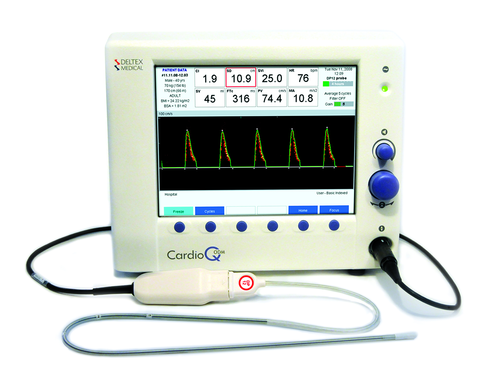 Kington, Herefordshire, UK. 07 September 2011. Kington medical device manufacturer Arrow Medical Ltd http://www.arrowmedical.co.uk/ is moulding high precision silicone HCR components for Deltex Medical Ltd http://www.deltexmedical.com/ The disposable single use components are part of the Class IIb oesophageal probe used with the CardioQ-ODM system which uses advanced ultra sound and Doppler monitoring to measure blood flow in the central circulation during critical surgery.

The CardioQ-ODM uses the probe to gather blood flow information from the aorta and provide accurate real time measurements of the arterial circulation. Oesophageal Doppler Monitoring (ODM) provides a safe and minimally invasive means of continuously monitoring the circulation. ODM is simple to use and provides highly accurate information based on small changes in circulating blood volume and so helps anaesthetists avoid the dangers of reduced oxygen delivery caused by a life threatening complication known as hypovolaemia. This, in turn, allows surgeons and anaesthetists to intervene quickly and safely to detect and treat hypovolaemia very quickly, often during surgery.

This rapid detection of hypovolaemia and hence responsive fluid management has enabled a substantial improvement in surgical outcomes with reduced stays in intensive care and rehabilitation to save lives AND radically reduce total treatment times, related hospital costs and global NHS costs.

Earlier in the year (30 March 2011), NICE recognised the strengths and efficacy of the CardioQ-ODM system, stating that the CardioQ-ODM should be adopted for patients undergoing major or high risk surgery.

Arrow Medical Managing Director Rita Didcock commented "I was of course very pleased to see the Deltex Medical technology recognised by NICE and that our business can match the demanding requirements of this advanced medical product. Silicone moulding has long been one of our specialities here at Kington and we are continuing to increase our investment in this technology and extend our capability to build advanced components and systems for cardiac and vascular devices."

Arrow Medical moulds the precision components at Kington and supplies them to the Deltex Medical sterile manufacturing & distribution chain to meet clinical requirements worldwide. Arrow Medical's service can include labelling, sub- and final assembly and distribution to any world market including China and the United States.

ends

Issued on behalf of
Arrow Medical Limited
Hatton Gardens Industrial Estate
Kington
Herefordshire
HR5 3RB
Telephone: +44(0)1544 231760
Web: www.arrowmedical.co.uk
More media information from Ewart Woolley, CMPR, Tel: 01594 516079 Mob: 07790865162
Newsweb: www.cmprnews.co.uk email: mailto:ewart@cmpr.co.uk


This press release was distributed by ResponseSource Press Release Wire on behalf of CMPR in the following categories: Medical & Pharmaceutical, Manufacturing, Engineering & Energy, for more information visit https://pressreleasewire.responsesource.com/about.