ekmPowershop.es arrives in Spain! UK's leading ecommerce provider unveils European expansion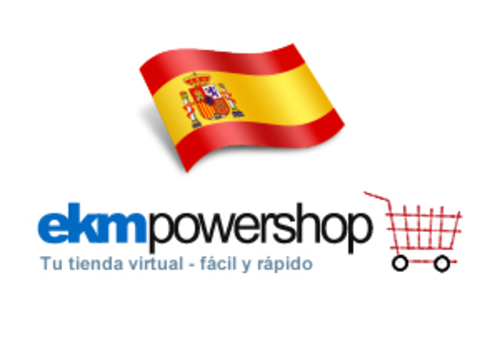 The power, ease of use and speed at which businesses can set up their own online shop with ekmPowershop.com sets us apart from the competition in the UK
ekmPowershop.com, the UK's largest ecommerce provider lifted the curtain on its European campaign this week, with the launch of its Spanish version - ekmPowershop.es.

The quickest and easiest way to set up an online shop reached Spanish shores in emphatic style, seeing businesses subscribing to ekmPowershop.es within just 2 hours of launch.

In recent years, the nation's favourite shopping cart provider has strengthened its position as market leader in the UK, with over 30,000 businesses using their ecommerce solution since its inception in 2002.

With their sights set firmly on foreign markets, Spain marks phase 1 of ekmPowershop.com's pan European expansion, part of the Lancashire based company's wider international aspirations. A spokesperson from the company explains how their dominant market share in the fiercely competitive UK market has equipped them for their first foreign market initiative:

"The power, ease of use and speed at which businesses can set up their own online shop with ekmPowershop.com sets us apart from the competition in the UK. Lately we've see foreign carts, mergers, acquisitions and casualties; as competition in the UK market has intensified over the past 4 – 5 years. All the while we have strengthened our offering, strengthened our market leading position, and we now feel our platform has the same potential to succeed on foreign soil, starting with Spain."

With wider global ambitions, the ekmPowershop.com team have also taken the bold step to penetrate emerging markets in Latin America:

"We've seen quick success in Spain, which shows the potential for our solution across the globe. Our model is tried and tested in the UK, and we've always remained confident that it would fly in foreign markets - as long as we did our homework and offered the same high level of service for a low monthly fee. Even now, so early in the campaign we already have customers in Spain, Mexico, Argentina, Colombia and most of the Spanish speaking Latin countries."

With around 9,000 customers in the UK alone, ekmPowershop.com now look set to become the biggest hosted shopping cart provider in Europe.

==ENDS==

==About Ekm Systems Ltd==

Founded in 2002 by then 22 year old Antony Chesworth, the main products ekmPowershop.com and ekmResponse.com have grown to become the UK's largest ecommerce and email marketing software provider, powering 1 in every 5 online shops in the UK.*

Clients include Lotus Cars, O2, Michelin Tyres, Future Publishing, Madame Tussauds, The NHS, ITV, The BBC and thousands of SMEs.

ekmPowershop.com and ekmResponse.com have become the dominant forces in 'off the shelf' ecommerce and email marketing throughout the UK and beyond, helping over 17,000 businesses sell their products over the internet since its inception.

Other Ekm Systems products and services include website CMS (ekmSiteBuilder.com), Web Design (ekmWebDesign.com), web hosting (ekmHosting.com), Geo IP Redirection (ekmCompass.com), Web Statistics (ekmPinpoint.com), Postcode Lookup (PostcodeFerret.com) and digital delivery (ekmDigitalVault.com).

*According to stats from IMRG and Hitwise there are around 20,000 - 30,000 'transactional' websites in the UK.
This press release was distributed by ResponseSource Press Release Wire on behalf of ekmPowershop.com in the following categories: Business & Finance, Media & Marketing, Computing & Telecoms, for more information visit https://pressreleasewire.responsesource.com/about.