Keep your baby safe and snug with the multi award winning Morrck Baby Hoodie this winter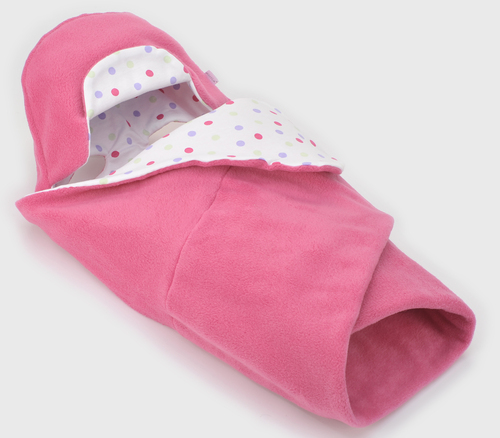 With the Baby Hoodie, you simply lay the hoodie in the car seat and then pop the baby into it wearing their indoor clothes
19 September 2022 - Ask any parent what they dread about winter, and many will tell you it's the hassle of getting children in and out of layers of clothing. For parents of babies it means constantly putting on or taking off tiny coats as they move tots from indoors to out, often disturbing a sleeping baby in the process. It's a faff, but keeping babies at the right temperature is imperative. A Baby Hoodie from Morrck means no more winter coats, no faffing and better sleep for babies.

Made from soft fleece, the Baby Hoodie is a unique, hooded travel wrap, shaped to fit into a car seat or buggy. The safety harness straps feed through slits in the back of the fabric allowing you to pop and strap your baby in, and then wrap the hoodie around them when going into the cold, or fold back the layers when you're somewhere warmer. You simply fit it once and that's it. Adjusting your child's temperature is as simple as folding back the flaps – no disturbing sleeping babies.

Baby Hoodies also mean safer car travel for babies. When strapping a baby into a car seat wearing a thick snowsuit, it's impossible to pull the safety harness tight against a child's body. In the event of an accident, a snowsuit can compress to the width of a pancake leaving the straps loose around the child. The worst case scenario is that a baby can be flung from the car seat.

With the Baby Hoodie, you simply lay the hoodie in the car seat and then pop the baby into it wearing their indoor clothes. This means the harness can be tightened firmly against the child's chest and the hoodie then wrapped around them if it's cold.

Morrck has a range of Baby Hoodies for every season; the Rambler for the very coldest weather, All Season (does what it says on the tin) and the Ultra Lightweight for the summer months.

Baby Hoodies are machine washable, come in a range of colours and are fully reversible. Available in size 1 (0-6 months) and size 2 (5-18 months). They can be purchased at www.morrck.co.uk from £29.95.

For more information, images or product samples please contact:

Sarah Edmonds
Peekaboo Communications
Tel: 07789 725 583

Customer comments:

"It's a fantastic product; my baby was so snuggly in it right from birth, I'm sure it helped her sleep longer."
Radio 2 presenter Janey Lee Grace

"The baby hoodie is the best thing that we have bought, to such an extent that it is our staple present for our close friends who are also having children!! We use it for everything and especially in the car seat as it makes getting out a five minute job, no coats, mittens or hats, just wrap up and go!"
Matt Draysey

"We LOVE them, it makes leaving the house so much easier, and I can now get mine ready faster than a friend who has 'just the one' - which makes me very smug!"
Janet Hadley, Leeds. Mother of triplets

About Morrck

In the searingly hot August of 2003, Isobel Thompson gave birth to twin girls, who had been born many weeks too early, and had to spend their first months in hospital.

A professional woman with a busy and challenging career, she began to realise that her first priority, and true passion, were her babies. However, one of her key frustrations was trying to find the right products for her growing children.

Disappointed with the utter impracticality of so many baby products, she decided to do better, and so Isobel, along with her twins, invented the Baby Hoodie, a hooded travel wrap designed to fit into any car seat or buggy. Since those early days, Morrck now sells the Baby Hoodie in a range of colours and sizes, and has added the 'Wrapture' (poncho style coat), 'Splasha' (hooded toweling wrap) and baby blankets to its range.
This press release was distributed by ResponseSource Press Release Wire on behalf of Peekaboo Communications in the following categories: Children & Teenagers, Health, Women's Interest & Beauty, Travel, Retail & Fashion, for more information visit https://pressreleasewire.responsesource.com/about.