Buy Spring Bulbs Now! But which Blooming Ones?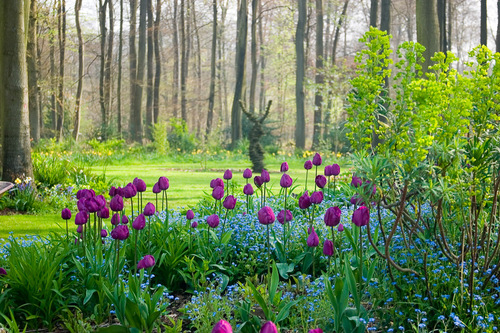 Flowerbulbs have such great appeal. They are one of the easiest flowers to grow and have the potential to deliver much for relatively little effort
Take a course that covers everything from Buying Bulbs to Burgeoning Blooms with Andy McIndoe

For beautiful flowering spring bulbs, you need to buy your spring bulbs now, but which ones would be best for your garden? How do you store and care for them? How can you use them to add colour, interest and variety to your garden? Or to your home? Do you plant them in pots or in the open ground? When do you plant them? Where?

The answers to all these blooming questions, and much more, can be found in a new online gardening course on Planting Spring Bulbs on MyGardenSchool. Taught by Andy McIndoe, multi-gold medal winner at RHS Chelsea Flower Show, the course is designed specifically for spring bulbs. The no nonsense course is crammed full of facts and tips, including which spring bulbs to plant, how to blend scents and colour, and using bulbs in pots and the open ground to add instant colour.

Andy McIndoe said: "Flowerbulbs have such great appeal. They are one of the easiest flowers to grow and have the potential to deliver much for relatively little effort. But to get the most out of bulbs you have to make sure that you direct your efforts in the right direction, and this course can show you how."

The International Flower Bulb Centre (IBC), who recently launched their own initiative to encourage community bulb planting in conjunction with The Eden Project, The BIG BULB PLANT, have put their support behind the course. Franz Roosen, technical director, IBC, said: "The International Flower Bulb Centre are delighted MyGardenSchool are launching a course on planting spring flower bulbs. Autumn planting season is the perfect time to start planting for a beautiful array of spring flower bulbs and it is courses like this which really do a fantastic job of raising awareness of the correct times to plant."

The course consists of four lectures covering every aspect of planting spring bulbs.
• Lecture one is the basic introduction, covering the appeal and versatility of flowerbulbs; how they can be used in the home and garden to add colour and fragrance; when to buy; how to store them choosing the right bulbs and how to plant them
• Lecture two is all about how to grow bulbs in pots and containers both indoors and out; secrets of success for planting in pots; which compost to use; caring for bulbs; creating exciting combinations with other plants
• Lecture three covers adding colour to beds and borders by planting flowerbulbs; extending the season of roses and shrubs; how to plant to get the most out of tulips, daffodils, narcissi, and alliums.
• The final lecture focuses on naturalising flowerbulbs ; planting daffodils and narcissi in grass; other bulbs for naturalising in grass and meadows; planting flowerbulbs to add colour under trees and in shade.

MyGardenSchool is the world's first online gardening school where students can learn from gardening experts about how to do absolutely everything in the garden from keeping bees or hens, landscaping, design, growing vegetables and herbs, building treehouses or growing the perfect roses. And everything in between. All of our tutors are outstanding in their field (and gardens), being accomplished gardeners and acclaimed gardening writers. Our courses are four weeks long, and video tutorials are delivered weekly, together with course notes and assignments that will be assessed by your tutor. You also get to chat to your tutor online, as well as your classmates, in the 'virtual classroom'. MyGardenSchool will teach you everything about gardening – virtually. But don't take our word for it - check out our course pages here: (http://www.my-garden-school.com/courses/)

About Andy McIndoe
Andy McIndoe has over thirty years' experience as a practical horticulturist, and has designed and advised on gardens of all sizes. At this year's Chelsea Flower Show he broke the RHS record by winning his 66th consecutive gold medal. A regular contributor to magazines, newspapers and BBC Radio, he lectures widely and has authored books on hardy shrubs, trees, herbaceous perennials, flower bulbs and garden design.

About MyGardenSchool
MyGardenSchool Ltd is a unique global online horticultural classroom. Whether you want to grow organic veg, create enviable flower borders, nurture that perfect lawn, or simply give a good home to an egg laying chicken – MyGardenSchool offers a high quality range of gardening courses taught by some of the world's top tutors and delivered right to your green fingertips. For more information, please go to www.my-garden-school.com.

Press contact: Tara Sinclair at MyGardenSchool, Tel: 07968 514 802, tara@my-garden-school.com

This press release was distributed by ResponseSource Press Release Wire on behalf of MyGardenSchool in the following categories: Men's Interest, Health, Leisure & Hobbies, Home & Garden, Environment & Nature, Media & Marketing, Construction & Property, for more information visit https://pressreleasewire.responsesource.com/about.