"AMAZON LOCKERS? ARE THOSE BYBOX LOCKERS?"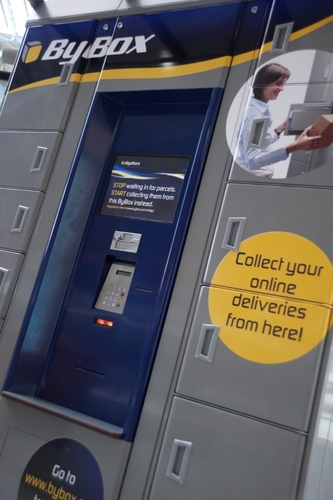 News broke this week that the online retailing giant Amazon is to add a locker delivery model to its consumer offering, stunning the retail industry but heartily welcomed by ByBox, the British-born business pioneering delivery to banks of electronic lockers.

Recent reports have revealed that Amazon is planning to establish locker banks in major shopping centres which will enable customers to collect online purchases at their own convenience. Truly one of the biggest developments within the online shopping marketplace since the supermarkets introduced home delivery within allotted hour time slots.

While this might be ground-breaking to most consumers, it is a concept which is not new to the UK. In fact it was ByBox who first introduced the delivery-to-locker concept to the UK field service market a decade ago. ByBox now dominates this market and turned its attentions to the consumer market in 2009 with the launch of its consumer offering: myByBox.

It is a service which is already making its mark with consumers demanding more and better delivery services, seven days a week 365 days a year.

The feedback from consumers to the ByBox service has been overwhelming, with thousands of shoppers now clicking and collecting from the lockers. ByBox recognises that this is only the tip of the iceberg and as a result there has been a push for more and more retailers to adopt the approach.

And ByBox is well placed to cope with increased demand. Already making over twenty million deliveries a year, ByBox has an established network of 18,000 drop boxes at 1,350 locations across the UK, plus the only locker networks in France and the Benelux

An early pioneer has been figleaves.com, which introduced the ByBox collection service in the UK. Figleaves customers can select a next day delivery and nominate their nearest ByBox collection point during the checkout process. Fulfilled orders are collected from the figleaves.com warehouse at 5 p.m. trunked and delivered through the night to the ByBox locations closest to where the customers live.

Simple messages alert customers when their shopping has been delivered into the box along with a special code to enter to open the box.

It is a solution which provides shoppers with total peace of mind that their items are safe and secure.

The ByBox drop box solution really came into its own last Christmas when smart online shoppers managed to beat the delivery chaos during the extreme winter weather by opting for the flexibility of receiving their parcels at ByBox' electronic drop boxes rather than the fruitless exercise of staying at home to await a delivery.

It was a solution which worked as ByBox outperformed all rival operations achieving 100% next day delivery throughout the whole of seasonal December rush.

More recently Network Rail has committed to partnering with ByBox to provide a locker collection service at stations across the country.

Stuart Miller, co-founder and CEO of ByBox commented: "The fact that Amazon has chosen to use an electronic locker delivery model will help to raise the profile of lockers as a de facto means of collecting online orders."

"As a business we have already invested significant time and money in building a network and retailer agnostic service for people who love to shop online but hate waiting in for parcels. Our core consumer service, myByBox, allows shoppers to use the lockers with any retailer, including Amazon. Creating a host of opportunities for both the consumer and retailer alike."

Editors Note:
Founded in 2000, the British-born company provided a solution to the problem of getting spare parts quickly, efficiently and on time to field service engineers by delivering overnight pre-8am to an electronic drop box ready for an engineer to collect at the start of the day's work. In the past decade ByBox has expanded rapidly and now employs 250 people in the UK and France has a turnover of GBP 40 million.

For further information contact Century Public Relations Tel: 024 7622 8881 or email celeste@centurypr.co.uk.

This press release was distributed by ResponseSource Press Release Wire on behalf of Century PR in the following categories: Consumer Technology, Retail & Fashion, for more information visit https://pressreleasewire.responsesource.com/about.