History Making Triple First For West Midlands Law Firm, Technology Law Alliance: (1) Top Tier Ranking by Legal 500; (2) Elite UK Professional Status; (3) Diversity Success with First Sikh Lawyer To Achieve Such Status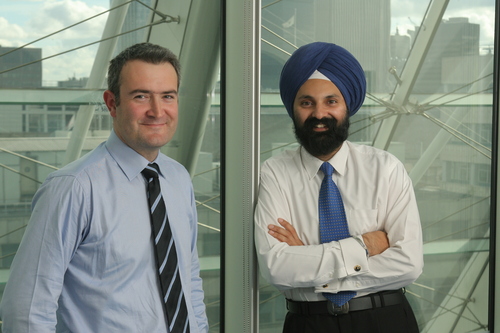 Technology Law Alliance has demonstrated how the regional birth of a business can provide truly national success.
The specialist technology law firm, Technology Law Alliance, which has been regularly providing legal advice on billions of pounds worth of transactions in the IT industry, has made history this month. It became the first boutique technology law firm to be able to successfully go 'head to head' with some of the largest law firms in the country, in order to fulfil the firm's goal of achieving a Tier 1 ranking for technology law in the West Midlands. This great achievement was announced in the recently released rankings published by the premier legal directory, 'Legal 500,' which researches and ranks the top 500 law firms in the UK.

Jagvinder Kang co-founded the law firm with Stephen Ollerenshaw, after both senior technology lawyers left the Birmingham heavyweight law firm, Wragge & Co, to launch Technology Law Alliance in 2003. It is ironic, that in less than 10 years since the duo departed from Wragge & Co, they now share the Tier 1 ranking only with one other law firm, namely Wragge & Co, moving firmly ahead of law firms such as DLA, Eversheds and Pinsent Masons to name a few.

The firm's recognition does not stop there, as Legal 500 have also recognised Kang and Ollerenshaw in the Directory's 'Elite Leading Lawyers List,' which Legal 500 comments is the "United Kingdom's guide to outstanding lawyers nationwide." Technology Law Alliance have therefore achieved another first by being the only firm in the West Midlands to have 2 Directors recognised amongst the elite for technology law, as no other law firm, including Wragge & Co, have achieved this status with more than one of their partners this year.

Kang comments: "We are pleased that Legal 500 has recognised our firm's and our lawyers' leadership in the field of providing IT law advice to corporate clients." Kang continues, "This is a proud moment for us, as we said when we launched in 2003, that we were going to go head to head with the biggest and the best, and we were going to demonstrate that not only could we do that, but we could also achieve that top tier ranking."

The firm has also achieved another 'first' this year, with Kang being the first Sikh technology lawyer to be able to claim the two joint accolades of: co-founding a law firm which has been independently recognised as a Tier 1 technology law firm; as well as being recognised amongst the elite technology lawyers in the UK.

Kang comments: "I remember undertaking my training contract over a decade ago with Pinsents, where I believe that I was the firm's only turban wearing Sikh in a staff of over 400. The legal field has been actively promoting diversity, and I am pleased that I have managed to demonstrate that diversity in business can lead to great success."

The firm itself, advises the full range of businesses, from innovative start-ups to global corporates listed on the worldwide stock exchanges, on their IT and technology law related needs. Technology Law Alliance has been actively involved in advising on multi-million pound technology procurement contracts, as well as advising on the legal dimensions to cloud computing arrangements and multi-million pound call centre and software contracts. The firm's client base includes both customer clients and supplier clients, so they have that unique insight of being able to see deals from 'both sides of the fence.' Kang comments: "This allows us to recognise the constraints faced by both parties to a contract, and provide solutions which are pragmatic, to try to get the deal done as quickly and cost effectively as possible."
The firm's success is not surprising, when one considers the individual Directors of the law firm. In addition to Kang and Ollerenshaw, there is Gavin Wakefield and Jeremy Newton, each with an enviable track record in the IT legal field:

• Kang, in addition to being a technology lawyer, is also dual qualified as a Software Engineer, with a First Class BSc(Hons) degree in Computer Science & Software Engineering, in addition to his Distinction in Law - a powerful combination when understanding and advising on complex software and system contracts. His involvement in co-founding Technology Law Alliance, saw him also being awarded both the Champions of Enterprise Award in the West Midlands, as well as being recognised as an Ambassador for Enterprise in the West Midlands.

• Ollerenshaw's recognition extends wider than Legal 500, as he is also recognised for his achievements in co-founding Technology Law Alliance, in Debrett's People of Today, which recognises the UK's most successful and influential people. In addition, Ollerenshaw has a track record of advising on millions of pounds worth of technology transactions.

• Gavin Wakefield was formerly the UK General Counsel for global technology business, Capgemini UK plc, and therefore brings an untold wealth of experience to Technology Law Alliance. He has advised on some of the highest value technology transactions in the field, whilst being with Technology Law Alliance.

• Jeremy Newton, trained with heavyweight London law firm, Slaughter and May. He has over 15 years' experience of IT law and contracts, including periods in-house with Sun Microsystems (as Assistant General Counsel in EMEA) and with HM Treasury (on secondment to the PFI Taskforce). Newton, has literally written the book on IT Law, as he is co-editor of "A Manager's Guide to IT Law" (British Computer Society), and contributed the chapter on computer contracts to Computer Law (Oxford University Press) which is used as a standard textbook on the University of London LLM in IT law.

It is the fact that each Director has practised pure technology law for over a decade, which has seen Technology Law Alliance become the only law firm in the UK, where all 4 of the Directors of the firm are recognised by not only Legal 500, but also the other leading legal directories, as amongst the top technology lawyers in the UK.

The firm also operates from a second office in London, where it shares a strong reputation for technology law as well, with Legal 500 ranking the firm equal with global law firm, Clifford Chance, and other heavyweight firms, such as Slaughter & May and Freshfields.

Kang concludes: "Technology Law Alliance has demonstrated how the regional birth of a business can provide truly national success."

ENDS

Notes For Editors
• Press release photo attached of Technology Law Alliance's Co-founders. From left to right: Stephen Ollerenshaw, Jagvinder Kang.

• Technology Law Alliance was launched in January 2003, and is a specialist technology law practice focussing on IT, outsourcing and e-commerce legal work. The law firm has offices in London and in Birmingham. The firm acts for both suppliers and purchasers of IT and outsourcing products and services. Supplier clients include Capgemini UK plc, Hitachi Data Systems, and Trafficmaster. User clients include financial services company F&C Asset Management, house builder Crest Nicholson, and FTSE250 company Hays plc.

• Legal 500 rankings page:
http://www.legal500.com/c/west-midlands/tmt-technology-media...

• Technology Law Alliance's website: www.TechnologyLawAlliance.co.uk

FOR FURTHER INFORMATION PLEASE CONTACT:

JAGVINDER KANG
TEL: 0845 351 9091 - MOBILE: 0709 200 3267 - EMAIL: jagvinder.kang@TLawA.co.uk

This press release was distributed by ResponseSource Press Release Wire on behalf of Technology Law Alliance in the following categories: Business & Finance, Public Sector, Third Sector & Legal, Computing & Telecoms, for more information visit https://pressreleasewire.responsesource.com/about.