Primary schools across the UK are urged to register for the Communication Triathlon!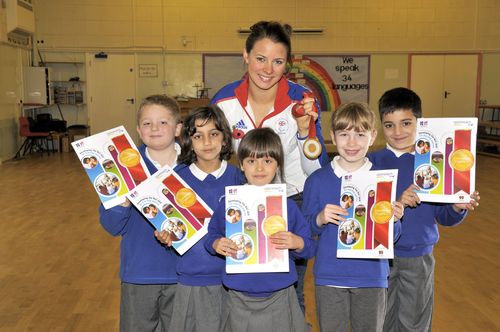 Embargoed until 00.01 1st October 2011

Primary schools across the UK are urged to register for the Communication Triathlon today!

With 300 days to go until the start of the Olympic Games, primary schools across the UK are being encouraged this month to register for the Communication Triathlon and join thousands of children and staff across the country who have already 'exercised' their speaking and listening skills.

The Communication Triathlon has been developed in partnership between Openreach and I CAN, the children's communication charity. The Triathlon is a series of active and fun-filled events for primary schools, intended to boost speaking and listening skills, which can be undertaken by a class, a year group or a whole school over the course of a week or even a day. The programme encourages children to take part in three London 2012-themed speaking and listening activities around Thinking, Talking and Teamwork and is split across 4-7 and 7-11 year olds.

The Communication Triathlon is free to take part in as it is supported by Openreach, BT's local network business and is part of Get Set, the official London 2012 education programme.

Ms. Cosby, from Stoke Park Junior School in Hampshire, said, "Walking along the corridor on the day of our Communication Triathlon was a delight as chatting and singing could be heard from every classroom. The children thoroughly enjoyed communicating with each other in very different and supportive ways. All the staff and children had such a good morning we are planning to do the Communication Triathlon again in the near future!"

Liv Garfield, Chief Executive, Openreach, said, "Our purpose at Openreach is to enable communication and we care passionately about that. I CAN's work with children who have communications difficulties represents everything we strive for and we are proud to be working in partnership with them to bring the Communication Triathlon to schools. We hope that as many UK schools as possible, will get involved in this brilliant activity."

Virginia Beardshaw, I CAN Chief Executive, said, "The Communication Triathlon is a fantastic way for primary school children to develop their talking, understanding and team-working skills, whilst engaging in the upcoming London 2012 Games. The Communication Triathlon activity pack has been written by I CAN teachers and speech and language therapists, so schools will find excellent lesson plans to use alongside activities such as the 'Language Relay' and 'Sports Bingo'. We are thrilled to be working with Openreach to encourage as many schools as possible to take part to improve children's 'Communication Fitness'."

Openreach will donate 100GBP to I CAN for each of the first 500 primary schools that register to take part in the Communication Triathlon.

To register and get your Communication Triathlon pack today, go to www.communicationtriathlon.org.uk

-ends-

For more information, pictures or interviews please contact Emma Selim, Press and PR Officer on 0207 843 2543 or email eselim@ican.org.uk

Notes to editors:

Openreach is the official Telecommunications Infrastructure Partner for the London 2012 Olympic and Paralympic Games. The Communication Triathlon provides children with lots of opportunities to practice communications skills linked to the Olympic and Paralympic Values.

The communications infrastructure provided by Openreach will be connecting over 94 Games locations across the UK and will also help to keep the athletes and visitors in touch with friends and family in 205 countries. Openreach is also supporting London 2012's broadcast services that will be reaching billions of people across the planet throughout the duration of the Games

Openreach maintains and improves the network that connects tens of millions of homes and businesses to telephone exchanges across the UK on behalf of our Communications Provider customers, who sell communications-based services to consumers and businesses.

Openreach is also the lead deployment arm of BT's 2.5 billion GBP investment to make Super-fast Fibre Access available to its customers across the UK, which in turn means that up to two-thirds of homes should have access to super-fast broadband services by 2015.

Openreach has supported I CAN since 2006 and are committed to making a real difference to the lives of thousands of children and their families.



About Openreach

Openreach is responsible for the nationwide local BT network which connects homes and businesses across Britain to communications providers' networks. Openreach provides communications providers with services and products associated with that network.

About BT

BT is one of the world's leading providers of communications solutions and services operating in more than 170 countries. Its principal activities include the provision of networked IT services globally; local, national and international telecommunications services to our customers for use at home, at work and on the move; broadband and internet products and services and converged fixed/mobile products and services. BT consists principally of four lines of business: BT Global Services, Openreach, BT Retail and BT Wholesale.
In the year ended 31 March 2010, BT Group's revenue was 20,911 million GBP.

British Telecommunications plc (BT) is a wholly-owned subsidiary of BT Group plc and encompasses virtually all businesses and assets of the BT Group. BT Group plc is listed on stock exchanges in London and New York.

For more information, visit www.bt.com/aboutbt

About I CAN

I CAN is the children's communication charity. www.ican.org.uk or www.talkingpoint.org.uk

We are here to ensure that no child is left out or left behind because of a difficulty speaking or understanding.

Nobody wants a child's potential to be wasted. It happens because communication difficulties are not visible, often mistaken for something else, or not noticed at all.

I CAN's mission is to make sure that everyone in contact with children knows how important communication is, what a communication difficulty looks like and what they can do to help.

We do this through:
Increasing public awareness of the problems children face.
Giving expert advice to parents and families about what to look out for and what to do.
Providing assessments for children so that their families know what support will meet their needs.
Giving teachers and people working with children the skills to help children who struggle.
Campaigning to ensure children and families get a better deal.
Producing resources, DVDs, posters and other information to help parents and practitioners support children with their communication development.

At the very heart of I CAN are our special schools which give expert care and education to children with problems so severe their needs cannot be met elsewhere.

About Get Set

Get Set is the official London 2012 education programme for schools and colleges across the UK. It provides free learning resources for 3-19 year olds to find out more about the Games and explore the Olympic Values of excellence, friendship and respect, and the Paralympic Values of determination, inspiration, courage and equality. It also offers access to exciting prizes and opportunities through participation in competitions and partner programmes. There are over 15,500 schools and colleges registered with Get Set.

The Communication Triathlon is part of Get Set + and is featured within the Communication, Collaboration and Citizenship theme.

The Get Set network is the London 2012 reward and recognition scheme for the active community of schools and colleges across the UK that are demonstrating a commitment to living the Olympic and Paralympic Values. Members of the network gain the right to use the London 2012 education logo, and are given priority access to the most exclusive prizes and opportunities. There are currently over 1000 members of the Get Set network.

All schools participating in the Communication Triathlon are encouraged to join the Get Set network to benefit from even greater reward and recognition from London 2012.

Visit www.london2012.com/getset for more information


London 2012 Inspire programme:

An Olympic and Paralympic first, the London 2012 Inspire programme officially recognises outstanding non-commercial projects and events inspired by the Games.

The Inspire programme is run by the London Organising Committee of the Olympic and Paralympic Games. It is an opportunity for everyone to be part of the London 2012 Games – a broad participating programme spanning sport participation, education, sustainability, volunteering and business opportunities and skills. New opportunities are being created to inspire young people and encourage the whole of the UK to join in.

For more details visit: www.london2012.com/beinspired


This press release was distributed by ResponseSource Press Release Wire on behalf of I CAN in the following categories: Children & Teenagers, Education & Human Resources, for more information visit https://pressreleasewire.responsesource.com/about.