This book is good for our health!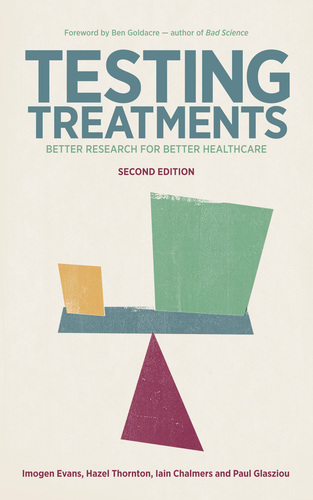 Easily navigated and brimming with vivid examples, Testing Treatments will inspire both patients and professionals
TESTING TREATMENTS: BETTER RESEARCH FOR BETTER HEALTHCARE (second edition)
Published 18 October 2011 by Pinter & Martin Ltd
by Imogen Evans, Hazel Thornton, Iain Chalmers and Paul Glasziou

How do we know whether a particular treatment really works? How reliable is the evidence? And how do we ensure that research into medical treatments best meets the needs of patients? These are just a few of the questions addressed in a lively and informative way in Testing Treatments. Easily navigated and brimming with vivid examples, Testing Treatments will inspire both patients and professionals. Sadly many treatments, both new and old, are not based on sound evidence - and people can suffer as a result.  Happily, as Testing Treatments explains, we can all do something about this.  Everyone can play their part in critically assessing treatment effects.

Building on the success of the first edition, Testing Treatments has now been extensively revised and updated. In the second edition, a thought-provoking chapter on screening explains why early diagnosis of disease is not necessarily a good thing. Testing Treatments also challenges the way in which research regulation works today, describing how over-regulation of research can actually go against everyone's best interests. Another new chapter shows how robust evidence from research can be drawn together to shape the practice of healthcare in ways that allow treatment decisions to be reached jointly by patients and clinicians.

Testing Treatments urges everyone to get involved in improving current research and future treatment. But it does more than that. It outlines practical steps that patients and doctors can take together - now.

Book details:

Categories: health, medicine ISBN: 978-1-905177-48-6 Price: £9.99
Format: paperback Size: 135 x 216mm Page Count: 224pp

Editor's Notes

- REVIEWS (of the first edition) 'A terrific little book.' British Medical Journal 'Testing Treatments will inform patients, clinicians, and researchers alike.'  The Lancet 'I was so engrossed in this book that I missed my tram stop!' Lay Adviser to the Royal College ofPathologists

- Foreword by Ben Goldacre – author of 'Bad Science'

- About the authors -  Imogen Evans is a medically qualified author; Hazel Thornton is an independent citizen advocate for public involvement in research; Iain Chalmers is a former health services researcher who now promotes better controlled trials for better healthcare through the James Lind Initiative; and Paul Glasziou is a researcher and general practitioner.

Contact: Sue Bundgaard at Pinter and Martin Ltd:

email: sue@pinterandmartin.com mob: 07977 483920 tel: 020 7737 6868 web: www.pinterandmartin.com.
Pinter & Martin is an independent publishing company founded in 1997 based in London, specialising in authors who challenge the status quo.

This press release was distributed by ResponseSource Press Release Wire on behalf of Pinter & Martin in the following categories: Health, Medical & Pharmaceutical, for more information visit https://pressreleasewire.responsesource.com/about.