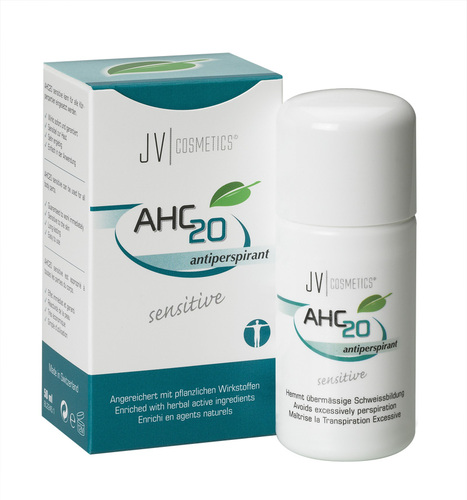 If you suffer from hyperhidrosis then you will welcome a new comer on the UK scene, our AHC range of antiperspirants.
Stop excessive sweating! If you suffer from hyperhidrosis then you will welcome a new comer on the UK scene, our AHC range of antiperspirants.

Hyperhidrosis or excessive sweating doesn't follow seasons. Hyperhidrosis is said to affect in excess of 1.53 million of us in the UK, and suffice to say that it can actually be a common complaint. Those suffering from excessive sweating will know that too often they are so self-conscious and nervous about sweating that, they then sweat even more because they are nervous. You may try and tell yourself 'don't think about it', but that's when your mind will probably harness the thought and not let go of it! It can be embarrassing, even distressing to many, and this in turn can have a negative impact on someone's quality of life.

Hyperhidrosis can either be generalized or localized to specific parts of the body. Hands, feet, armpits, and the back area are among the most active regions of perspiration due to the relatively high concentration of sweat glands;

Primary hyperhidrosis is found to start during adolescence or even before and seems to be inherited. Primary hyperhidrosis must be distinguished from secondary hyperhidrosis, which can start at any point in life

Nervousness or excitement can exacerbate the situation for many sufferers. Other factors can play a role; certain foods and drinks, nicotine, caffeine, and smells can trigger a response.

Is there an' elixir vitae'- a solution to excessive sweating? As a matter of fact there are many 'nostrums' currently available on the market, ranging from gentle remedies to more sophisticated and perhaps invasive methods. Where would you start in this hot jungle? Doctors usually recommend starting with the least invasive treatment, such as anti-perspirants. If this doesn't work, you'll move on to treatments such as medication to block the sweat glands and where recommended surgery.

However there are a number of gentle solutions, which are said to yield to a reduction in sweating of between 80% to 100%. JV Cosmetics' AHC range of products, which we have launched on our store www.scrubsuk.com naturally, closes up the pores in the middle and upper skin layers. Unlike some remedies, it works after the first application. The body still has enough other evaporation areas, so your well-being will not be affected.

Some products, which contain aluminium chloride, can often have side effects such as temporary burning, itching, prickling, or tingling in treated areas. However the AHC antiperspirants have gone a step further and integrated additional plant extracts, which are specifically aimed to soothe and protect your skin. The AHC range includes extracts of old man's beard, clove oil and sage. Additional information on the benefits and constituents of these plants can be found on our site at www.scrubsuk.com. All products in the AHC range contain no colorants or preservatives.

To purchase AHC visit us online at www.scrubsuk.com / call us on 0870 080 2332 or sales@scrubsuk.com. All media contacts to 0870 080 2332, selecting marketing as an option.
This press release was distributed by ResponseSource Press Release Wire on behalf of Scrubs Etc Limited in the following categories: Health, Women's Interest & Beauty, Medical & Pharmaceutical, for more information visit https://pressreleasewire.responsesource.com/about.