Gold: Power and Allure - A major landmark exhibition celebrating the working and use of gold in the United Kingdom over 4500 years at Goldsmiths' Hall in the summer of 2012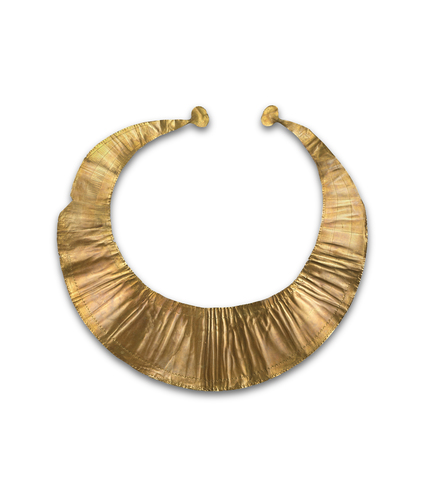 PRESS RELEASE:
Press Office Contact: Amanda Stücklin
T 020 7367 5913 E Amanda.stucklin@thegoldsmiths.co.uk

Gold: Power and Allure
A major landmark exhibition celebrating the working and use of gold in the United Kingdom over the past 4500 years
An event of international importance in 2012
Goldsmiths' Hall
Friday June 1st to Saturday July 28th, 2012
FREE EXHIBITION
Gold: Power and Allure is the most comprehensive and ambitious exhibition ever staged at Goldsmiths' Hall. It powerfully tells the rich and previously untold story of Britain and its relationship with gold, demonstrating the country's unique golden heritage.

This major project showcases more than 400 gold items ranging in date from as early as 2500 BC to the present day. It includes rare and exquisite works of art, combining sophisticated artistry and skill, together with pieces of exceptional historic significance. Others are esoteric, curious and amusing. All the exhibits, displayed over three floors at Goldsmiths' Hall, have been loaned from distinguished institutions and private collections and many have rarely been seen in public before.

This is the first time such an extraordinary group of objects has been brought together. It tells a story of passion and power, fortunes lost and gained, and the special place this metal plays not only in our national, but also our personal histories.

Historian Dr Helen Clifford, the curator of the exhibition, explains: "Gold: Power and Allure presents the opportunity of a lifetime. The challenge has been to draw together the many strands that make a single precious metal so special and central to human society.

"With the focus on Britain it has been possible to assemble a story that goes far back into geological time and forward to the most cutting edge goldworking, where this country excels.

"It reveals a story of the continuity of man's fascination with gold, from the Bronze Age to modern City finance, via a breathtaking range of more than four thousand years of work. In essence it is a story of global connections and one where the familiar is transmuted into the iconic, via the power of gold."

UNIQUE PROPERTIES AND SURPRISING SOURCES:

Gold is one of the world's most highly-prized precious metals. It is rare, soft, ductile, and malleable. Its colour, that of the sun; its untarnishing lustre and 'heft', its weight in the hand, mark it out as something special. Gold's workability is unparalleled: it can be beaten into transparent leaves and cold welded by hammering allowing the craftsman almost limitless possibilities. Gold alone commonly occurs in a 'native' state, as a metal rather than an ore that requires smelting.

Surprisingly there are traces of gold to be found in almost every part of Great Britain, from the Strath of Kildonan in the Scottish Highlands, via Goldscope in Cumbria through Dolgellau and Pumsaint in Wales, where there is evidence of Roman mining, down to Hope's Nose in Torquay and the Carnon Valley in Cornwall.

Discoveries of gold deposits have prompted "gold rushes" across the globe, yet few know of the Scottish gold rush. Prospectors flocked to Kildonan in the Highlands in 1869 and some of the finest fruits of their labours feature in the exhibition. One of the largest gold nuggets, weighing 59 grams (almost 2 troy ounces), was however discovered not in Scotland but in Cornwall –and is being loaned by the Royal Cornwall Museum. Very recent rock samples from Scotland and Northern Ireland show the search for gold remains very much alive.

Gold is still an economically important Welsh mineral. Today it is mined almost exclusively for the jewellery industry. Royal wedding rings are traditionally made from Welsh gold. When gold was discovered on land owned by Sir Watkins Williams-Wynn he commissioned the Castell Carn Dochan cup of 1867 - it remains the largest surviving object made exclusively from Welsh gold. The intricate design is based on the Seymour Cup commissioned by Henry VIII for his wife Jane Seymour in 1536, now only known from drawings by Hans Holbein. The original cup was melted down in 1629 on the orders of Charles I when he was in desperate need of funds.

In fact it is remarkable that any ancient or historic pieces of worked gold have survived at all. By far the largest source of gold for both objects and currency have come, in the past, not from either native or imported gold, but from the melting down and recycling of existing works. Tragically the value of the bullion often outweighed that of the workmanship making this exhibition of rare survivors an even more significant and special event.

THE GOLD OF ANTIQUITY:
'The Golden Age of long ago', Ovid, Metamorphoses.

It is a sobering thought that most ancient goldwork found in Britain has come to light by pure chance. Excavations for a new housing development in Amesbury, near Stonehenge in 2002 revealed the burial of two men, thought to date to 2300 BC. Each had a pair of small gold basket shaped ornaments laid near them. These are some of the earliest known examples of worked gold to be found in this country, although their precise use and meaning remain unclear.

Another exciting example of early gold work featured in the exhibition is a magnificent lunula dating from 2,000-1,500 BC, which was found in Northern Ireland on land then owned by the Worshipful Company of Drapers in c.1845/6. These distinctive early Bronze Age crescent–moon shaped pieces were hammered out of gold and thought to have been made to adorn the necks of tribal chieftans. Less than 200 gold lunulae are known and it is possible they were all the work of a handful of experts. Three of them from different sources are on display at Goldsmiths' Hall. Without any supporting contemporary documentation these enigmatic objects continue to fascinate and puzzle.

A range of gold torcs (neck ornaments), from Ipswich and the great hoards at Snettisham, Newark and Stirling reveal the skills of the later Bronze Age and Early Iron Age goldsmiths. The latter, discovered in 2009 in a field in Stirlingshire, is described as one of the most important hoards found in Scotland and of international importance.

It is somewhat ironic that the so called 'Dark Ages' should have produced some of the finest gold work ever made in these islands. The achievements of Anglo-Saxon goldsmiths were of remarkable accomplishment and beauty and, thanks to the practice of putting objects in graves, finds are well represented. Experiments with enamelling and stone setting can be seen in the early 7th century gold and garnet pendant from Canterbury Museum and the Harford Farm Disc Brooch from Norfolk Museums Service.

For the Medieval period higher end objects are exceptionally rare, an imbalance due to the nature of the objects themselves; many were made for the Church, chalices, shrines and reliquaries which failed to survive the Reformation. The exhibition presents a cluster of intimate and exquisite examples of medieval cabochon set gold brooches: the early 14th century Oxwich Castle brooch, the mid 14th century, 'M' brooch from New College Oxford and the now famous Middleham Jewel which was discovered by metal detector near Middleham Castle in North Yorkshire in 1985. It hit the headlines when it subsequently sold for an outstanding £1.3 million at Sotheby's in London. The 15th century gold lozenge shaped pendant is intricately and intimately engraved with biblical scenes and set with a large sapphire, and has been generously loaned by the Yorkshire Museum.

RELIGION, ROYALTY AND CEREMONY:

For centuries gold has been both a pagan and Christian symbol of the divine, and has been used in religious ceremonies of all denominations. This continuity in the association of gold with divinity is captured via a range of golden objects from a Bronze Age sun disc found in Wiltshire, a communion cup made of Guinea gold for a church in Welshpool in 1662, to a chalice commissioned in 1958.
It is significant that the earliest surviving piece of religious hallmarked gold is a chalice and paten of 1507, given by Bishop Fox to Corpus Christi the College he founded in Oxford in 1515. Another chalice provides a prime example of the ultimate recyclabilty of gold, and the symbolic power of objects made from it. The chalice designed by the great ecclesiastical goldsmith, Dunstan Pruden for the Catholic cathedral in Liverpool in 1958 was made from donated wedding rings. It is still in use today on major feast days.
In the past, concepts of royalty and deity were often inexorably linked. Coronations were once a direct visual expression of these alleged connections. One of the highlights of the exhibition is the gold ampulla (container for holy oil) used at the Scottish coronation of Charles I at Holyrood House Edinburgh on 18 June 1633.

In a year which celebrates HM The Queen's Diamond Jubilee, the exhibition appropriately highlights the long association of gold with Royalty with several items being loaned from the Royal Collections. One of these is the Coronet of George, Prince of Wales, created in 1901-1902, for the then Prince of Wales (the future King George V) to wear at the coronation of his father, King Edward VII, in 1902. At George's own coronation in 1911, the crown was worn by his son, Edward, the next Prince of Wales. When as King Edward VIII he abdicated in 1936 and (as the Duke of Windsor) went into exile in France, he took the coronet with him. It remained abroad until his death in 1972.
The reward for royal duty often took the form of a gold cup, such as that presented to the Duke of Norfolk in 1821, for his services as Earl Marshall, (and therefore responsible for organising the Coronation of George IV, a role undertaken from 1326). This example is in an elaborate Tudor style and was designed by Thomas Willement who was known as 'the Father of Victorian Stained Glass'. It is partnered by another gold cup presented to the Earl of Ormonde & Ossory, as his fee for executing the office of Chief Butler for Ireland at the same Coronation. While the cup cost £230, the banquet which was the last traditional and the most extravagant feast of its kind ever held, cost much more. The steward's bill, mostly for food, came to over £25,000.

The importance, high profile and public presence of these objects mean that they are deeply embedded in historical documentation which allows us to recreate their meaning, use and symbolism in vivid detail.

Other more intimate objects associated with royalty include a gold ring taken from the finger of the dead Queen Elizabeth I, and a 'touchpiece' presented by Charles II for the curing of scrofula (The King's Evil).

GOLD AND FINANCE:

In the early 1890s Sir William Harcourt, while Chancellor of the Exchequer, celebrated the fact that London was considered the "Metropolis of Commerce", largely because it was "the only place where you can always get gold. It is for that reason that all the exchange business of the world is done in London". The story of Britain's rise to financial power can be told in several ways, via the development and use of gold currency; the evolution of the Gold Standard and the role of the Goldsmiths' Company in controlling the quality of gold and the standard of the currency.

The story of Britain's gold currency is explored via a spectacular loan of historic coins from the Ashmolean Museum in Oxford. There are gold staters which were the model for early Celtic gold coins, the Roman aureus used in Britain before it had a Mint, the solidus which circulated via trade with the Byzantine Empire, to the coinage of Edward III. These are followed by subsequent nobles, riders, ryals and unicorns, to the 1489 Henry VII sovereign, the guinea employing gold from its West African source, and the new sovereigns of George III. Virtually all the gold mined throughout the world during the 19th century was turned into coins, with the sovereign being the premier gold coin in Britain. These are complimented with an example of every gold coin produced during the reign of each British monarch from Edward III (1312-1377) onwards, with the exception of Edward V, emphasising the important role played by the Royal Mint.

The control of gold is investigated via Isaac Newton's introduction of a Gold Standard (which was formally adopted in 1816, and only abandoned in 1931) and the role of the Goldsmiths' Company. Many early goldsmiths were also bankers, and in 1282 Edward I requested the Company take responsibility for the quality and testing of the coinage by holding the Trial of the Pyx (Latin for moneybox), an annual event which still takes place today. In 1478 the London Assay Office was established at Goldsmiths' Hall and the story of the hallmarks on gold is told via a succinct collection of objects and images.

DINING AND LIVING:

The crucial importance of dining as a means of signalling power and diplomacy has always been magnified through the use of golden tableware. Only those who aspired to the apex of society could afford to purchase gold rather than gilt. The gold ice pails c.1680-90 bequeathed in 1744 by the first Duchess of Marlborough to her grandson, and the magnificent ewer and basin made by Pierre Platel in 1701-2 for William Cavendish 1st Duke of Devonshire (from Chatsworth) are exceptional because they are made of gold. When the wealthiest commoner in England of his day, William Beckford wanted to affirm his status, he bought a gold tea pot and toasting fork to take on his travels.

While these pieces induce our awe, many more people were able (and still do) invest in smaller gold accessories and mementoes that mark their passage through life, through births, marriages and deaths. Look out for the charming gold teething rattle of c.1750 (from the National Museum of Scotland), a mid-19th century gold goblet celebrating a 50th wedding anniversary, and a pair of delicate chocolate cups made c.1700 from melted down mourning rings and bearing the motto 'MORVIS LIBAMVR' (let us drink to the dead).

SPORTING GOLD:

Heroism and gold have long been associated not least in the field of sporting and athletic excellence and achievement – the ultimate goal is to win a "gold" medal. In the year of the London 2012 Olympics it is therefore highly topical that sporting gold plays an important role in the exhibition. Pure gold Olympic medals are in fact extremely rare and only four Olympiads used solid gold medals: Paris 1900, St Louis 1904, London 1908 and Stockholm 1912. Two rare examples dating from 1908 and 1912, both awarded to members of the same family connect one family's triumph with international achievement.

The exhibition boasts a number of golden trophies relating to horseracing, considered historically to be the "sport of kings". Originally trophies were made of precious metals so that they could, if needed, be melted down and the cash value recouped. For example 100 guinea horse racing trophies were literally made of 100 guinea's worth of precious metal, this in turn made them vulnerable and hence any survivors are rare. We have been able to gather together a range of little gold beakers, the prizes in the 18th century at the Chester Races; while two gold tea pots are an unusual survival as trophies for the Leith Races of the mid 1730s. It is surprising what forms these trophies took, for example the Edinburgh Gold Cup in 1902 was an Art Nouveau fruit basket.

GOLD AND MILITARY:

From the sporting field to the battlefield, both on land and at sea, gold has long been used as a symbol of heroism and to record and commemorate significant victories. The resulting objects can be freighted with complex personal and cultural associations. For example a sword with a gold, enamel and gem set handle was presented to Sir William Beresford by the City of London in recognition of his services in the capture of Buenos Aires in 1806. The "Nelson" snuff box, dating from the first half of the 19th century, decorated with a polychrome scene depicting a view of Genoa, was a gift to Admiral Nelson by General de Vins.

In myth and in history gold has been the booty of war, its capture a symbol of triumph of one over another. Yet the stories that accompany such acquisitions are rarely simple. The silver gilt dish of 1874 commissioned by Queen Victoria's aide-de-camp encapsulates at its centre a gold Ashanti soul washer's "sun disc". The object commemorates, and in a way re-enacts, the subjection of the Ashanti in 1874 by the British, in retaliation for the slaughter of one of their regiments. The badge along with other Ashanti gold was brought back to England and auctioned to raise money for the dead soldier's widows.

GOLDEN THREADS AND CURIOSITIES:

Gold is the most ductile of all metals. One troy ounce (31.103 grams) can be drawn into a wire more than 100 km long. This extraordinary property means that it can be woven into cloth, couched, looped and stitched to give special value, status and glamour. The transformation of metal into thread seems an almost magical feat. It is not surprising therefore that 'cloths of gold" are connected with ceremony at its highest. The exhibition features a range of exquisite textiles made with gold, including a silk jerkin intricately embroidered with gold thread made to be worn at the coronation of George IV and an exquisite gossamer golden handkerchief and "fur" hat by the Italian goldsmith Giovanni Corvaja.

Among the more unusual gold items in the exhibition is a delightful mechanical life-size mouse made in gold and decorated with pearls. Thought to be of Swiss origin and dating from around 1810, it was purchased from a London dealer by John and Josephine Bowes in 1871 for their museum in Barnard Castle, County Durham.

GOLD FOR OUR TIME:

Through the goldsmiths' craft the special properties of gold are exploited to create works of art through feats of skill. Lin Sproule's exquisite golden grasses look as though they have been picked from nature and simply dipped in molten gold, as opposed to being closely observed and meticulously formed. Catherine Martin weaves gold thread into intricate jewellery, while Rod Kelly reveals the particular bloom of gold through his signature flat chasing.

The exhibition offers the unique opportunity to assess how goldsmiths working from the Second World War to the present have approached this special metal. The status and cost of gold means that our most celebrated and experienced goldsmiths have engaged with it. Look at the golden goblets and boxes of Gerald Benney to the laser cut breadbasket of Grant Macdonald, from the Downing Street Collection. The hand-raised forms of Hiroshi Suzuki sit next to the pioneering 23.9 carat micro alloy and laser welded jug made by Martyn Pugh in 2011. Techniques used from the Bronze Age combine with the latest technology to create treasures truly for our time.

Throughout history the extreme preciousness of gold has captured human imagination and it remains a universal icon of enduring wealth, treasured by all societies. Even in the 21st century human lives continue to be signposted with golden markers and given the world's uncertain economic climate it is no surprise that for many gold offers long-term financial security.

The exhibition "Gold: Power and Allure" is engaging, educational, thought-provoking, awe-inspiring and illustrates that, even today, this most precious metal has the power to captivate audiences with its universally mesmerising allure.

-------------------------

The Goldsmiths' Company "Gold Trail":

The influence and reach of the exhibition extends far beyond the boundaries of the City of London as a "Gold Trail" stretches across the breadth of the United Kingdom.

The "Gold Trail" charts every major gold collection and points of interest in regional museums, institutions and churches, both large and small collections and with varied uses. These include items too precious, fragile or large to be moved to Goldsmiths' Hall. Examples of places and items featured on the "Gold Trail" include the Gold Palm Room at Spencer House, the Royal Cornwall Museum, the Scottish Crown Jewels, St. Cuthbert's Cross, Durham, the Portland Gold Font and many, many more.

Follow the trail in your location and discover the magic of gold!

The Goldsmiths' Company's "Golden Fanfare":

To help commemorate the exhibition "Gold: Power and Allure" the Goldsmiths' Company has commissioned young musician Francisco Coll (b.1985, Valencia) to compose a "Golden Fanfare". Francisco has the gift of synaesthesia – being able to visualise music in terms of both colours and sounds – and his Fanfare will express the colour of gold in musical terms.

This exciting new piece of music will not only celebrate "Gold: Power and Allure", but also HM the Queen's Diamond Jubilee and the City of London Festival's 50th Golden Anniversary. The City of London Festival was founded in 1962 and since that date, each year a concert during the Festival is held at Goldsmiths' Hall. The Goldsmiths' Company's "Golden Fanfare" will have its world première as part of a concert at Goldsmiths' Hall during the City of London Festival on June 27. The Festival will run from June 24 to July 27.

Notes for Editors:
Exhibition – "Gold: Power and Allure"

Dates: Friday June 1 to Saturday July 28
Closed June 4 -5 Bank Holidays
Venue: Goldsmiths' Hall, Foster Lane, London EC2V 6BN
Telephone: 020 7606 7010
Websites: www.thegoldsmiths.co.uk www.whoswhoingoldandsilver.com
Opening Times: Monday to Saturday 10.00a.m to 5.00p.m
Admission: FREE
Group Visits: By prior arrangement with the Promotions Department
promotion@thegoldsmiths.co.uk
Underground: St. Paul's, Mansion House, Barbican
Bus Routes: 8, 11, 25, 56, 100, 242, 521

City Open Weekend:

As part of the City Open Weekend, the exhibition will be open on both Saturday June 23 and Sunday June 24, 2012 from 10.00 am to 5.00pm

Exhibition Curator:

Dr. Helen Clifford - With a background in history, Helen has spent her career researching projects connected with goldsmiths' work past and present, from making at the Royal College of Art to curating at the Victoria and Albert Museum, she has published widely and lectures eclectically.

Book:

The exhibition will be accompanied by an associated book "Gold: Power and Allure" published by Paul Holberton.

Charity:

The free exhibition will invite donations to The Foundation of Prince William and Prince Harry. The Foundation was selected by the Goldsmith's Company due to its focus on veterans' welfare, disadvantaged young people and sustainable development. The Foundation is the culmination of The Princes' charitable lives so far. Along with The Duchess of Cambridge they intend to use the Foundation as the main vehicle for their future charitable activities and through raising sustainable sources of funds, the Foundation will be able to make charitable grants and support projects of particular interest.

Study Days:

"Reflecting on Gold" on Tuesday June 19 at Goldsmiths' Hall
Chaired by Dr. Helen Clifford and Philippa Glanville
To book places please email promotion@thegoldsmiths.co.uk

Details of other curator talks will be published in due course.

Related exhibitions:

"Butcher, Baker, Candlestick-Maker – 850 years of Livery Company Treasures"
At Guildhall Art Gallery
Friday June 22 to Sunday September 23
www.guildhallartgallery.cityoflondon.gov.uk

"Gold and the Bank of England"
At Bank of England Museum
Friday June 22 to Saturday November 10
www.bankofengland.co.uk

For further information and images please contact:
Amanda Stücklin, the Goldsmiths' Company, Tel: 020 7367 5913
Email: Amanda.stücklin@thegoldsmiths.co.uk

www.whoswhoingoldandsilver.com

The Goldsmiths' Company's on-line directory for jewellery, silver and works of art enables the public to browse on line to make contact with the maker of their choice. With more than 320 craftsmen, all approved by the Goldsmiths' Company, the website is the ultimate resource for any requirement in precious metal.

This press release was distributed by ResponseSource Press Release Wire on behalf of The Goldsmiths Co. in the following categories: Entertainment & Arts, Leisure & Hobbies, Home & Garden, Food & Drink, for more information visit https://pressreleasewire.responsesource.com/about.