Yoomi turns Red for TAMBA this Christmas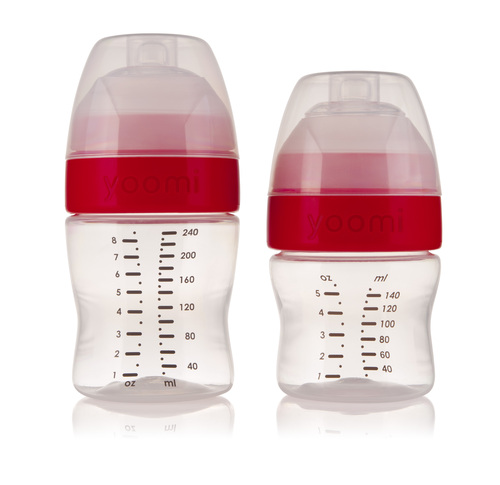 So support Tamba by turning all your yoomi bottles Red for Christmas!
London. 10 November 2011: Yoomi, the clever people behind the UK's first self-warming baby bottle has launched a stylish Limited Edition 'red' collar to support Tamba and brighten up feeding time this winter! 10% of all red collar sales will be donated to Tamba, to help meet the unique challenges faced by multiple birth parents.

Why yoomi?

EVER STUMBLED AROUND the kitchen in the middle of the night trying to warm your bottles or become impatient waiting for hot water to be brought to you in a restaurant? Well no more! yoomi have the answer with their self-warming bottle, which warms feed to the perfect temperature of breast-milk at the touch of a button… in just 60 seconds!

• Ideal for feeding on the go
• Great for the night feeds
• Perfect breast-milk temperature – EVERY TIME

On the shelves in the UK since November 2009, yoomi is the most practical solution to feeding on the go and quickly and easily warms your baby's feed - whether it be in the car, train, cafe or restaurant! This is a truly innovative feeding system that can be used quite literally anytime, anyplace, anywhere!

Selected as one of the 'Top 15 Inventions of the Decade' by the British Library and a Double Gold winner in the Loved By Parents 2011 awards for 'Best Bottle' and 'Best Travel Invention', yoomi is fast becoming a hot favourite with parents!
An original British invention, yoomi is expanding rapidly and can now be found in 12 countries around the world.

Why Tamba?

The link with Tamba holds a special place for Jim and Farah, the founders of yoomi.
"Having experienced the joys of expecting twins, the complications of a multiple birth and the loss of one of our babies, we really value the support and comfort Tamba provides to parents at such a difficult time. For us, supporting Tamba is a way of helping other families through the joys and sometimes sadness that comes with multiple births"
Jim and Farah Shaikh, parents to Danial (…. and now Niall)

Tamba have established a Bereavement Support Group to help families faced with the loss of both or one twin and have also produced a guide for parents on Twin to Twin Transfusion Syndrome.

Yoomi – a real help for parents, especially of multiples…
Yoomi is the perfect time-saving and practical solution to feeding time and is becoming a feeding time essential for parents facing the challenges of multiple babies.

"Yoomi has been a lifesaver! … particularly at night time when there is no more waiting around for the kettle to boil… feeding within a minute has been a godsend. The difference is unbelievable!" Sarah, mum to Ava and Megan

"This is the next stage of baby care and should be handed out to every twin mother on the NHS. It is like having a breast in a bottle. It saved time, money and my sanity."
Sophia, mum to Teddy and Betty

What Tamba say
"Our sincere thanks to yoomi. Families expecting twins or more face greater risks during pregnancy and often end up in neonatal care. When they finally get their babies home it can be exhausting but thanks to your help we can make sure even more families have a happier, healthier start to life." Keith Reed, CEO, Tamba

So support Tamba by turning all your yoomi bottles Red for Christmas!


Notes to Editors:

Recent awards yoomi has won:
- Practical Parenting – finalist for Best Bottle/Teat 2011
- Loved by Parents – Gold in both Best Travel Item and Best Bottle 2011
- Concours Lepine - Award Silver Medal 2011 (France)
- Tots To Travel – 'Feeding' award finalist 2011
- Fathers Quarterly - Top Gear Award 2010
- Bizzie Baby - Silver Award 2010/11
- Mother & Baby - Silver Award for Best New Innovation 2010/11
- One of the 'Top 15 inventions of the decade' – British Library, September 2010

The technology:

The yoomi warmer, which contains the same gel used in hand warmers, is activated by simply pressing the orange button. By using a clever 'phase change' material (meaning it changes from a liquid to a solid) yoomi generates heat. The cold feed is gently warmed as it flows through the specially designed channels on the outside of the warmer. By the time the feed reaches the teat, it is at natural breast milk temperature (32-34˚C). The warmer has been cleverly designed so that it cannot overheat the feed and stays warm for up to an hour. Learn more at www.yoomi.com

Product range and pricing:

o Bottle (8oz) with medium flow teat – RRP GBP 8.50 (can be used with or without the warmer)
o Bottle (8oz) with medium flow teat + warmer in one – RRP GBP 23.50
o Bottle (5oz) with slow flow teat – RRP GBP 7.50 (can be used with or without the warmer)
o Bottle (5oz) with slow flow teat + warmer in one – RRP GBP 22.50
o Warmer – RRP GBP 16.00
o Teats (2 in pack) – RRP GBP 4.50 available in sets of slow, medium or fast flow

About the inventor:

Jim Shaikh is an entrepreneur and Managing Director of yoomi Ltd. Jim completed a Masters in Engineering at Imperial College (1988) before obtaining a PhD from Cambridge University (1993). Initially an academic, Jim quickly moved into mainstream engineering with Rover-BMW and then into consulting engineering. He completed an MBA at London Business School (2003) and was bitten by the entrepreneurial bug when awarded first prize at the LBS Entrepreneurship Summer School. Jim is married to Farah, a lawyer, they have two sons, Danial aged eight and Niall aged three, and live in London, UK.

About Tamba:

The Twins and Multiple Births Association (Tamba) is the national organisation working to help parents and professionals meet the unique challenges that multiple birth families face. It represents 24,000 families and 140 local Clubs throughout the UK. Click here for more information on Tamba

Images available:

1. Twins Sleeping
2. Christmas Red Collar Bottle
3. Yoomi range
4. Yoomi logo
5. TAMBA logo

Contact: Abbie Crofts - yoomi
abbie@yoomi.com
07540 000 896

This press release was distributed by ResponseSource Press Release Wire on behalf of Yoomi in the following categories: Children & Teenagers, Women's Interest & Beauty, Retail & Fashion, for more information visit https://pressreleasewire.responsesource.com/about.