One in ten get short changed on home insurance claims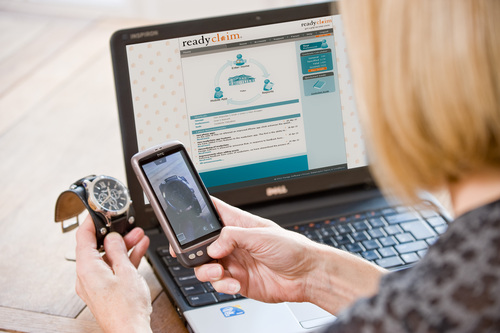 Over 90% of householders would not be able to make an accurate home contents insurance claim in the event of a major fire, theft or flood
*90% of householders would not be able to make an accurate home
contents insurance claim in the event of a major fire, theft or flood
*Most are under-insured by an average of 30% lower than the true
value of our contents

Millions risk losing out on home insurance pay-outs because they have undervalued the replacement cost of their belongings or cannot prove their losses.

Recent research suggests that More households face the prospect of paying higher premiums* for home insurance cover that may not pay out when, as often stated in policy documentation small print, proof of contents and values cannot be provided.

Tim Roots, founder of Readyclaim, a new tool to value and record belongings said: "Over 90% of householders would not be able to make an accurate home contents insurance claim in the event of a major fire, theft or flood.

"Not being able to prove the value of your contents or being under insured can cause serious problems if you have to make an insurance claim, as your insurance company may not pay out the full cost to replace lost or damaged items.

"Not many of us realise that insurers will ask for proof of ownership in the event of a substantial claim, which can include purchasing documentation and photographs."

"Filing invoices and photos in a cupboard can be useless in the event of a fire or flood," he added.

Being underinsured is also an issue as, according to the Association of British Insurers, one in five home contents insurance policyholders are because they do not know how much their home contents are worth.

The product, called Readyclaim has been developed as an affordable way to enable every household to have a virtual catalogue of their home contents,such as big-ticket electrical items, antiques, original paintings, clothing, furniture and jewellery, with the aid of icons.

Homeowners simply take digital images of their assets in each room, plus any relevant documents including invoices, valuations or receipts, and attach them to the asset icon which can then be uploaded to readyclaim's secure server.

More than simply a contents calculator, the system has been launched to ensure that everyone insures the true value of their home in a bid to combat claims disputes.

This is where readyclaim comes in. By using the system, homeowners are given total peace of mind, knowing that they have an accurate and real-time account of their assets stored on our secure server, thus removing the chance of long, expensive and drawn out insurance disputes.

More information is available at Readyclaim where you can also download an app for Apple or Androidphones.

Notes to editors:

Homeowners can set up a readyclaim home account quickly and easily, which costs just GBP 11.99 a year or GBP 23.99 for three years, which they can access by PC and/or an iPhone/Android app.

Journalists who wish to take part in a year's free trial should email Emma Kirkaldy at emma@thesmartagency.co.uk

For further information please contact Emma Kirkaldy at The Smart Agency on 07983 714 001 or email emma@thesmartagency.co.uk


*The AA British Insurance Premium Index has revealed that combined home and contents insurance policies now incur quotes of over GBP 200.

Frequently asked questions:

Is the system an insurance calculator?

Yes but not only that, it also records the value of your home contents which is essential in the event of a claim as insurers often need proof of contents, values and other documentation.

Why should I record my home contents?

It is a worrying fact that over 90% of us could not make an accurate insurance claim.

If you are underinsured by too high a value, insurers can refuse to pay a claim on the basis that your mis-valuation was deliberate, even if only some of your contents are stolen.

For example, let's say you have a policy with GBP 40,000 contents cover and a flood from your water tank damages your bedroom and lounge. You put in a claim for GBP 30,000. The insurer is more than likely to query why 75% of your total contents are within two rooms. They could then visit your property,revalue the assets and reject your claim. At most they would pay you a percentage of your claim.

How can readyclaim save me time and money in the event of a claim?

Disputed insurance claims can take weeks or months to resolve, and yet readyclaim can take as little as two hours to help you discover and accurately value your home contents. Simply attaching three photos of each area to the room icon and adding your main assets is a start, and it will help fast track your insurance claim.

Can I make changes to my content catalogue?

Yes, all you need to do is login to the site using your password, where you can quickly and easily add, amend or remove any assets from your records.

Can I monitor the value of my assets in relation to my insurance cover?

Yes, the system keeps you up to date on the value of your assets against your sum insured giving you total peace of mind.

Is it easy to use?

Yes. It is a task that even your children can help you with. The more detail you record, the easier the task when it comes to a claim.

Where is the data stored?

The non-personal data is stored on an offsite, secured server.

Is my information safe?

Yes. No personal data, such as your address, is required to open an account. The data is stored securely in one of the UK's largest data hosting centres.

Further statistics:

In a snapshot survey carried out by readyclaim, nine out of ten people wouldn't be able to make a claim and are risking their possessions not being covered.

Householders are risking their possessions by undervaluing their home contents, according to new report from Direct Line.
The report revealed that over GBP 200 billion of home contents are at risk and that 6.8 million households are underinsured, while 5.2 million homes have no contents insurance.

On average, a quarter (26%) of people with contents cover are underinsured by GBP 20,000 - with GBP 138.5 billion at risk in total, the report found.

This press release was distributed by ResponseSource Press Release Wire on behalf of The Smart Agency in the following categories: Home & Garden, Personal Finance, Business & Finance, for more information visit https://pressreleasewire.responsesource.com/about.